Martha Stewart Turns Heads With Elegant Sushi Spread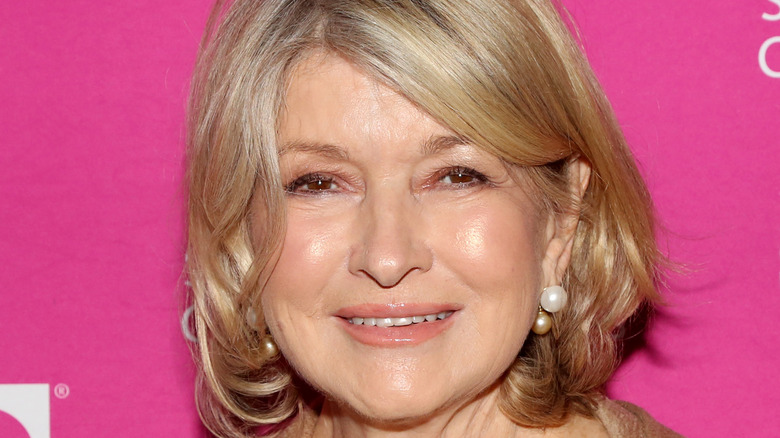 Bruce Glikas/Getty Images
Leave it to Martha Stewart to make cold, raw fish look hot. If her Instagram account is any indication, the domestic goddess and snowplow champion has an enviable Google calendar. Monday: Hang with Pete Davidson and reminisce on the Justin Bieber roast. Tuesday: Sign off on delivery of Friesian horse from Holland and make sure she's all settled in at the farm. Wednesday through Friday: Tend to peacocks, learn to make bread bowls, generally be extraordinary while looking gorgeous, and host classes on how people can be doing life even better than they are right now. And, if her Instagram post from this past weekend is any indication, Stewart fuels a week of living fabulously with a lot of good sushi, enjoyed in the company of colleague and bestie, Kevin Sharkey.
Sharkey, who The Cut once referred to as "the Gayle to Martha's Oprah," hosted the hostess with the mostess at his place, putting out a sushi spread that was not only worthy of a post on Stewart's Instagram page, but looked as though it could put your local Japanese restaurant to shame. Or, in this case, put it on the map. "No, Kevin is not a sushi chef," Stewart admitted in the photo's caption, and added, "But @sushionjones makes delicious takeout," The restaurant, New York's Sushi on Jones, was no doubt thrilled by the shoutout, and presumably pleased by the gorgeous arrangement of their food using a Sharkey-standard display alongside Stewart-approved dinnerware. We'll tell you one thing: Instagram was surely impressed.
Teamwork makes the Martha Stewart dream work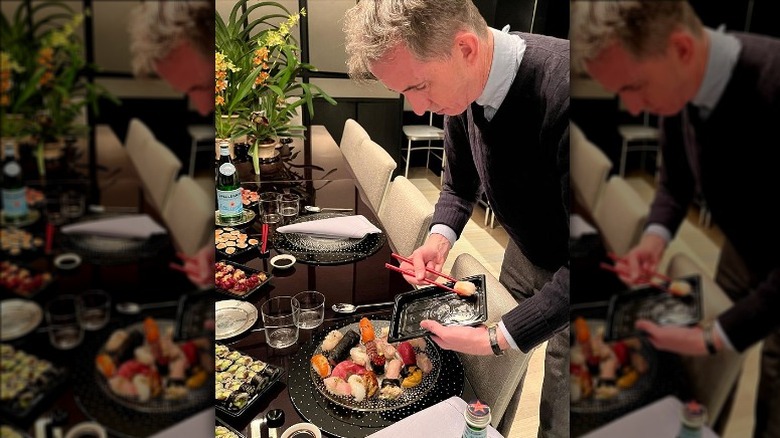 Instagram
"I love those plates!!!" one fan exclaimed, in response to Martha Stewart's recent Instagram post showing off a fabulous sushi display at her bestie Kevin Sharkey's house. Another tried a more passive approach, and commented, "I'm awaiting my invitation ... This looks divine!" Sharkey himself made a cameo in the comments section, too, and explained that he only uses the best for "family dinners" like this one, and name-checked Sushi on Jones for taking care of him, as well as Von Gern Home for providing the tableware. "The easiest way to set an elegant [table]," Sharkey said, "is to use @vongernhome, no flowers, no candles, no linens necessary." And indeed, the playful, polka-dotted plates did make the colorful sushi pop. "Thank you Kevin," the homeware company replied to Sharkey's shout-out. "You and @marthastewart are family."
You'd expect nothing less than this type of love fest from Stewart and the gang. As The New York Times pointed out, her "right-hand man" Sharkey has been with Stewart for over 20 years — and, as she told The Times jokingly, "I'm jealous of all his other friends." By all accounts their relationship is one of mutual respect, fresh-cut flowers, and family dinners, the latter clearly being a frequent occurrence. Posting one such evening on Instagram gave everyone a virtual seat at the table, albeit one that might not have been close enough for some. "I want to be your best friend," one user commented on the sushi night photo, with an heart-eyes emoji that was emblematic of most people's feelings.