Martha Stewart Proves She's Aging Like A Fine Wine With Instagram Pic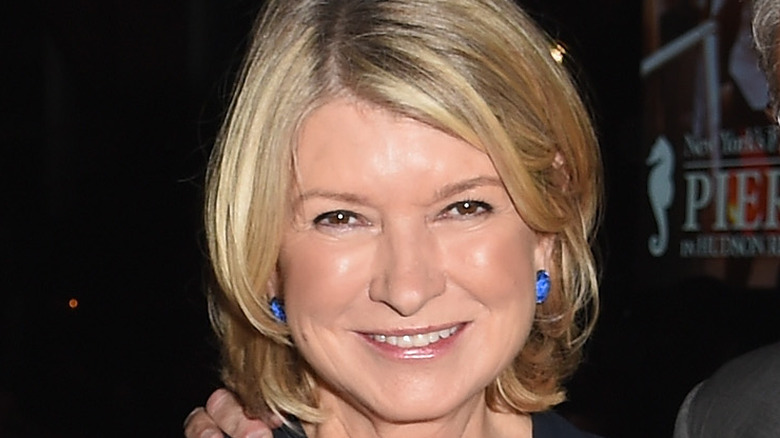 Nicholas Hunt/Getty Images
Martha Stewart is a fixture in the celebrity chef community. A household name, Stewart has turned homemaking into a full-blown career and an aspiration for her many fans. According to an interview she gave for her website, her career began on a whim, inspired by her entrepreneurial spirit and love for "making things that would enhance everyday living." Her work began in the 1960s and has continued to this day, including after her time in prison.
Aside from Stewart's prim and proper public image revolving around crafting and cooking, she also has some surprising qualities, from her ownership of 21 peacocks (via The Cut) to the fact that she used to model, according to Business Insider. Clearly, the chef has gone through many adventures throughout her life, and her latest Instagram picture shows that her joie de vivre is as vibrant as ever.
Stewart got glammed up for an interview
Stewart recently shared an Instagram post featuring photos of herself with glammed-up hair and makeup, which she had done for an interview with author Suneel Gupta for American Express. Stewart shouted out her makeup team, led by Nicole Daisy Toye, for their "gorgeous" work, as well as From the Roots for her "great hair" and Hermès for making what she describes as her "favorite jacket."
According to Biography, Stewart turned 80 years old in 2021, and many fans commented on the photos saying she seems to get more beautiful each year. Celebrities raved over the post, including Drew Barrymore with, "You have to stop looking so good! It's killing me." Another follower echoed the sentiment, saying, "Martha serving more than just recipes and tips in the kitchen!—we love to see it!!" According to her caption, her interview with Gupta was "very nice," and one fan agreed, calling Stewart "inspiring."