Viral TikTok Creator Robert Lucas Reveals How He Makes His Elaborate Cakes - Exclusive Interview
If you've caught Robert Lucas on TikTok, maybe you've assumed that the creator of cakes that look like Michael Jordan shoes and erupting tsunamis was trained professionally at one of the world's best culinary schools ... or, at least, any culinary school. In fact, the self-professed "IT guy" by day, viral content creator by night, has no formal training, and he had never even made a basic boxed cake before he took to TikTok two years ago. With an elaborate unicorn concoction, his @thesweetimpact handle took off and became a nearly instant viral sensation.
Lucas' latest accomplishment has been landing on the #BlackTikTok Trailblazers 2022 list this month, along with 12 other Black creators and changemakers who've revolutionized the platform. How does Lucas do it, and how does he come up with his wildly creative cake ideas? In an exclusive interview with Mashed, Lucas opened up about his unusual path to social media stardom, and he shared some surprising details about his eating habits.
How Robert Lucas went from baking novice to viral TikTok cake creator
How does it feel to be named to the #BlackTikTok Trailblazer 2022 list?
It's amazing to even be recognized for doing this! I haven't even been making cakes very long, so to be recognized is amazing.
How did you end up becoming a TikTok sensation?
I've been making cakes for like two years. I was bored one day and made a cake and I was proud of it. I wanted to start with recording my process because I was proud of myself, and I wanted to show my family the process, and they were like, "You should post a TikTok! People will love it!" And I did! I didn't expect the reaction, but it's all great.
You've made some amazing cakes. Was the first cake you ever shared really great, too?
It was, for a first cake! Everyone always says it's really, really great, although to me, I look at it like, "Oh, that's terrible." It was a unicorn cake. It was a two-tier cake, which people usually wouldn't do for the first cake, and I also used fondant for the first cake and that usually [is difficult.]
When you say "first cake," do you literally mean the first cake you've ever made? Or do you mean your first attempt at a more "elevated" cake?
No. First cake ever. I never made a cake before.
You never made a sheet cake or a Pillsbury cupcake before?
No, honestly ... I looked at cake design before I looked at the actual piece of flavor, so that's what pushed me into it, but baking comes along with that, so I've had to learn that, but design is definitely my favorite part about it.
Without experience, how did you figure out how to make these elaborate cakes?
Watching others, [including other videos and TikToks] — and I learned from others, and I applied it.
Robert Lucas' advice for aspiring cake artists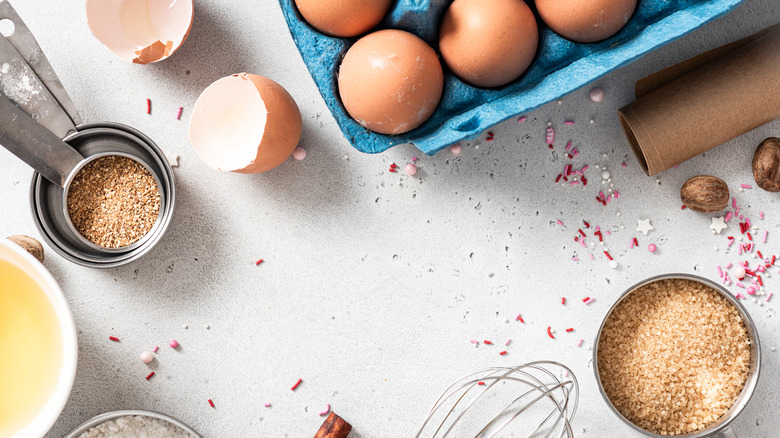 Svetlana Monyakova/Shutterstock
Have any of your followers decided to try making a cake like yours for the first time also?
Yes. I've actually been tagged in different videos [of] them recreating the cakes that I've made. That's always fun to see, that people are actually looking at my videos and attempting and trying these things and I'm influencing them to try it out themselves.
Are people surprised that you don't have any kind of formal pastry chef training?
All the time — I get asked all the time, "You're self taught, how did you do that?" I give my advice, how I did it, I don't hold that. I don't keep that secret because I want everyone to know, you can do it, too! I managed to work it out.
Do you think people should get culinary training, or should they try to learn it all online the way you did?
...I went to school, not for pastry, but I went to school myself for information technology, so I think there are good things to go to school for, but it won't hurt to give it a try, because you may find that you really like it, and now, this is what you need. You should go to pastry school and learn a little more about it. I wouldn't mind going to pastry school.
This is Robert Lucas' most popular cake ever
What's the most viral cake you've ever made on TikTok?
It's like a month into me being on TikTok, and it was a striped Christmas tree cake. It has over 20 million views now, which was surprising, because I still, to this day, don't think that was an amazing cake. I was so happy, because that is what got the ball rolling for me to continue to do it. It was something I was throwing up every now and then I was like, oh, people are really looking at this, so.
Why do you think that one got so much attention?
I think people were mesmerized by the buttercream stripes. They were like, "How did you do it? That was magic. How did you get clean stripes out of frosting?"
What's the hardest cake you've ever made?
Some of the hardest cakes are the very real, lifelike sculpted cakes, so probably the Jordan shoe cake. Only because I made that one just a couple months into me making cakes, so at that time, [I was] not very skilled, just jumping into it, like all the rest of them. Now, I'm...not as scared to do those types anymore.
You won't believe how long it takes Robert Lucas to make a cake
How do you come up with concepts for your cakes?
Honestly, I think I have a creative mind, so I think a lot about different things. I like to do different things in pop culture, so if there's something especially popular going on, I really like to make a cake version of that. It's trending [and] I like to push myself and make content that I think people will enjoy, so [if] something else is happening, they may enjoy this as well.
How long does it take you to make a cake, typically?
Just the design [and decorating part seen in the video], some of those cakes have taken nine or ten hours. That's not the baking, that's not frosting, that's just the design.
Do you do it all yourself?
Everything.
What's your process for making cakes, from the time you come up with the idea to when you share the finished cake on social media?
When I first started, I never sketched. Now, since I'm trying to push myself and come up with really nice designs, I sketch it out. Then I start baking, trying to figure out what flavors to make the cake and also what color and what shape. Then I have to make the frosting again, what color and flavor of that as well, and then I start the design.
Why Robert Lucas doesn't eat his own cakes
Do your cakes taste as good as they look?
I have not gotten a complaint. I give all the cakes away after I do them, so many people have tried them, locally. It's not hard to give away a free cake, but everyone seems to love it as well, because I've always said, "I don't want a cake to just look good, but I also want it to taste good." When I first started making that very first cake, I didn't rush into making the design, I actually made sure I had a good tasting cake and a good tasting frosting before I even made it.
Do you eat the cake, too?
No. The surprising thing is I don't really like cake. I love sweets, I don't like cake. [I do it] for the art. I saw a picture of a cake on social media — it was a website. I saw a picture of a cake and I was bored one day and had the time and I was like, "I think I could do that."
Do you have any exciting cakes that we can look forward to seeing in the future on TikTok?
I want to push my designs even further, so I'm going to start leaning into doing more gravity-defying cakes, very structured cakes than what I have been doing, so I'm super excited for that.
What is a gravity-defying cake?
They're structured cakes, but sometimes it can look like it's floating or sometimes it could look like it's falling over and it's like, "How is that cake standing up there?" I'll show the process of how I actually did that.
Do you do this all at home or do you have a professional kitchen?
This is my apartment. I do this all in my apartment.
Do you still work in IT?
I do, but I'm actually phasing out. I want to push myself a little further.
Robert Lucas on his favorite foods and TikTok creators
What other TikTok creators do you admire?
You put me on the spot, so now everything goes blank! Tabitha Brown, because when I first started TikTok, that was one of the first TikToks I  saw, and I think it was vegan bacon she made, and I saw that and I was like, "I should make my videos," that's what pushed me. I like Jessica Woo. She makes the bento boxes for her children. I like watching her content as well...
Aside from your cakes, is there anything else you've jumped into without formal training?
I want to say for sure cakes, but also I sing in all of my cake videos, I sing in the background of them and I have no training. I just did that, so that's pretty interesting, too.
What's your favorite fast food restaurant?
McDonald's, and only because I live in a very small town, so there's not many [options] here. I worked there for three years in college and worked my way up to be the general manager, so I think that's pretty cool.
Did you learn anything about baking or cooking from your days at McDonald's?
I learned about all the proper food temperatures, especially when I work with a lot of eggs and everything like that. The kind of frosting I make has to be right — it has to be pasteurized and used properly. All of those skills I learned [and] I still carry with me.
What's your favorite thing to eat at McDonald's?
Fries.
What's one kitchen tool no home chef should be without?
A spatula. Or a knife.
If you could have anyone in the world cook dinner for you, who would it be and why?
Probably Gordon Ramsey. I want to be in his way and then he [would] fuss at me or something! I think that'd be like dinner in [one of his] shows.
You want Gordon Ramsay to cook for you or you want to cook for him?
Oh, I don't think anyone wants me to cook for them. I'm a baker, but I'm not a chef. I can't cook.
Any advice for other aspiring TikTokers?
I would say, at least try. Don't be scared to put your form of art out there, because I never knew I would be where I am now if I didn't and I didn't listen at first when everyone said "Put them on TikTok" until I finally worked up the courage to do it ... So I'll definitely say just try it.
Follow Robert Lucas and his baking videos on TikTok.