Here's How To Make Vegan Bacon Using Carrots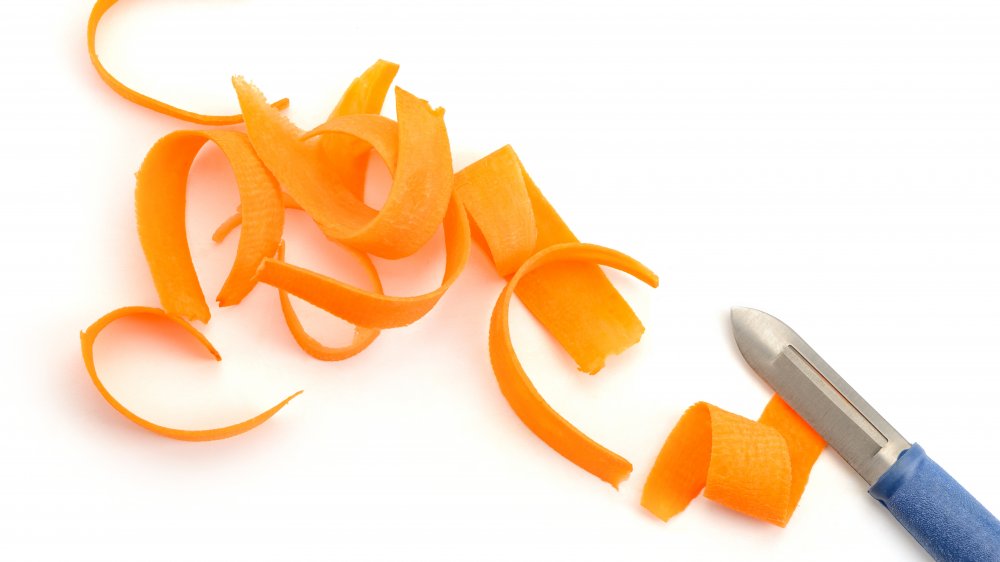 Shutterstock
Working with everything from seitan and tempeh to marinated strips of rice paper (via The Edgy Veg), vegetarians and vegans have long experimented with homemade bacon substitutes to finish off their BLTs or wrap jalapeño poppers in salty, crunchy goodness.
But an unexpected meat-free bacon alternative has become a recent internet sensation: Tabitha Brown's "good old carrot bacon," posted on her TikTok, Facebook, and Instagram feeds. In this recipe, Brown shaves off paper-thin slices of carrot with a vegetable peeler, then marinates them for a couple of minutes in a mixture of liquid smoke, maple syrup, garlic powder, smoked paprika, and a sprinkling of a spice mixture made with onion powder and black pepper. She then cooks the strips in an air fryer at 380 degrees for five minutes (but notes that an oven bake will also work).
Finally, after showing viewers the satisfying bacon-like crunch achieved by snacking on a slice, she fashioned a BLT wrap with the remainder, piling on heaps of the smoky carrot. Why not? After all, this is one bacon that's pretty much guilt-free.
Carrot bacon: the new craze?
Brown, a vegan actress, food vlogger, and Whole Foods' Plant-Based Brand Ambassador, has fueled internet-driven food frenzies before (via VegNews). But, while she may have helped popularize the carrot bacon trend recently, other health-food fans have also tried their hand at the process.
Nico, the blogger behind Yumsome, had developed carrot bacon for menus in the U.K. using a dehydrator, but her more accessible oven-baked version requires only a half-hour marinade in a combo of maple syrup, oil, tahini, soy sauce, and liquid smoke, followed by a 20-minute-or-less bake.
Sareena's Food attempted a similar iteration, slathering a blend of maple syrup, tahini, tamari, almond butter, liquid smoke, and salt over super-thin carrot strips, then baking (no marinade time needed).
But even if the idea isn't brand-new, Brown's internet cred has certainly helped spread the gospel of carrot bacon possibilities. As Yahoo! reports, on her Instagram post that shared the recipe, fans raved about the results: "...you sold me on that carrot bacon," one fan said, while another jokingly considered a full-on lifestyle change, saying, "I think I'm about to go vegan. OMG why does this look so bomb."