Why TikTok Is Comparing Dunkin's New Bakery Item To Starbucks
The day has finally come to flip the calendars from February to March — a task that, while somewhat trivial, also serves as a reminder that winter is in its final days for many across the U.S. Per Farmer's Almanac, March 20 marks the official start to the 2022 spring season which, in reality, is less than three weeks away. However, we all know that the time between now and then can sometimes feel like much longer. Fortunately, several restaurant chains have already rolled out new seasonal menus to help get us in a refreshed state of mind as we push through these last few days of winter.
Dunkin', for example, invited customers to "sip the newness of spring" as early as February 23 with its launch of salted caramel-flavored drinks, or the St. Patrick's Day-inspired Shamrock Macchiato (via Dunkin'). The beverages are also accompanied by three new munchies: Avocado toast, hummus toast, and a sweet baked good that the chain recently posted about on its TikTok page.
"PSA: We have Chocolate Croissants now," read the caption of a video posted to the eatery's account yesterday that showed the process of the baked goods being made. The clip caught the eyes of thousands of Dunkin' fanatics, some of whom rushed to the comments section to alert friends of the chocolatey new menu addition. Others weren't quite as impressed, as they noticed the new bakery item was similar to one that has long been served by another popular coffee chain.
This isn't the only similarity fans have noticed between Dunkin' and Starbucks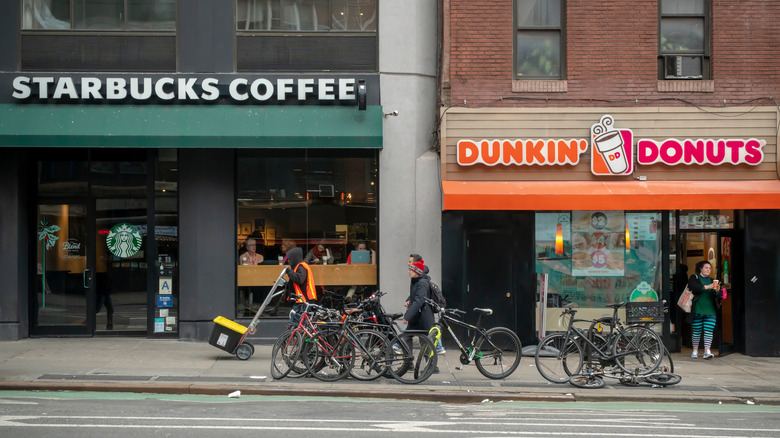 rblfmr/Shutterstock
According to one TikToker who posted in the comments section of Dunkin's recent video PSA, the Boston-based chain was "giving the people what they needed" with their new chocolate croissants. However, several others called out the brand for copying one of its competitors with its latest sweet treat. "I love that Dunkin' is copying everything on the Starbucks menu," wrote @yagirlsaige. "Right, and it even looks similar," another TikToker said in response. "Girl just say you wanna be Starbucks so bad," a third user quipped.
On the surface, Dunkin's decision to start selling chocolate croissants may not seem like a copycat situation, as even the casual coffee shop visitor will likely recognize that coffee and pastries are a fairly common pairing. However, this is not the first time the chain has appeared to follow in its Seattle-based rival's footsteps. As Business Insider pointed out, Dunkin' seemed to mirror Starbucks in 2016 with the introduction of cold brew drinks, as well as its loyalty program's mobile app. Earlier this year, the donut giant appeared to replicate its rival again when it debuted protein-packed Omelet Bites, which many noted were incredibly similar to the beloved Sous Vide Egg Bites that have been on the Starbucks menu since 2017 (via Starbucks).
As for how the two chocolate croissants compared, YouTuber JayySquared said in their recent review of the products that Dunkin's pastry was a little too flaky while Starbucks' was a bit lacking in chocolate, though ultimately decided either one could be satisfying. "It's really your preference," they said.