What Model Molly Sims Eats In A Day - Exclusive
Stefanie Keenan/Getty Images
When it comes to fueling up throughout the day, model and Hood Cottage Cheese enthusiast Molly Sims spilled some of her favorite tricks and go-to's with Mashed during a recent exclusive interview. While Sims works hard to keep herself and her family healthy, she also keeps it real and attainable given her busy schedule. Though Hood Cottage Cheese is one of her favorite high-protein ingredients (she was even snacking on some topped with berries during out chat), Sims also shared some of her favorite ingredients she turns to for a balanced diet.
For breakfast, she likes to keep her options open, and the prep time quick and easy to get the day rolling. "Sometimes, I do intermittent fasting," Sims shared. "If I don't, I love egg whites. I love poached eggs, with a slice of toast. I end up eating my kids' bacon, even though I say I'm not going to, I do," she joked. "I love avocado toast, with a little salt and pepper and a little bit of a chili flakes. I have like a prepackaged protein shake. That's dates, collagen, protein powder, vanilla. I'll add a blueberry or strawberry with almond milk," Sims added. And she offered a great tip for making smoothie prep even simpler than ever: "I pre-make them, and then I grab it, put it in, so I don't have to constantly take all the different scoops, which is a great way to do that."
These are the foods Sims turns to for lunch and dinner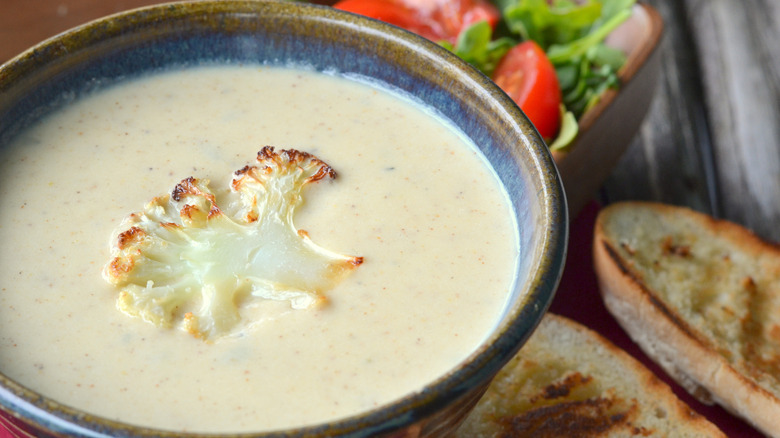 Janet Moore/Shutterstock
As the day goes on, Molly Sims likes to incorporate lighter dishes for lunch to keep her feeling full and keep her energy up. "For lunch, I like soups. I like cauliflower soup, chicken noodle soup. I like salads with chicken, fish, salmon," she said. "[It's] mainly protein, vegetables, or something warm. I got on a bone broth kick a couple years ago. For whatever reason, it fills me up and I feel good," Sims explained. While she keeps her lunch flexible, dinner becomes more of a family decision and hinges on whether they are eating at home or out.
"For dinner, it depends. If we go Mexican, I would do a fajita. I love steak, chicken, fish," Sims said. "I'm not overly [into] sauces, but there's nothing better than a white fish, like a great Branzino, or Dover sole. I love that if I'm going out to dinner or something like that," she added. Even Sims needs a break from cooking from time to time, and that's when fast food can be an easy alternative. Even then, it certainly seems Sims and her family knows what works best for them day in and day out while keeping dinner options fresh.

You can find Molly Sims' recipes on her website and buy Hood Cottage Cheese at your local grocery store.