You Can Buy A Diamond Ring Made From Hidden Valley Ranch Seasoning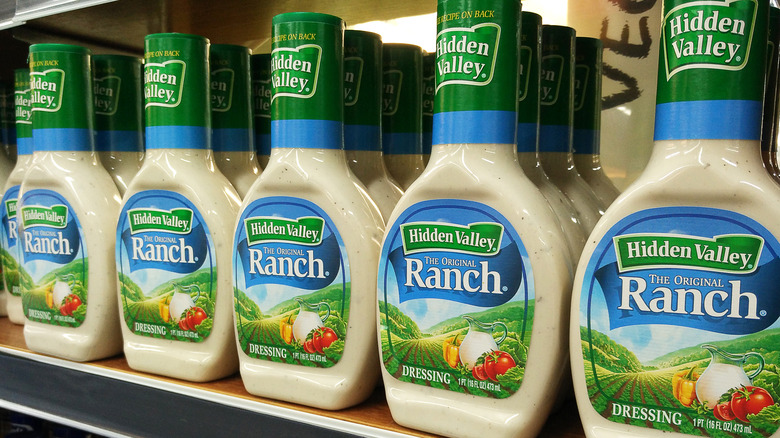 TY Lim/Shutterstock
"You either love it or you really love it" — this is the slogan for Hidden Valley Ranch, referring to the odd love affair that Americans have with the buttermilk-based dressing. The New York Post attempted to uncover why some folks are "absolute freaks" for the stuff, discussing everything from bedazzled ranch bottles to literal fountains of ranch dressing. Redditors also tried to brainstorm on the topic, with general results concluding that Americans put ranch on pretty much anything they can.
Hidden Valley isn't afraid to cater to this ranch dressing mania. Back during the holiday season, the company launched RanchNog, which combined the creaminess of Egg Nog and the tanginess of ranch dressing into one super thick, extra-savory treat that no doubt elicited many shouts of Christmas cheer (or confusion). They even gave customers a chance to dress up a like big old bottle of Ranch for Halloween (via PopSugar). For their latest promotion, however, Hidden Valley wants to offer you a chance to enjoy their ranch in a much more luxurious way than you'd ever thought possible.
Hidden Valley's new diamond is made of pure ranch seasoning
Looking to combine your love of fine jewelry and ranch? Hidden Valley has you covered. To celebrate National Ranch Day on March 10, Hidden Valley opened bids to bet on a diamond ring. But not just any diamond ring, oh no — this ring is made of pure ranch seasoning. According to a press release, the "diamond" was formed over a five-month process, in which ranch seasoning was heated at 2,500 degrees and then crushed under 400 tons of pressure, creating a solid glassy buttermilk diamond. The ring itself is an impressive 14k white gold, engraved with the initials "HVR LVR" — Hidden Valley Ranch Lover — on the inside.
From now until March 17, you can place your bid for the Ranch Diamond on eBay, where the current bid is an astounding $11,550.00 dollars. The winner of this elegant prize will receive it in time for National Proposal Day on March 20. But all this hype about a ranch ring isn't just for show. All donations will go towards the group Feeding America, where every dollar will help provide at least 10 meals to families in need. That way, the winner can wear their ring with both style and a good conscious.
This isn't the first time a company offered diamond rings to lucky customers. In February, Panera Bread ran a promotion where a winner would receive not only a diamond ring, but a free year to the chain's Sip Club.