Yes, Hidden Valley Really Is Selling RanchNog Kits This Holiday Season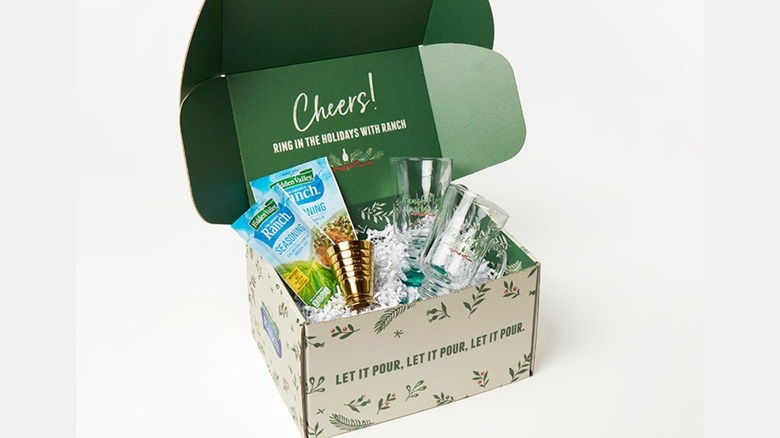 Hidden Valley® Ranch
When it comes to eggnog, you either like this classic holiday drink, or you don't. With Hidden Valley ranch dressing, however, "you either love it, or you really love it" — well, according to the brand's advertising campaigns (via Daily Commercials). Despite Hidden Valley's confidence, there are numerous posters on Reddit expressing the not-all-that-unpopular opinion that "ranch dressing is disgusting." Someone on Vice finds it vile, The Washington Post goes so far as to say that "ranch dressing is what's wrong with America," and you get the idea.
OK, so eggnog and ranch dressing can find some common ground as dairy products that have their share of detractors as well as their fans. Does that make them a natural pairing? The thought had never before crossed our minds (and likely never would), but we're just now finding out that there's such a thing as RanchNog. No, this isn't an April Fools'-in-November joke. As of this week, Hidden Valley is actually selling a cocktail kit that allows you to concoct a Ranch-flavored eggnog drink, and it's available on the brand's website.
RanchNog may be Hidden Valley's oddest idea to date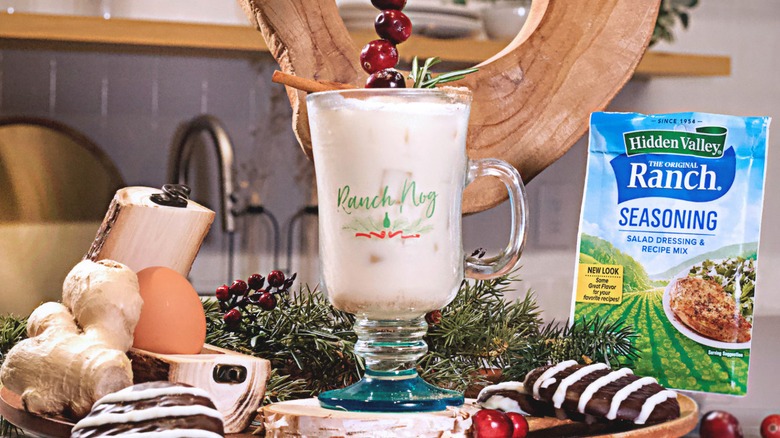 Hidden Valley® Ranch
Hidden Valley is no stranger to out-of-the-bottle promotions. Last holiday season, the brand went beyond the usual ugly sweater offering to sell a limited number of ranch-themed refrigerators. This year, it tried everything from branded Crocs to miniature dressing packets for Halloween treats. Evidently, all of that has led to the RanchNog cocktail, which was developed in partnership with mixologists from Whiskey and Rosemary, according to an announcement sent to Mashed. The beverage "marries the creamy, slightly sweet elements of eggnog with the savory, cool, and herby flavors of ranch."
Each RanchNog cocktail kit contains a recipe card, a pair of festive holiday glass mugs, two packets of ranch dressing mix, a jigger, and even a bumper sticker — just add eggnog and booze (probably quite a bit of it to quell the fears of those who dare to try it first). While the product listing claims that the drink will "delight superfans and surprise skeptics with how good it actually is," to us it simply screams, "white elephant gift." The price tag, however, is pretty steep for a gag gift at $50. If a RanchNog kit is not in your budget, but you'd still like to elicit a similar WTF reaction, may we suggest gifting an equally unconventional box of pho-flavored candy canes, instead?