The Stylish Way Taco Bell Is Celebrating Its 60th Anniversary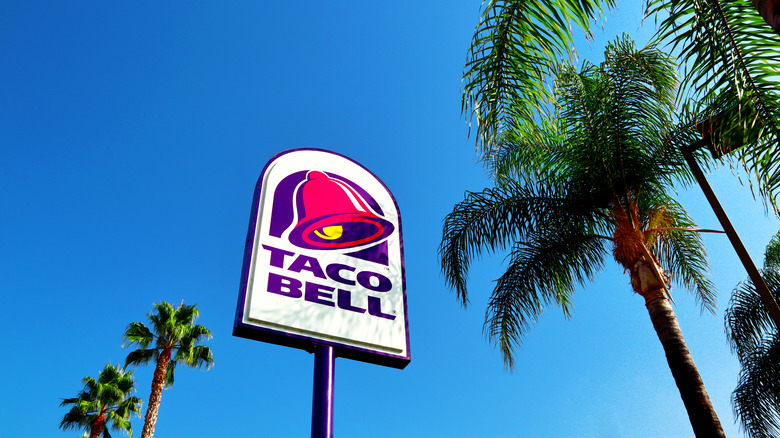 Walter Cicchetti/Shutterstock
If you love Taco Bell, you're in pretty good company with a brand truly on your side. Few fast food chains provide as much fan support as Taco Bell does. How many restaurants can say they have their own fan-created literary journal? And how many restaurants have launched their own pop-up hotel, complete with as many free tacos as you can eat (via Franchise 500)? Even better, how many restaurants have their own clothing line?
Taco Bell has all three. And actually, it has more than one clothing line. Back in 2017, the Bell partnered with Forever 21 for a super successful merch launch. Refinery29 says items sold out almost immediately. And according to Taco Bell's blog, the launch included some saucy bodysuits, graphic tees, hoodies, and anorak jackets.
If you weren't able to get your hands on that merch, fear not — Taco Bell also has an official website, the Taco Shop, that sells all sorts of fun items, from graphic tees to bowties to backpacks. You can even buy balloons that look like Taco Bell's sauce packets. Pretty wild, right? But that's not all. With Taco Bell's 60th anniversary coming up, the chain has another big surprise in store.
Taco Bell celebrates 60 years with stylish streetwear
The first Taco Bell opened in Downey, California in 1962. Fast forward to today, and thoughts of California might include Los Angeles streetwear, vegetarian and vegan diets, and food trucks. And guess what? Taco Bell is pulling all of these ideas together for its 60th anniversary.
This year, Taco Bell is partnering with LA streetwear creator Born X Raised, according to a press release shared on PR Newswire, to create some pretty cool-looking graphic tees for Taco Bell employees. And for the public, the partnership will offer a new vegetarian/vegan combo meal that will include the Black Bean Crunchwrap Supreme, Bean Burrito, Spicy Potato Soft Taco, and Cinnamon Twists for $8.99 and available for a limited time.
According to Restaurant Business Online, Taco Bell is doing all of this to "paying homage to its Southern California roots" as it turns 60. As another part of giving back to the community, the Taco Bell Foundation will also donate a total of $4.1 million to the Boys and Girls Clubs of America. Maybe it goes without saying, but we love to see this kind of do-good celebration.