Starbucks' Bridgerton Season 2 Drink Pairings Are So Accurate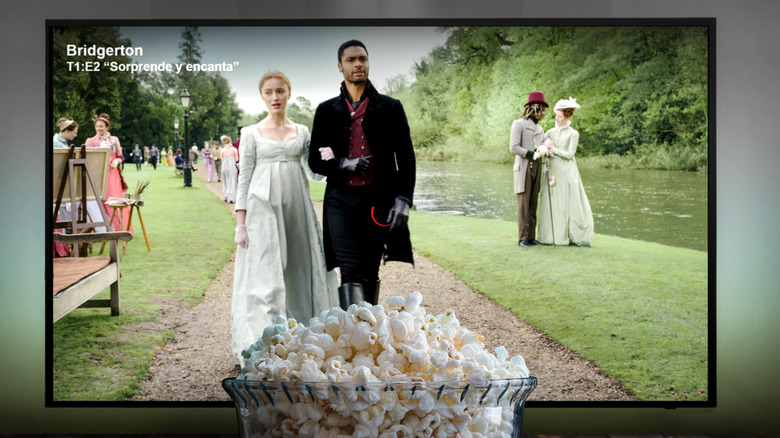 JOCA_PH/Shutterstock
If you're sitting down to watch a movie or binge a season of a TV show, it's essential to have snacks to munch on so you don't need to get up during the best scenes. Everyone's got their favorites — for chef Bricia Lopez, the best TV snack is salsa de molcajete. And sometimes it's fun to do thematic pairings. If you're getting caught up with season 2 of "Bridgerton," for instance, you might want to brew up some Bridgerton-inspired teas.
If you're a coffee fan, however, Starbucks has come up with a few suggestions for your "Bridgerton" watch party. On Instagram, the brand posted a slideshow matching select "Bridgerton" characters' personalities to some of the coffee company's most popular drinks. For example, Anthony Bridgerton would drink their Cold Brew, because, like the drink, he's "Bold and smooth, he sees no need for any extra frills in his quest for a viscountess."
Starbucks' iconic Pink Drink goes along with Edwina Sharma's character, and fans of iced chai lattes might relate to Penelope Featherington. Prefer to stick with tea? Starbucks pairs Earl Grey with Lady Danbury and says, "one couldn't possibly imagine a social season with her." Indeed!
Bridgerton fans agree with the Starbucks pairings
Clearly, Starbucks knows both their fanbase and "Bridgerton" viewers, because Instagram users loved this post. The Instagram post has received upwards of 100,000 likes, and plenty of people seem to agree with the brand's drink and character pairings. One person wrote, "Iced toasted vanilla oatmilk shaken espresso and Eloise Bridgerton are a perfect match," and another user declared, "The queen and her crème tho." Starbucks notes that Queen Charlotte "knows everything is better with a little extravagance," and a Matcha Crème Frappuccino certainly is an elaborate drink.
Although Starbucks paired Kate Sharma with their Salted Caramel Cream Cold Brew, at least one person didn't agree with this match. The Bridgerton fan commented, "Kate Sharma should be a double shot expresso! No?" How do you think Starbucks did with these pairings, and would you order your favorite character's drink?
While enjoying a cup of coffee or tea could be fun, you can do a lot more if you're planning to binge watch the series with friends. If you want to go all out for a "Bridgerton" watch party, why not throw a tea party? Here's what you need for a tea party, from finding the right teapot to making finger sandwiches.