What You Need For A Tea Party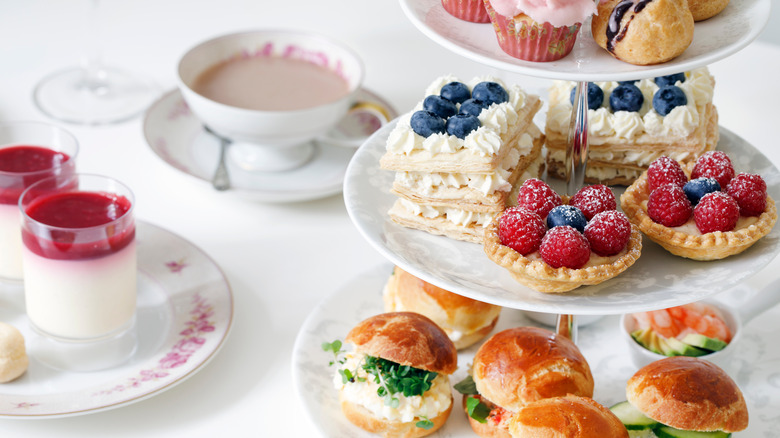 Magdanatka/Shutterstock
We may receive a commission on purchases made from links.
We love a good dinner party just as much as the next person, but it's undeniably a lot of hard work. By the time everyone leaves, it's late at night, and you may be too tired to even get to the dishes. So what if we told you that you could throw a party in the middle of the day and get to bed on time? Sounds like a dream to us, and that's exactly why we love throwing tea parties. It may sound stuffy and old-fashioned, but it certainly doesn't have to be that way. Just get some friends together, put together a fun menu, and enjoy an afternoon chatting, snacking, and sipping on tea and whatever else suits your fancy.
We've compiled a list of exactly what you'll need to throw the tea party of your dreams. Forget the fancy invitations, the place cards, and the white gloves. Instead, grab whatever teacups you have on hand, your favorite snacks, and some wine for when the tea runs dry. If you have everything prepped ahead of time, you'll be prepared to sit back and enjoy the afternoon. Here's what you need for your next tea party.
Teapot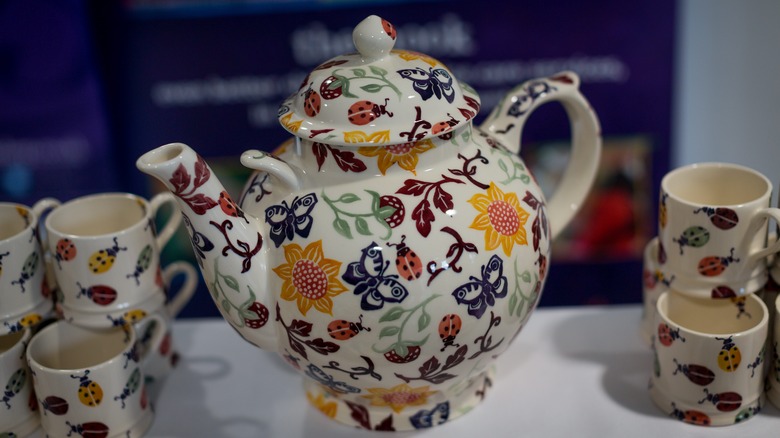 Wpa Pool/Getty Images
If you have a whole tea set, then you're already good to go. But you don't have to go all out and order an expensive tea set just to throw an amazing tea party. If you're going to get one piece, though, we recommend finding a great teapot. Of course, you don't technically need a real teapot to serve tea and have a tea party. But there's something special about pouring tea out of a beautiful teapot — it makes the whole experience more enjoyable for your guests. After all, it's probably not something they whip out of their own cabinets on a regular basis.
There are different teapot sizes to choose from, so make a choice depending on how many people you have coming over for your tea party. A larger teapot may be a solid option if you plan on having guests over frequently, but a small teapot will usually do the trick — and it's perfect for when you want to enjoy some tea on your own even when there's no party going on. You can find teapots at most home and kitchen retailers, but if you want to look for something unique, we suggest checking out Etsy for unique and vintage pieces.
Caffeinated teas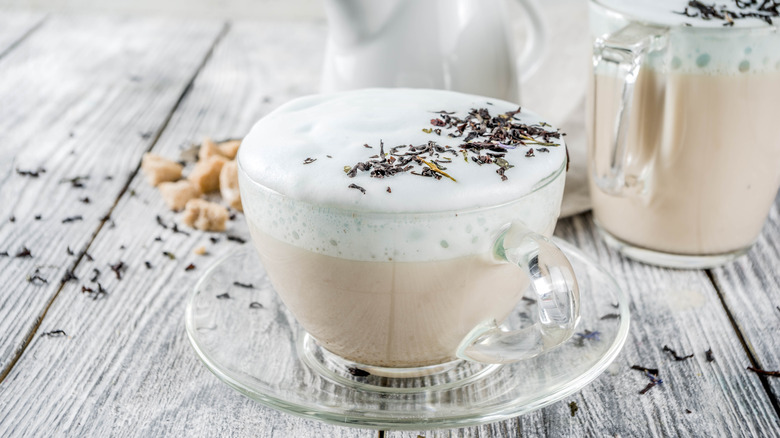 Rimma Bondarenko/Shutterstock
The most important aspect of any tea party, of course, is the tea. If you want to go for a classic British vibe, you can't go wrong with a black tea blend like English breakfast tea. We love this option because it's rich and flavorful but still simple enough to go with most foods you might want to serve. Twinings of London's English breakfast tea is a solid option that's available pretty much everywhere. For something slightly more interesting, you can try an Earl Grey, a black tea that's been flavored with bergamot oil. We love a menu with a green tea option as well, which may be a better choice for those who aren't huge black tea fans. And if you're okay with doing a little extra work, you can also put matcha on the menu. With its light caffeine content and trendy identity, it's sure to be a hit amongst all your guests.
The trick here is to offer several different options so the attendees at your tea party will have the opportunity to choose whatever they like best. But don't be afraid to limit the tea menu to whatever you have on hand or whatever pairs best with the food you're serving. A tea party doesn't have to be totally over the top to be totally fun.
Herbal teas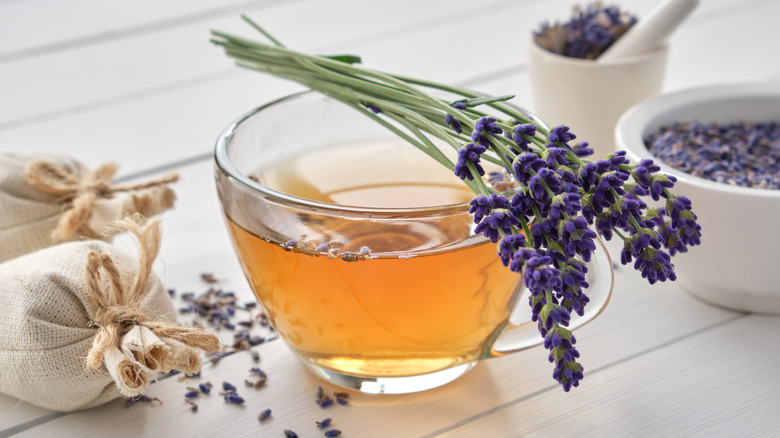 Chamille White/Shutterstock
While caffeinated tea may be the more traditional option, that doesn't mean that you shouldn't have some other options available for those who are watching their caffeine intake. That's where herbal teas come in. The options here are nearly endless. If you want to serve something extra special, you may want to order some Teatulia Organic Lemongrass and Bay Leaf Herbal Blend tea. It has a complex, exciting flavor, and it won't leave your non-caffeine-loving friends out of the fun. FGO's Organic Ginger Tea Bags will also be a big hit. They actually have a hint of spice to them, which makes them more interesting than most other ginger teas on the market.
Whether you tend toward bolder, more intense herbal teas or prefer your tea-based beverages on the lighter, fruitier side, herbal tea is a perfect addition to a fun tea party. You'll probably only need one or two of these options if you're providing caffeinated teas as well.
Coffee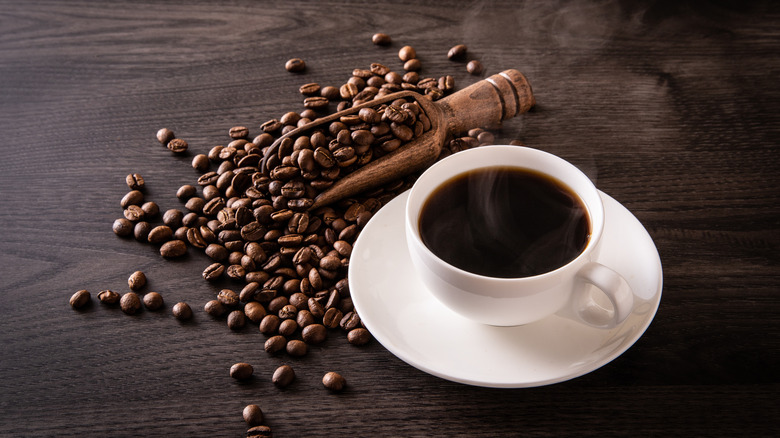 jazz3311/Shutterstock
Yes, a tea party is all about the tea, but that doesn't necessarily mean that everyone loves it. For some people, tea can seem bland, boring, or just not strong enough to break their chronic coffee habit. While we're glad we can't relate, we don't want to leave those caffeine fiends out of the excitement the next time we throw a tea party. That's why we love serving coffee alongside our tea selection. You don't have to go all out here and brew every single cup of coffee by hand. However, having a pot of the stuff on the table and ready to pour is a nice gesture and will ensure that everyone feels welcome.
Additionally, if you have a Nespresso or other espresso maker at home, you could just pour out a few shots to whoever wants them. Plus, it allows you to make fun hybrid drinks with both tea and coffee, like a London fog latte. (Yes, it's just as good as it sounds.) You can make these drinks by yourself or allow your guests to get creative with whatever drink ingredients sound best to them.
Milk and other add-ins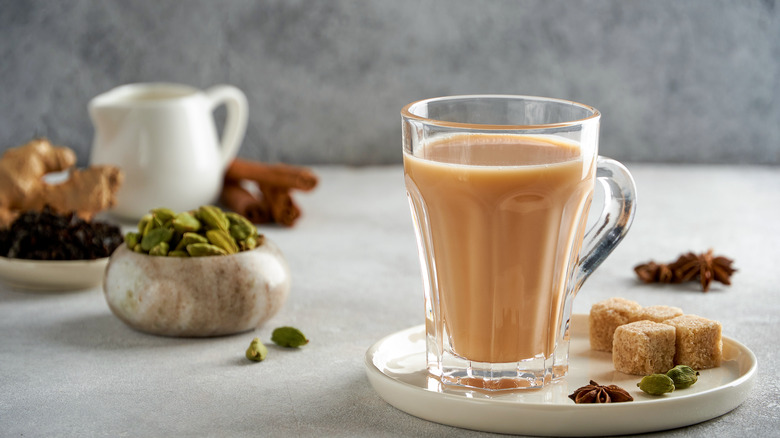 Veliavik/Shutterstock
Tea can be amazing on its own, but if you're centering a whole party around the beverage, you'll want to make sure that everyone can make their tea to their exact specifications. That just means you should put out some ingredients that people typically like adding to their tea. A classic tea party with English breakfast tea would always provide some milk. While cream is not a traditional option, you can always add it to the table for those who like their tea extra creamy and flavorful. Additionally, put some sugar on the table for guests who prefer to sweeten their tea. While most types of sugar will work, we think actual sugar cubes for a tea party are extra fun.
You can provide your guests with anything else they might like to add to their tea, like thin slices of lemon for a burst of acidity or honey, agave, and non-sugar sweetener for those who want an alternative to regular sugar. With all of these different options, your guests will feel cared for and catered to — and isn't that what we're all going for when we throw a party for our close friends?
Sparkling water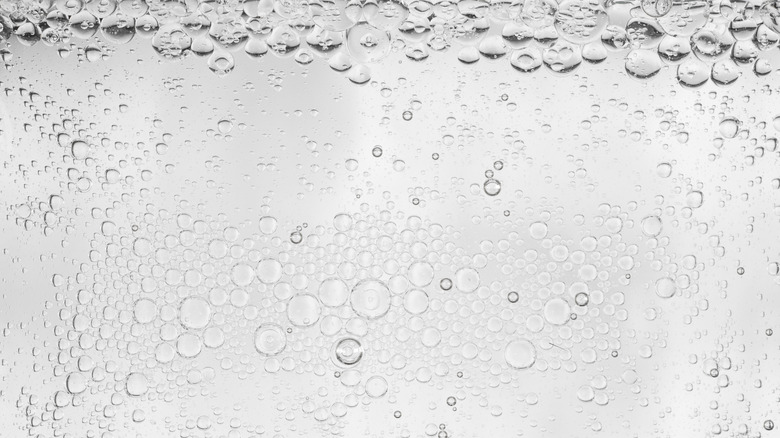 Stock_Good/Shutterstock
No matter what kind of party you're having, you'll want to have plenty of water on hand for your guests, whether that water comes from a Swedish artisanal well or just the tap in the kitchen. And while plain flat water is fine, if you want to make things a little extra special, adding sparkling water to your beverage list is always a good idea. It's a lot more refreshing than flat water, and it feels a little special, a little celebratory — probably just what you're looking for when it comes to a tea party.
We love Perrier or San Pellegrino for events because they come in tall green bottles that will only add to your tea party aesthetic. But really, you don't have to worry about getting too fancy when it comes to sparkling water, as much of it tastes very similar anyway. If you're looking for more of an eco-friendly option, consider investing in a SodaStream. It does cost some cash upfront, but if you're a regular sparkling water drinker, you'll see what all the hype is about.
Champagne or other wine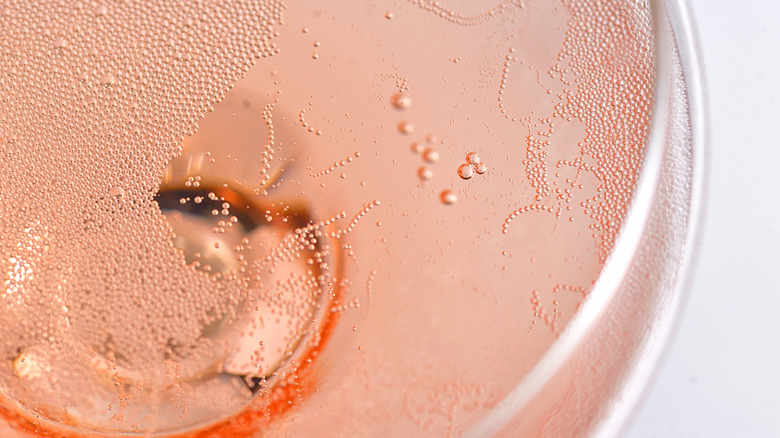 mady70/Shutterstock
When you think of a tea party, you may not think about serving alcohol, but it can certainly take your party to the next level. After all, most people love tea, but it doesn't get the party started in quite the same way as other beverages. That's why we always advocate for having wine on the table at our tea parties. It feels festive and fun, and we're sure that most of your guests aren't going to disapprove. Wondering what kind of wine you should add to your shopping list? Champagne or other sparkling wines like Prosecco or Cava are solid options, as they're classic celebratory drinks. If there are lots of sweets on the menu, it doesn't hurt to spring for a wine on the sweeter side as well.
However, you don't have to stick to the bubbly — there are lots of others to choose from. Food & Wine even went so far as to create a tea and wine pairing guide to point you in the right direction, depending on what tea you'll be drinking. Thinking about oolong? Try a Chenin Blanc. What about sencha? In that case, you may want to opt for a Riesling. Get creative here, or just pick up your favorite bottle and call it a day.
Finger sandwiches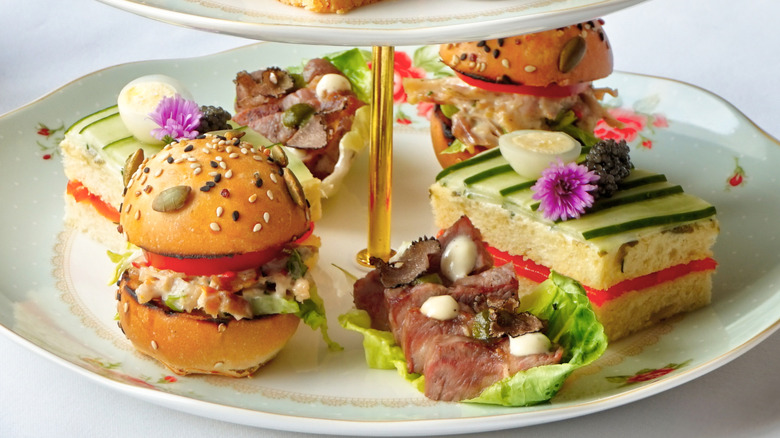 Andri Andiansyah/Shutterstock
If there's one iconic tea party food we all want on our tables, it has to be the finger sandwich. Finger sandwiches are small, dainty sandwiches that often contain fresh veggies, chicken salad, or other light lunchtime ingredients. Even if you're not usually a huge sandwich person, you can't deny how cute a well-made finger sandwich is. And the best part about serving them? They're incredibly easy to make. Plus, they're likely to impress all of your guests. How can you go wrong with that?
Want to throw together something really memorable? A caviar and cucumber sandwich will undoubtedly wow your guests. A simple chicken salad with plenty of onions and lettuce is sure to be a hit. And how can you go wrong with some avocado toast with bacon or poached eggs on top? The trick is to cut the sandwiches into two- to three-bite servings and provide a few different options so everyone can get a taste of what you have on the menu. Feel free to go off the rails here and create something totally new and out of the ordinary, or just head to the grocery store to get something from the deli if you're running low on time. Either way, your guests will be grateful for something more substantial.
Fresh fruit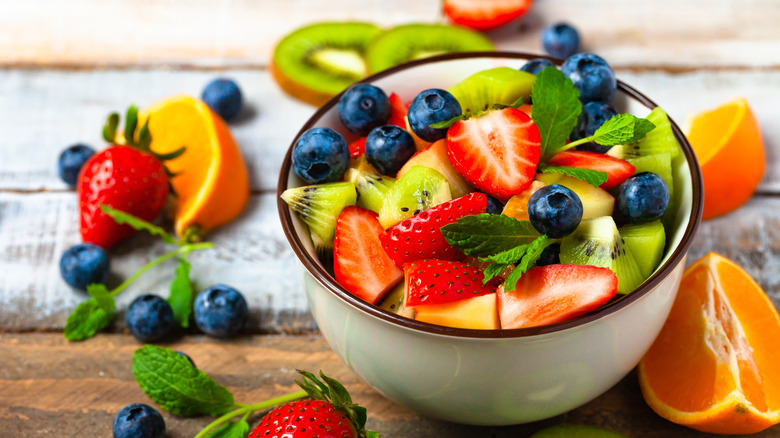 Vera Prokhorova/Shutterstock
When you want to make sure your table looks welcoming and refreshing to your guests, there's always one thing you can add to it: fresh fruit. Whether you're opting for some fresh strawberries on your charcuterie board or want to go for an all-out fruit salad, fresh fruit is a welcome addition to any tea party (and any party in general, really). It gives your guests something to eat that's light and not too filling so they can snack to their hearts' content. Plus, it brightens up the table and adds a much-needed pop of color amongst the otherwise beige-colored finger foods.
If you want to keep things as simple as possible, you can just pick up a pre-cut package of fruit from your local grocery store — it'll get the job done quickly without the need to even wield a knife. However, if you're open to being more adventurous, you could always try a creamy fruit salad or a classic ambrosia for a nostalgic feel.
Cookies or scones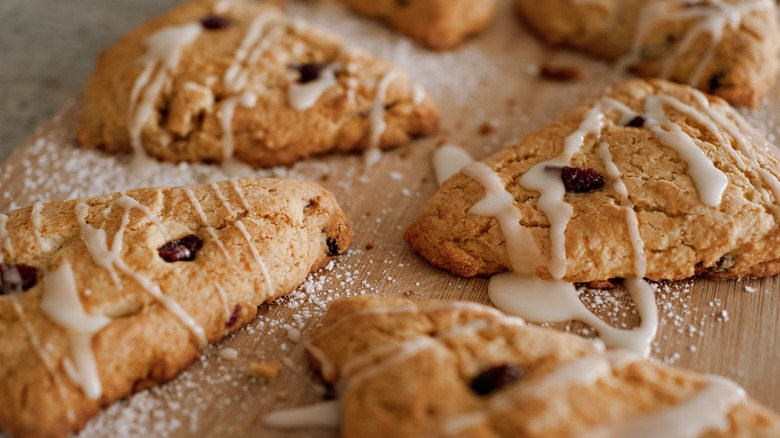 OksAks/Shutterstock
You already have your finger sandwiches ticking off the savory box on your checklist, but what about the sweet stuff? The fruit is a good start, but if you're looking for something a bit more indulgent, you can't go wrong with cookies or scones. Scones are another one of those iconic tea party foods, so they're definitely worth adding to the menu if you have enough time to make them. We love these French ginger and lemon scones, but you could go even more traditional with simple British scones.
If you're not interested in spending several hours prepping scones, though, that's totally understandable. Cookies and other sweets are a solid option as well. There's no denying that Sugar Bowl Bakery's palmiers are a great option. Luckily, you can easily find them at your local Costco. You could also bake your own cookies — you have so many different options to choose from. Basically, if you put something sweet and carb-laden on the table, you can pretty much guarantee that your guests will thank you for it.
Elevated snack foods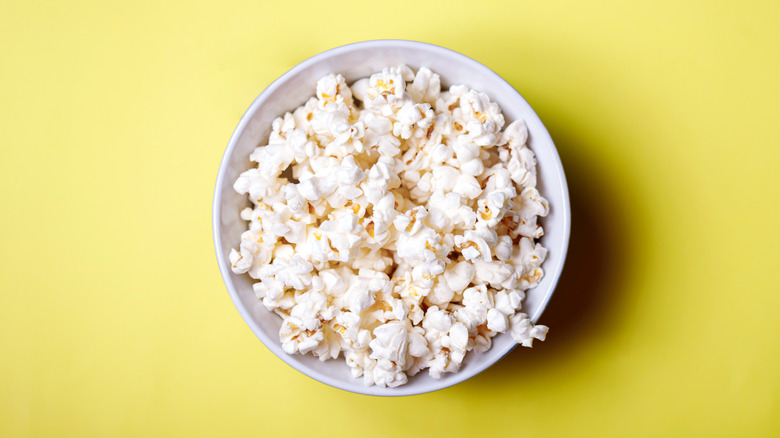 Lifesummerlin/Shutterstock
A bag of Lay's and a package of Oreos may not be exactly what you're looking for at your tea party, but that doesn't mean that you shouldn't have fun, snackable bites for your guests to enjoy. You don't have to go overboard here, but we think that one or two sweet or salty snacks go a long way in making sure everyone feels full and satisfied by the time they leave. Searching for something that feels indulgent? Oysters or tinned fish with crackers or chips are a fun way to add an unexpected element to your tea party.
If you're looking for something a little less intense, we love the idea of adding something simple but delicious to the table like popcorn. You can make your own popcorn exactly to your specifications and tastes or go with something a bit easier, such as Like Air's pancake-flavored puffed popcorn — basically any sweet-and-salty food lover's dream come true. Miniature, personal-sized snacks can also be fun. We're a big fan of Petit Pot's vanilla rice pudding, which has an old-timey feel that we can't get enough of.
Of course, you can also serve a simple bowl of chips and homemade salsa or pretty much any other snacks you have lying around — the possibilities are endless.
A great playlist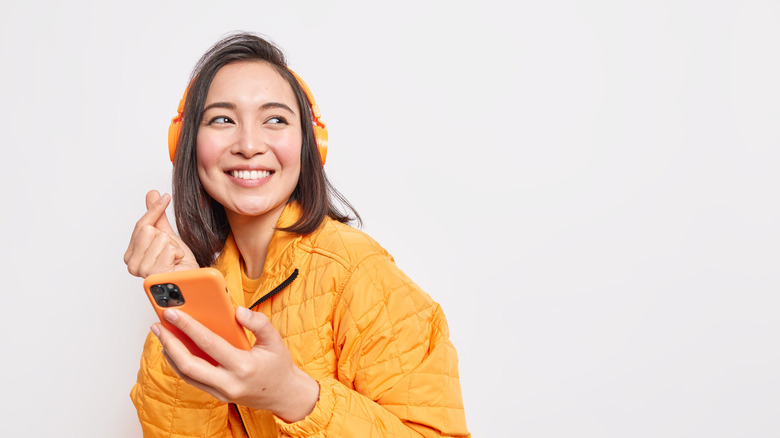 WAYHOME studio/Shutterstock
So, you already know what you're putting on the table for your tea party, but what about the overall vibe? That goes way beyond the food, and an expertly curated playlist is a fantastic way to make sure everyone is in the right mood to sip on their tea and eat their finger sandwiches all afternoon long. Since tea parties tend to happen during the day and are focused on relaxation and connection with other guests, we would choose laid-back jazz or swingy tunes with plenty of attitude but not too much energy.
Of course, your ideal playlist will all come down to your personal taste in music. But paying attention to the details, like music, lighting, and overall mood, can make your tea party even better than it undoubtedly will be already. It's not about curating a specific look or feel or showing off your amazing cooking skills — it's about getting together with friends and family and having a great time while eating and drinking. What could be better than that? Sprinkle in some relaxed tunes, and you'll have a tea party to remember.