What Wolfgang Puck Would Do If He Weren't A Chef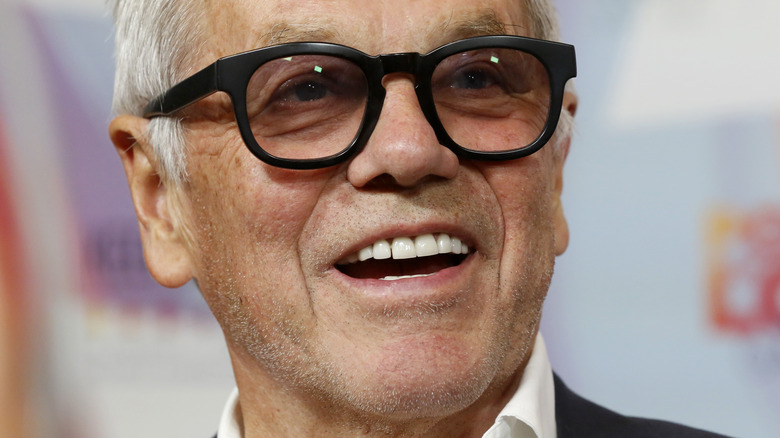 Gabe Ginsberg/Getty Images
It seems that Wolfgang Puck was born to cook. With multiple James Beard awards, two Michelin stars, and a sizeable portfolio of successful restaurants, his name is synonymous with the term "master chef" (per California Museum). For nearly 30 years, Puck has catered the Oscars' Governor's Ball, preparing delicacies and celeb favorites on Oscar Night for Hollywood's heaviest hitters. He has also written an impressive library of cookbooks and has appeared on a lengthy list of talk shows, chatting with hosts Jay Leno, Ellen DeGeneres, and David Letterman, not to mention guest roles on "The Simpsons" and "Frasier." 
Yes, Wolfgang Puck has enjoyed a huge degree of success thanks to his unequaled culinary prowess. So, it's hard to imagine him being anything other than a chef. In an interview with Vogue, however, Puck was asked the question, "If you woke up tomorrow to a world in which the restaurant industry didn't exist, what would you be doing instead?" And he was able to give an answer relatively quickly and easily, with a choice that might surprise you. 
The sheer artistry of his dishes hint at Puck's alternate career choice
Feast your eyes upon the intricate beauty that is a Wolfgang Puck dish, and you'll realize his creations are more than just bliss for your taste buds. They are also works of art — a perfect recipe of color, texture, and balance. It only makes sense, then, that Puck told Vogue, when it comes to his alternate career choice, "I would love to be an artist." So how did his love of art come to fruition? 
In a 2009 interview with CNN, Puck explained that his appreciation for contemporary art first blossomed when he was working across the road from a gallery. Sometimes, the artists would come to the eatery and he could chat with them. At one point, he became friends with renowned pop artist Andy Warhol who even wanted to paint a portrait of Puck. But the chef recalled that he said, "No, no, no. Just make me the wine label and make me the menu cover" for Spago (per The Coachella Valley Art Scene). To this very day, Puck regrets that decision, telling Vogue, "When he died, I thought: 'Sh*t! For $30,000, I could have had an original Warhol.'" An original Warhol of himself, no less. 
Puck showcases artist works in his restaurants, too
Andy Warhol was not the only artist friend of Wolfgang Puck, however. When the chef was looking for an artist to do some pieces for his spot, CUT Beverly Hills, Puck turned to John Baldessari who created nine modern pieces, according to DuJour. Bob Rosenberg, a good friend of Puck, also made a 22-foot-long painting on aluminum for his San Francisco restaurant. Puck didn't know how he would pay for the piece at the time, but the president of the Bank of America told him, "Don't worry if you can't pay for it. I'll finance you and if you cannot pay me, then I'll take the painting" (per The Coachella Valley Art Scene). 
While Puck may not have chosen to be an "artist" in the traditional way, creating culinary masterpieces truly is an art of its own. The culinary genius once pointed out the similarity between painting and cooking to CNN, stating, "If you add a little more blue, a little less blue, it doesn't matter. The same with cooking: A little of this, a little bit more of that. As long as the end result is beautiful, that's what counts." All one has to do is peruse Wolfgang Puck's recipes or social media accounts and witness the breath-taking beauty of his culinary creations to realize that he really is both a chef and an artist.