Wolfgang Puck Dishes On His Favorite Part Of Being In The Kitchen - Exclusive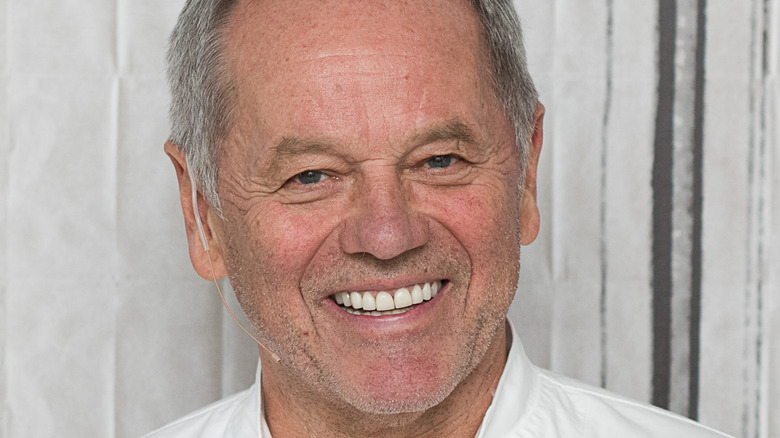 Dave Kotinsky/Getty Images
It's no secret that legendary celebrity chef Wolfgang Puck has spent a lot of time in the kitchens of his award-winning restaurants over the years. Naturally, Puck must really love the thrills and challenges that come along with working in the culinary arts, which requires a lot more than just talent. That's why when Mashed spoke with Puck during an exclusive interview about his new documentary, "Wolfgang," on Disney+, he explained precisely what it is about his craft that keeps him coming back to the kitchen.
Of course, there are several things about the business that drive Puck, at 71, to continue his work. "I love food. I love customers. I love our guests. I love to work with food. I love to work with young people, get their update from what they think," he explained. Puck is also inspired by watching his son Byron's career take off, and seeing his relationship to food evolve. "My son Byron is great in the kitchen too. We've worked in some great restaurants in Europe. I often ask him, 'Byron, when you go out with your friends, how [do] you eat? ... You go to a restaurant?' He says, 'No, we go and we hang out.'" Puck's son further explained that he and his friends love small dishes like tapas and enjoy cocktails more than they do wine. "I said [to Byron], 'Okay, I understand that. But we have to find a good balance between both of them,'" Puck shared.
For Wolfgang Puck, it's all about family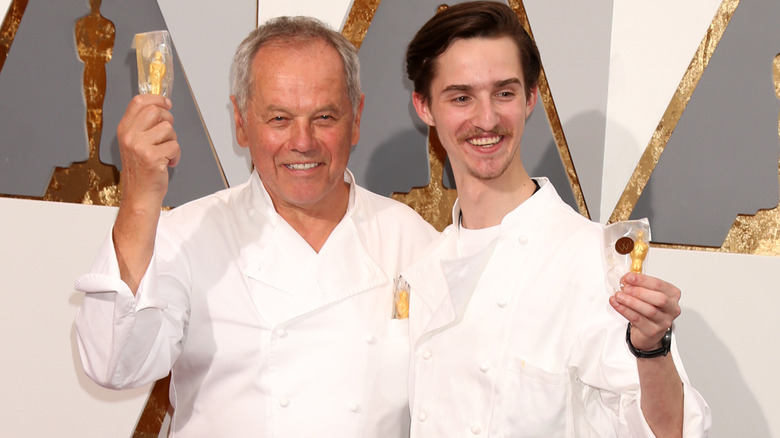 Kathy Hutchins/Shutterstock
Even though watching and listening to the influence of younger chefs is part of what keeps Puck fresh in the industry, he also adores simply watching his son's career take off. "Byron is the new manager of Merois in West Hollywood — where I started out, basically, in the same neighborhood  — and I'm excited to see him actually being successful and stressed like crazy," Puck said.
Watching his son Byron work at his new post, Puck is reminded of his own beginnings in the industry. "I said, 'It reminds me of when I was a young kid.' I didn't know where to sit the tables. Where to put the people. People called me up and said, 'I'm coming tonight with five people at 7:30,' and they hung up the phone. I said, 'But I have no table.' I couldn't even call back. It was crazy," Puck explained. 
Now Puck's son is taking those same calls, but much closer to home. "It's a little bit the same story now. He said, 'Papa, don't call me. I don't know where to put people,'" Puck shared. What has always been a first-hand love of the kitchen and restaurant business has now become a love filtered through the eyes and work of his son. From his own earliest days working alongside his mother to those of his son's career, it seems what Puck might really love most about the kitchen is family.
For a closer look at the life of Wolfgang Puck, you can now stream David Gelb's documentary "Wolfgang" on Disney+.