What's The Difference Between Charcuterie And Antipasti?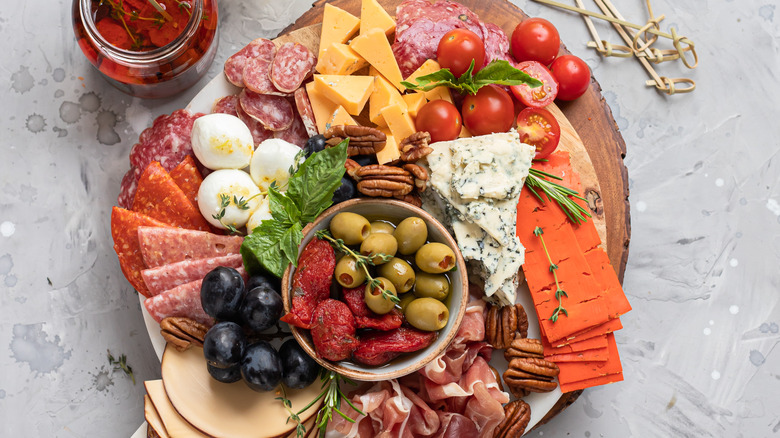 vlasna/Shutterstock
You often see charcuterie and antipasti used interchangeably on menus, as a heading for the appetizer section or to refer to a specific dish comprising artfully arranged meats and cheeses spread on a butter-smooth stone tray or rustic serving board. These beautiful boards seem like they're everywhere — you can't even scroll social media without these Instagram-perfect boards popping up. But what exactly is the real reason charcuterie boards are so popular? And are charcuterie boards and antipasti platters actually the same thing?
Well, they're similar, but not quite the same, though both rely heavily on cured meat and stylish placement. In Italian, antipasti means, "before the meal" and roughly translates to "appetizers" (via Daily Italian Words). As a dish, antipasti refers to an arrangement of small, light savory delicacies that vary by region (via Cucina Toscana) and include cheeses, vegetables, and other small savory treats.
In French Provincial Cooking, French fare expert Elizabeth David defines charcuterie as "all pork products such as cured salami [...] sausage, hams raw and cooked, galantines, and the like" as well as other sundries one might buy at a butcher like "cooked or cured meats, pâté," all "served as cold hors-d'oeuvre." This definition has expanded in recent years. For instance, the spread at Bar Boulud, named by Gotham Magazine as having one of NYC's best charcuterie boards, includes chicken, pork, and duck pâtés, French ham, and saucisson sec (a dry pork sausage), all served alongside crusty baguette, mustard, and pickles.
The distinctions between antipasti and charcuterie are subtle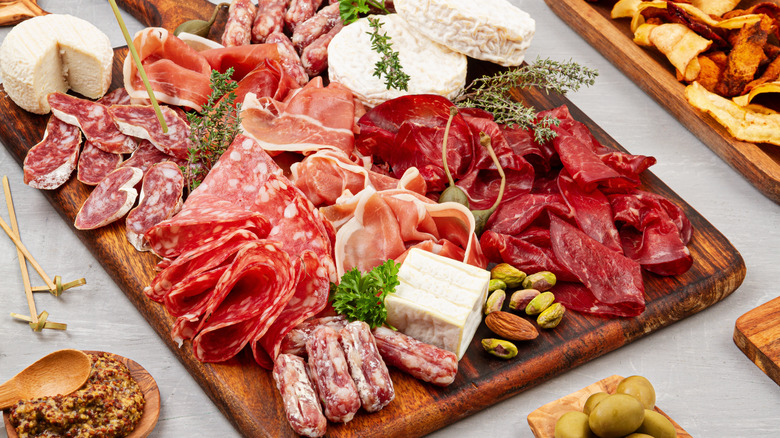 Netrun78/Shutterstock
In the U.S., antipasti (or the singular antipasto) is usually a platter of sliced Italian cured meats like prosciutto, salami, or soppressata, Italian cheeses like provolone or mozzarella, plus snacks like anchovy filets, olives, pickled vegetables, and even cured tuna or hardboiled eggs (via Eat Cured Meat). Frequently, these are served over or alongside a salad dressed simply with oil and vinegar (per MarthaStewart.com). Italian specialty food purveyor Delallo underlines the importance of aesthetics and recommends selecting items with a variety of textures and colors as well as flavors. Pickled red peppers or classic bruschetta add a lively pop of color. The bottom line is that an antipasti plate is not just a meat platter, it's a vibrant mosaic of flavor, color, and texture.
Charcuterie comes from the French word for a specialty butcher, and according to Collins French to English Dictionary, charcuterie is French for "cooked pork meats." While today's charcuterie doesn't stick exclusively to pork products, the pâtés, mousse, rillettes, and terrines that accompany the traditional cured pork also incorporate seafood, duck, or rabbit. The pickles traditionally included are French cornichons (or gherkins), intensely crunchy, sweetly sour cukes. Like Bar Boulud, Serious Eats recommends rounding out your charcuterie board with good mustard (you can't go wrong with traditional French Dijon), a fresh baguette (it won't keep long, so buy it the day of), pickles to balance the deep, salty flavors, and, of course, a nice bottle of wine.