For Instagram-Perfect Charcuterie, One Combo Set Stands Above The Rest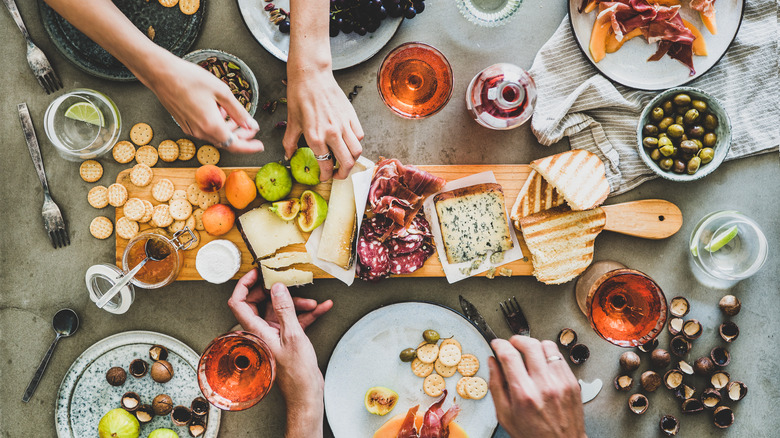 Foxys Forest Manufacture/Shutterstock
We may receive a commission on purchases made from links.
Creating the ultimate charcuterie spread is a fun task, but coming up with a tasty and varied selection requires creativity and planning. Although you could eat the items straight from their packaging, designing the perfect layout is a huge part of charcuterie's overall enjoyment. If you have nothing else available, a standard wooden cutting board or a large plate can be suitable locations for your spread. However, if you really want to step up your game then you'll want to invest in a combo set.
A charcuterie combo set comes with different sections so that you can keep your various food options separate, making them easier to identify and serve. That's not all — extras like a side serving plate and cheese knives make a combo set even more of a must-have. In addition to the practicality of having everything in one compact package, this combo set practically guarantees you'll have an Instagram-perfect charcuterie board.
Amidst the wide range of choices, the Stedware Charcuterie Cheese Board and Knife Set stands out thanks to its stylish and functional design. One of the numerous enthusiastic Amazon reviews calls it "pure perfection," and you'll likely agree. You'll want to start by getting one for your home, and then you might want to follow reviewer Gail O'Keefe's example and stock up for the holiday season, as this set makes a great gift.
Why is the Stedware charcuterie board so great?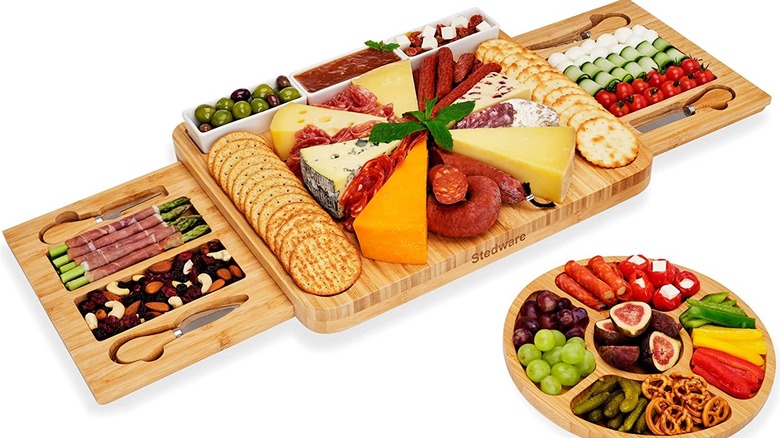 Amazon
Aside from its gorgeous design, the Stedware Charcuterie Cheese Board & Knife Set has everything you need for the next time you're hosting a dinner party or enjoying a date night at home. According to the product listing, the large serving platter comes with extendable side drawers so you have plenty of space to pile on an assortment of goodies. Indents in the material make it convenient to hold crackers or other smaller items like olives without worrying about anything accidentally rolling away. The Stedware combo set also comes with cheese knives and ceramic antipasto dishes so you won't need to go scavenging for extra dishware to complete your charcuterie setup. A separate snack tray on top of the main platter gives you additional surface area in a format that's easy to pass around.
Stedware refers to their product as "your complete party food solution," and we have to say we agree. Any gathering or evening at home will be immediately enhanced if you bring out this stunning serving platter loaded with tasty charcuterie. The product listing describes the bamboo material as non-porous, easy to clean, and best of all, it won't absorb smells. Amazon reviewers are unanimous about the qualities of the Stedware charcuterie board, and one straightforward review says it all: "Nice size, great quality. Beautifully packaged. Very classy."
Buy the Stedware Charcuterie Cheese Board & Knife Set on Amazon for $43.97.