Aldi's New Frozen Treat Is Made For Hot Summer Days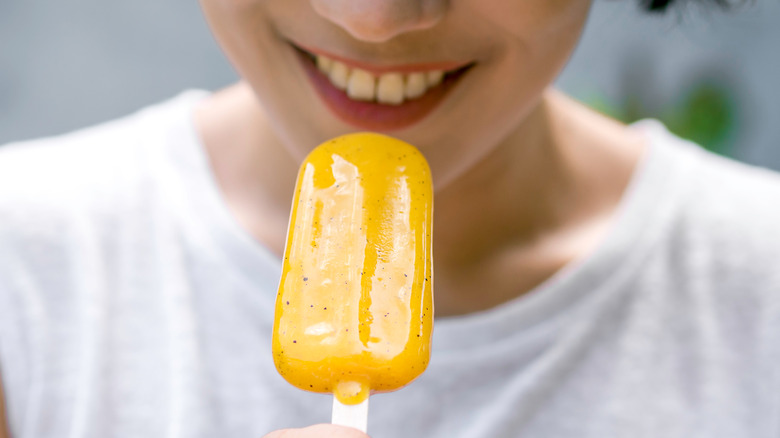 tete_escape/Shutterstock
Popsicles are one of the coolest elements of summer. Whether you buy them at your local grocer or make your favorite ice pops at home, you know they will be happily consumed by young and old. After all, who doesn't enjoy sucking on a sweet treat to beat the heat on those warm, sun-filled days? We love to eat them while watching our favorite Major League baseball team sweat it out on the field; while sitting outside with the kids and watching fireflies at night; while gazing in awe at Fourth of July fireworks; and of course, no pool party would be complete without a freezer filled with these icy treats. Per Billboard, even Justin Bieber is a fan of these frozen desserts on a stick, and if the Biebs likes them, well... enough said.
Popsicles are definitely a harbinger of this relaxing and carefree season. And, when Aldi fans start sighting new and old favorite ice pops at their local supermarket, they can't help but share with one another on social media. Aldi shoppers have already found themselves thirsty for Aldi's margarita popsicles. And when one eagle-eyed Aldi devotee spotted Outshine's real fruit popsicles at the economically priced grocery store, they couldn't help but take to Instagram to get their fellow Aldi aficionados excited. Well, there's been another chilly discovery and these frozen treats are truly made for hot days. 
Aldi's newest popsicles come in 3 flavors
Instagrammer @aldi.mademedoit — aka your Aldi BFF — stumbled upon some La Michoacana Minis with Chamoy popsicles and could not help but post a photo with the caption: "Ooooohh heck to the yes!! Chamoy is seriously life and I can't wait to eat every single one of these babies!! @lamichoacanaytu Which flavor are you most excited about and what do you like to add Chamoy too?!" These popsicles come in boxes of 12 and feature pineapple, lime, and mango flavored frozen fruit bars, sprinkled with a little chilito or spicy pepper. 
What's chamoy? Per Spruce Eats, it is a Mexican condiment that is both spicy and sweet. It is used in a variety of ways in both beverages and foods, but pairs well with a little lime. If your taste buds are churning, you are not alone. @aldi.mademedoit joked, "I'm going to need one of each to start." And naturally, the IGer's followers chimed in, sharing their excitement, with one replying with, "I bought these at woodmans today. Mango and pina are [hot]. Haven't tried the lime yet!" And another echoed their love for this sweet and tangy treat, quipping, "chamoy makes everything better." It just might be time to check out your own local Aldi to see what popsicles they have in stock.