Aldi Shoppers Are Loving These Real-Fruit Popsicles
Aldi has just released a new item for summer that shoppers can't seem to get enough of. Outshine's light and fruity frozen popsicles are fresh, hydrating, and sweet. One delighted Aldi customer was so excited to see the product on their shelves that they took to Reddit to post about its arrival, calling it a "must buy."
Outshine's frozen fruit bars are the perfect warm weather snack. These popsicles are made with real fruit, sweetened with cane sugar, and contain heart-healthy turmeric, as well as a good dose of other healthy nutrients like vitamin C and potassium, per Outshine Snacks. While these bars are packed full of good stuff, unhealthy and unnecessary additives are noticeably absent from the ingredients. These bars contain no GMOs, artificial ingredients, coloring, or high fructose corn syrup. One bar is only 60 calories, making them the perfect iced summer treat to satisfy a sweet tooth without being too heavy.
These frozen fruit bars are a seasonal item at Aldi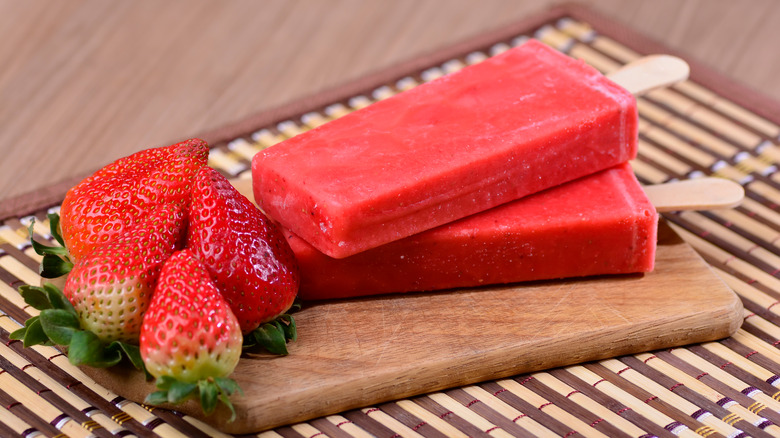 Shutterstock
One box contains six delicious bars, and they come in many different delicious flavors, including strawberry, raspberry, pineapple, peach, and tangerine. Many Aldi shoppers were quick to sing the praises of the fruit pops online. "They are super fresh and fruity. It's quite literally like someone mixed pureed strawberries and citrus with sugar and poured that into a popsicle mold," one Reddit user posted. Other users also couldn't stop raving about them, calling them "unbelievably good," "amazing," and "delicious."
"If you can find the tangerine ones grab em! So delicious and satisfying" one user suggested, while a fellow Reddit user recommended mixing the real fruit popsicles in a glass with bubbly prosecco for a refreshing summer drink. These popsicles are a seasonal item, and they will only be available at Aldi for a limited time during the warm weather months. So, you won't want to wait to grab a box of your favorite refreshing fruit flavor today.