Aldi Shoppers Are Loving This Easy, Sweet Snack Combo From Reddit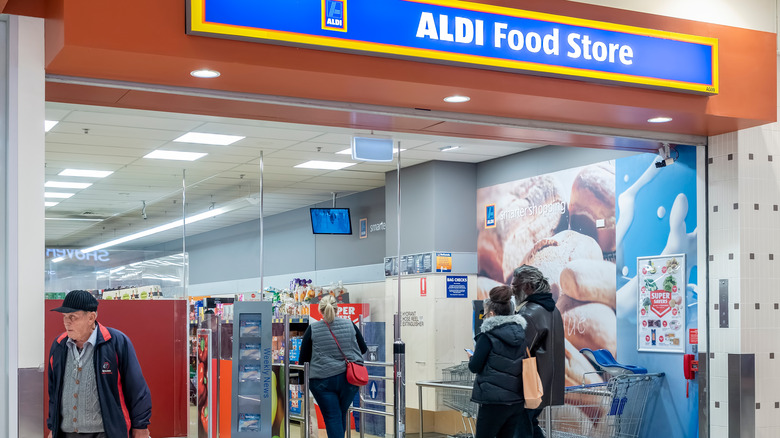 Dr. Victor Wong/Shutterstock
Even if you've never graced the doors of an Aldi, you are probably aware of the store's mission to provide quality food at a lower cost than big-name stores like Kroger, Wal-Mart, and Tom-Thumb. Aldi is able to give customers a better value for their money based on their highly efficient store operations. While you may feel put off by the refundable $0.25 cent grocery cart fee or the fast-paced self-bagging protocol, Aldi has a way of doing business that keeps most of its loyal customers satisfied.
Not only are Aldi's practices different than most big box grocery stores, but Aldi's customers tend to be die-hard dedicated fans. On Instagram, several accounts exist based on a love for the store and have detailed information regarding the most sought-after items and new product reviews. Accounts like @adventuresinaldi and @aldifavoritefinds have close to over 375,000 followers combined. It's no wonder the store was named the most popular grocery store in the United Kingdom last year.
What makes Aldi even more interesting is the level of intensity fans have over certain in-house products. Foods like Benton's fig bars and Happy Farms singles American cheese are claimed to be better than their name-brand competitors. With all the hype around Aldi's products, social platforms prove to be the place to see all these highly rated foods in action.
Aldi's Friendly Farms Cottage Cheese is a winner
If you want advice or photos on how to make a certain recipe, look no further than the internet and in Aldi's case, social media. Recently on Reddit, one user posted a picture in the r/aldi community of Aldi's Friendly Farms Cottage Cheese with their Specially Selected Gourmet Peaches. The post received a 95% upvote rating on the popular subreddit which has close to 85,000 followers. One user commented "There's a reason this is a classic!" while another stated, "A variation of this is my breakfast almost every morning."
Peaches aside, according to the ALDI REVIEWER, Aldi's Friendly Farms whole milk cottage cheese is the best on the market. The blogger states "I've had much higher priced cottage cheese from other stores that can't stand up to this one in terms of flavor and texture."
The fact that this sweet treat is getting so much hype makes sense since Aldi just won the Product of the Year Award for seven different items, one of which is Aldi Emporium Selection of cracker cut cheeses. While the company also won awards for its frozen garlic knots and a Pinot Noir variety, the variety of cheeses Aldi offers tends to be popular among its loyal shoppers. The next time you're at Aldi, take a chance on this tasty combination. Not only are you getting a sweet treat, but the cottage cheese adds a great protein boost to your day.