Secret Ingredients To Majorly Upgrade Green Beans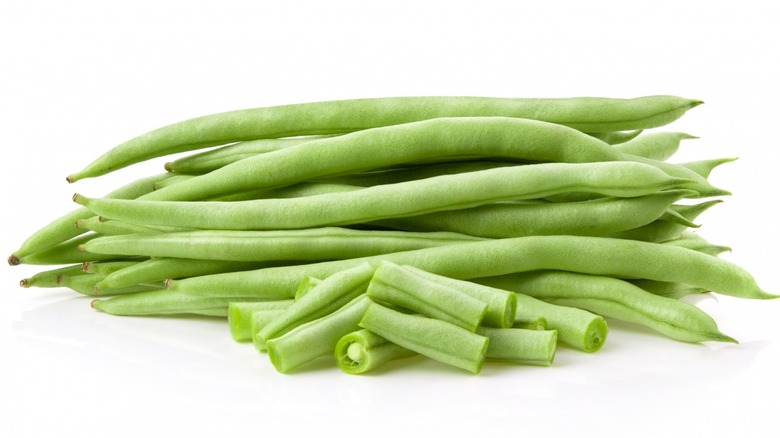 Gayvoronskaya_Yana/Shutterstock
You can call them haricot verts and whip them up with shallots and herbes de provence butter, or you can go old school with Grandma's green bean casserole made with canned cream of mushroom soup and topped with crispy fried onions. In either direction, green beans can be great dressed up or down.
With the help of culinary skill and produce marketing, Brussels sprouts became more than a bag of frozen veggies in your mother's freezer, while elote rose above its origins as inexpensive Mexican street corn. As those vegetables pushed their way to the top of trendy restaurant menus, the green bean continued to (quietly) shine, the Betty White of vegetables, remaining a perennial darling without the need for a boisterous PR agent.
There are two secret ingredients that can take your green beans to an even higher level while making the other home cooks green, excuse the pun, with envy. First, prep your beans. Here's a tip to quickly trim your green beans: Line up your veggies with the edges in a line and in one move, slice off the tips with a chef's knife or paring knife. Then line up your beans on the other side and repeat.
Zest of a lemon and smidge of nutmeg
Even with menus boasting dishes like balsamic roasted Brussels sprouts with crispy pancetta and homemade recipes like savory beet salad with goat cheese mousse and arugula, our green girl stays polished with only a little accouterment. So what are the secret ingredients to dress her up? Colorfully adorn this summer veggie with some snappy lemon zest and a little nutmeg.
The Kitchn recommends "roasting green beans with olive oil, then tossing with lemon zest, grated nutmeg, and sea salt." We agree that this seemingly simple combination brings out the best in your string beans. The outlet also suggests other ways to jazz up your beans of green, including adding tahini and sesame seeds.
More flavorful ideas include drenching them in spicy Szechuan flavor by creating a dressing that includes garlic, chili flakes, sugar, hoisin sauce, and rice vinegar, or with bacon and caramelized onions à la Ree Drummond. "I've gotta get the cowboys to eat their vegetables somehow," says The Pioneer Woman, "so adding a little bacon grease is always a good way to do it."