Savory Roasted Beet Salad Recipe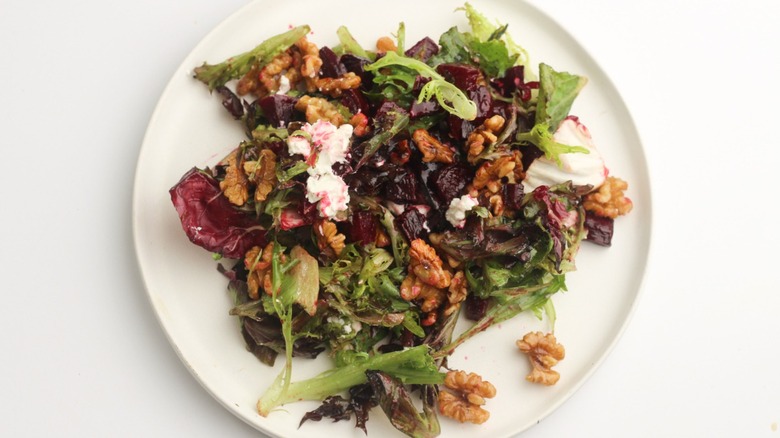 Susan Olayinka/Mashed
If there is one vegetable that would seem to have relatively few fans, it would arguably be the beet. Ok, so anyone of Eastern European decent may have fond memories of Baba's borscht, but for countless others, beets will forever be reminiscent of those canned and pickled horrors that so often infected aspic molds (themselves a jiggly mid-century nightmare).
Foodies, however, gave new life to this humblest of root vegetables, rehabilitating it by way of roasting. Recipe developer Susan Olayinka of The Flexible Fridge explains just what roasting can do for beets. "[It] caramelizes them," she said, adding that it "makes [them] sweeter." Here she pairs beets with nuts and cheese crumbles to make a delicious, nutritious salad topping. The entire salad is something you can feel good about eating, as Olayinka points out that "It has two vegetables, and the olive [oil] dressing is healthy, too." Plus, this roasted beet salad makes a great entry-level dish to help reluctant beet eaters realize that this super-veggie can actually be quite tasty if you give it a chance.
Gather the ingredients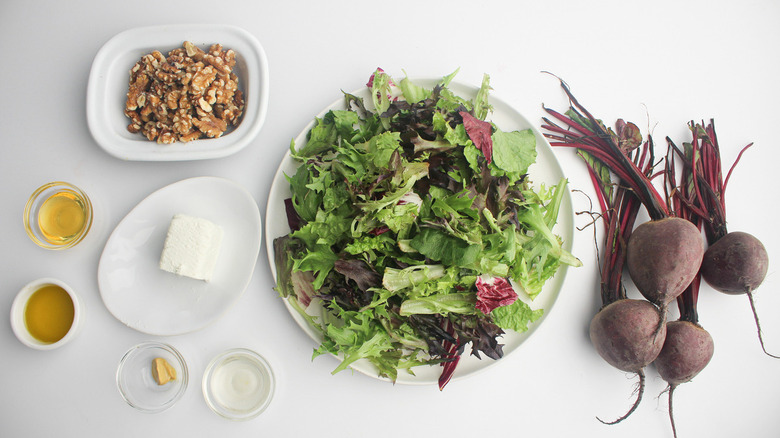 Susan Olayinka/Mashed
The centerpiece of this salad is, of course, the beets — fresh ones, not canned. While you're in the produce section, pick up a bag of mixed greens. You'll also need a few things to make the dressing: white wine vinegar (not the plain white distilled kind, as it's a bit too astringent for dressing), honey, and Dijon mustard. And don't forget walnuts and goat cheese, which will be used to top the salad. For the goat cheese, you can either buy the pre-crumbled kind or just crumble it yourself.
Wash, trim, peel and roast the beets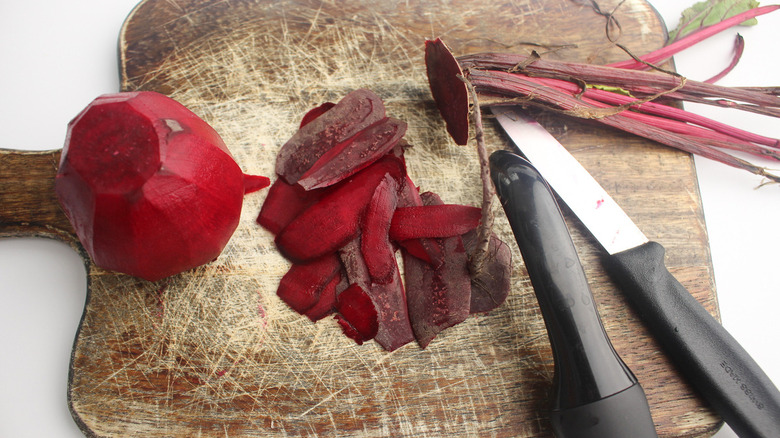 Susan Olayinka/Mashed
Start by preheating the oven to 350 F. Wash and trim the beets. If you weren't already aware, beets tend to come with greens still attached. And while you won't be using them in this recipe, you can save them for later use as they are not only edible, but jam-packed with vitamins and fiber. After washing and trimming, peel the beets, discarding any wispy little root ends. Chop the beets into ½ inch bite-sized pieces.
Spread the beet chunks out over a baking pan, then drizzle them with 1 tablespoon of oil. Roast them for 25 minutes.
Dress the roasted beet salad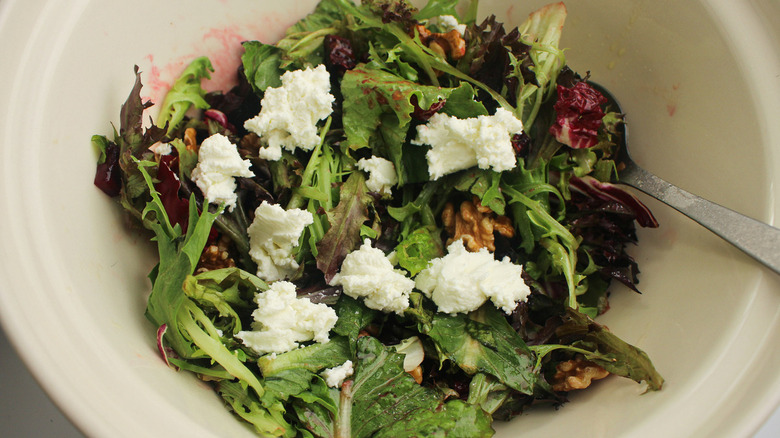 Susan Olayinka/Mashed
Fill a salad bowl with your mixed greens. In a separate bowl, combine the rest of the oil with the vinegar, honey, and mustard. Pour the dressing over the salad and toss to mix. Olayinka says she likes to massage her greens for 30 seconds after adding the dressing, but this might not be necessary unless the greens mix contains a high proportion of kale. If you've bought a bagged mix, though, you most likely won't need to prep the greens in any way as they'll be ready to eat as is.
As a finishing touch, top the salad with the beets, walnuts, and cheese crumbles. While this salad makes a great side dish, Olayinka says you can turn it into a complete meal with a few additions. "Some grilled chicken or steak would be great," she says, adding that you could "add some carbs like rice or couscous to make it a whole meal."
Tweak to suit your taste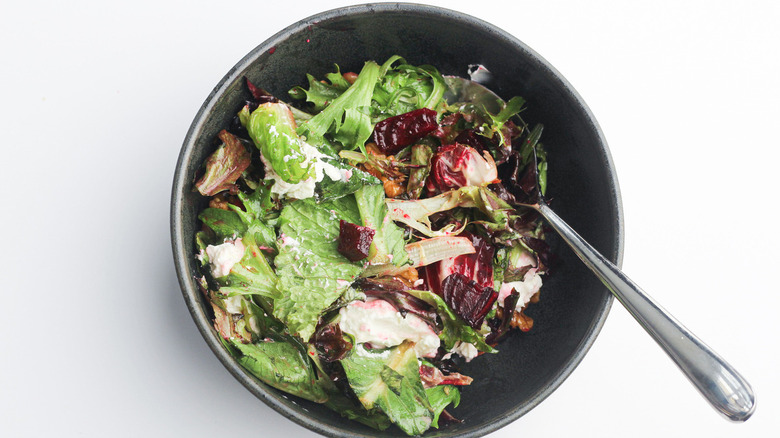 Susan Olayinka/Mashed
While this recipe makes a pretty amazing salad, feel free to make a few small changes to suit your own tastes. If using the full amount of honey sounds like too much, Olayinka says you can "reduce the honey to ½ [tablespoon]," but you can add or subtract as much as you'd like. You could also use maple syrup in place of honey for a slightly different taste sensation, or replace the white wine vinegar with balsamic or red wine vinegar.
Olayinka says you can change up the cheese, too, using "any cheese [such as] cubes of mature cheddar [or] blue cheese." Feta, of course, makes a great goat cheese substitute, too. Another possible swap might involve the nuts, which Olayinka suggests "can be pecans [or] cashews" instead of walnuts. In other words, this is an incredibly versatile salad.
Savory Roasted Beet Salad Recipe
If there is one vegetable that would seem to have relatively few fans, it would be the beet. But this recipe for roasted beet salad will make you a convert.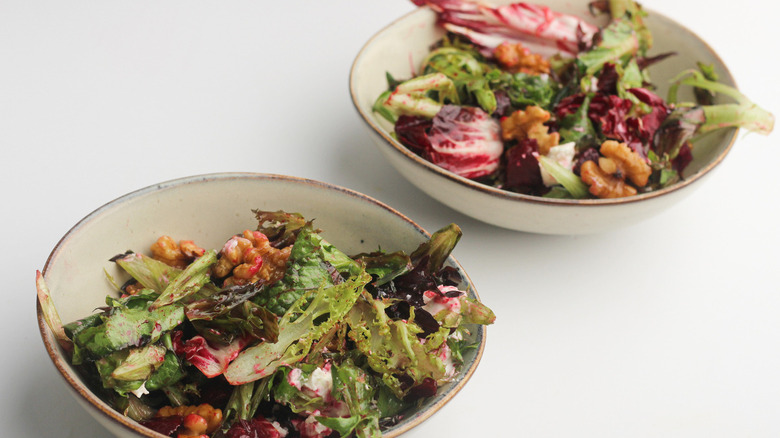 Ingredients
4 beets
4 tablespoons extra-virgin olive oil, divided
5 ½ ounces mixed greens
1 tablespoon white wine vinegar
1 tablespoon honey
1 ½ teaspoons Dijon mustard
1 cup walnuts
2 ½ ounces crumbled goat cheese
Directions
Preheat oven to 350 F.
Peel and chop the beets.
Drizzle beets with 1 tablespoon oil
Roast for 25 minutes.
Fill a salad bowl with mixed greens.
Mix remaining oil with vinegar, honey and mustard.
Pour dressing over salad.
Top salad with beets, walnuts, and cheese and serve!
Nutrition
| | |
| --- | --- |
| Calories per Serving | 309 |
| Total Fat | 24.2 g |
| Saturated Fat | 6.1 g |
| Trans Fat | 0.0 g |
| Cholesterol | 10.9 mg |
| | |
| --- | --- |
| Total Carbohydrates | 18.0 g |
| Dietary Fiber | 3.9 g |
| Total Sugars | 13.6 g |
| Sodium | 236.6 mg |
| Protein | 7.2 g |