The Subway Tuna Drama Isn't Over Just Yet
Birch Photographer/Shutterstock
When you order a tuna salad sandwich, you expect to be enjoying tuna, not any other animal products. This is allegedly not the case at Subway restaurants, according to a lawsuit filed in 2021 that just took a major — and potentially fishy — turn, per Today.
The suit claims that lab tests found Subway tuna samples to contain "a mixture of various concoctions that do not constitute tuna, yet have been blended together ... to imitate the appearance of tuna" (via The Washington Post). The plaintiffs apparently stopped short of revealing exactly what the so-called tuna was actually made of but later alleged that it contained DNA from chicken, pork, and other animals, per NPR.
For its part, Subway continues to deny the allegations and set up a dedicated web page to claim they use "100% real, wild-caught tuna" (via Subway). However, the chain also responded to the suit in a pretty bizarre way, claiming that any potential non-tuna elements in the fish were actually the result of accidental cross-contamination by employees, per NBC, and they requested that a judge dismiss the lawsuit altogether.
However, after another legal twist in the case, the Subway tuna drama is far from over — in fact, it's only diving deeper.
Why Subway's tuna defense isn't going swimmingly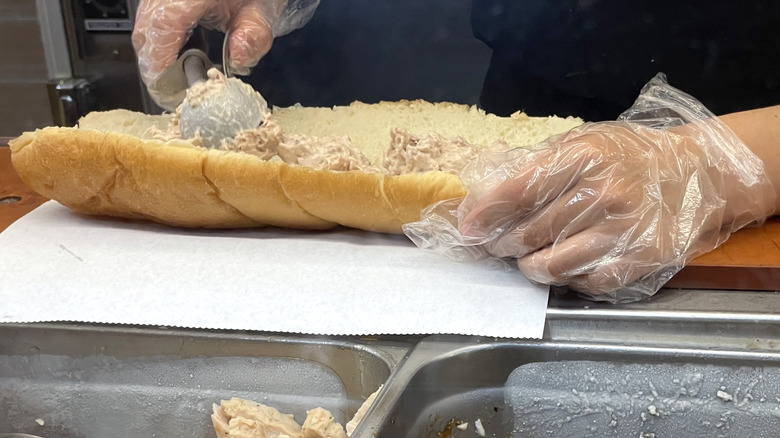 Justin Sullivan/Getty Images
Despite Subway's request to have the tuna lawsuit thrown out of court, a federal judge ruled against the mega sandwich chain — which has more locations than McDonald's — and allowed the case to move forward, per NPR. Even if sandwich artist cross-contamination could've caused other meats to end up in the tuna salad, Judge Jon Tigar wrote (via NPR), it doesn't negate the possibility that the tuna salad itself already contained "ingredients that a reasonable consumer would not reasonably expect to find in a tuna product," so facts of the case remain unanswered.
In response to the lawsuit, news organizations have launched their own forensic tests to determine what's actually in Subway's tuna sandwiches, to mixed results. When Inside Edition sent a sample of Subway tuna to a lab, results confirmed it was, in fact, tuna (via YouTube). The New York Times conducted a similar experiment, which came back inconclusive. "No amplifiable tuna DNA was present in the sample," the lab told the paper, which doesn't necessarily imply the sample was not tuna — another possibility was that genuine tuna had simply been processed beyond recognition. Still, it's potentially not a good look for the "Eat Fresh" chain.
Subway has already been struggling with its ingredients lately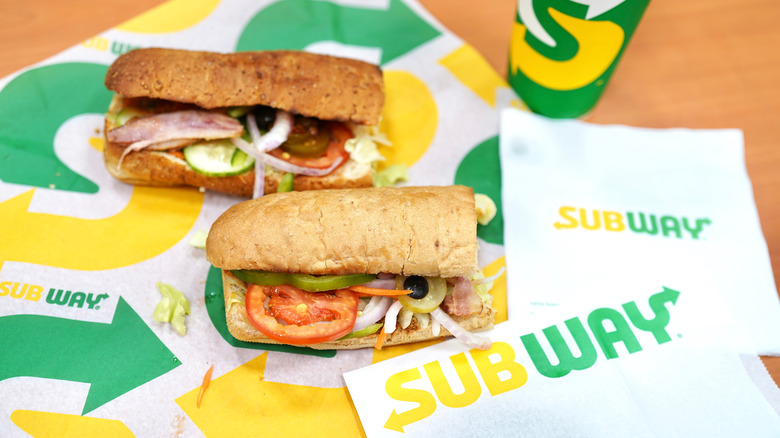 Prachana Thong-on/Shutterstock
The tale — or tail? — of Subway's questionable tuna is not the first time the chain's sandwichery has sparked debate and even legal action. There are plenty of examples of the food at Subway not being what you think it is.
The chain faced a lawsuit in 2013 alleging that its Footlongs weren't lengthy enough to earn that title (via the New York Post), and the Irish Supreme Court ruled that the sandwich rolls can't be called "bread" because they're too sugary (via Independent). Comedian John Oliver even called out the chain's business practices on an episode of "Last Week Tonight."
This poor public perception is part of the real reason you've been seeing fewer Subway restaurants. The chain has shuttered around 6,000 locations since 2013 (via Restaurant Business). And the chain's aggressive franchising strategy continues to cause individual locations to make far less in sales than competitors (via Restaurant Business). Franchise owners, in an open letter, called the situation a "nightmare," per Insider.