Why Subway Is Selling A Stephen Curry Jersey Stained With Meatballs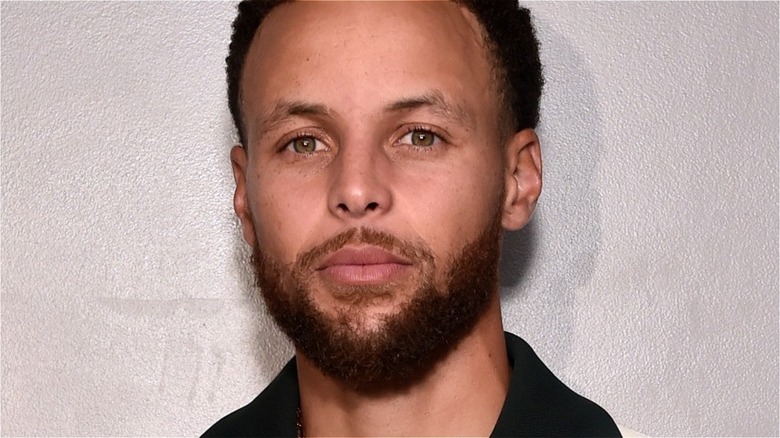 Alberto E. Rodriguez/Getty
Elite athletes like Stephen Curry have to be very particular about their diets, but when your wife is a celebrity chef, it can be tough to stick to a diet as strict as Tom Brady's, for example (via Insider). While Brady has sworn off pasta for years now, Ayesha Curry told Page Six in 2017 that the Warriors star ate pasta before every game. "I've made it for eight years and we've been going strong," Curry told Page Six. "I sneak eggplant, spinach and all sorts of goodies into the sauce. I make it before every single game."
Ayesha also explained on Eater's Upsell podcast that the basketball star is a big pizza fan. In fact, one restaurant in Boston created a custom pizza for Curry to celebrate his historic 2,974 three-pointers. In an exclusive interview with Mashed, Ayesha Curry explained that her husband also loves chicken parmesan, so it seems like he enjoys carbs smothered in tomato sauce. Knowing his food preferences, it's no surprise that Stephen Curry partnered with Subway to auction off a very saucy jersey (via Twitter).
Proceeds from the jersey benefit the Curry family's Eat. Learn. Play Foundation
A few days ago, Subway posted a photo on Instagram of Stephen Curry holding a meatball sub with the mysterious caption that it had upcoming "big and collectible news." It has since been announced that the sandwich chain has partnered with the basketball star to auction off a signed and marinara-stained jersey. Instead of a game-worn jersey, Curry refers to it as a "game eaten in" jersey in the promotional video, featuring "authentic marinara, wiped straight from his face." The jersey is being auctioned off on eBay and the current highest bid is $5,700.
Not only does this partnership promote Subway's new sandwich – The Boss, which is a meatball sub with pepperoni according to Restaurant Business Magazine — but the proceeds from the jersey will benefit the Curry family's Eat. Learn. Play foundation. According to the foundation's official website, it is "committed to unlocking the amazing potential of every child by fighting to end childhood hunger, ensuring students have access to a quality education, and providing safe places for all children to play and be active." The foundation achieves these goals with summer camps, after-school programs, "Little Libraries," delivering food to underserved communities, and more. Since March 2020, the foundation has provided over 25 million meals and 4 million pounds of groceries to the Oakland community and surrounding areas.