The Best Cold Press Juicers Of 2022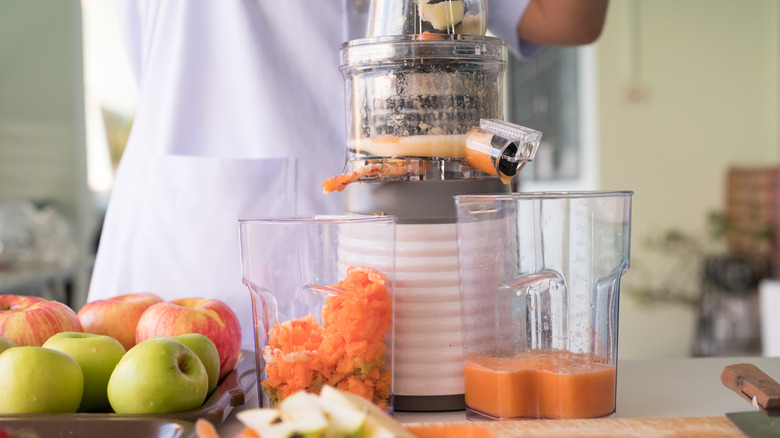 Komsan Loonprom/Shutterstock
We may receive a commission on purchases made from links.
While juice is packed with vitamins, antioxidants, and minerals, not all methods of extracting juice from fruit and vegetables yield the same results. Centrifugal juicers, which are the most popular on the market, rely on blades that rotate at high speeds of between 6,000 and 14,000 revolutions per minute (RPM) to chop up fruit and vegetables. While centrifugal juicers are affordable and get the job done fast, their high RPM tends to create heat, which causes the juice to oxidize and lose some of its nutrients (via Life Bistro).
Here is where cold press juicers can help. Also sometimes called masticating juicers or slow juicers, cold press juicers extract juice by crushing and pressing fruit and vegetables. This means that they not only extract almost the last drop of juice out of the fiber but also produce much less heat to ensure that the final nectar is high in nutrients. And while the process is longer and more labor-intensive than centrifugal juicing, many converts swear by the health benefits and delicious taste of cold press juice.
Whether you're new to juicing or a seasoned pro who has been extracting juice at home for years, it pays to keep on top of the latest kitchen gadgets. With this in mind, here's our list of the best cold press juicers of 2022.
How we selected the products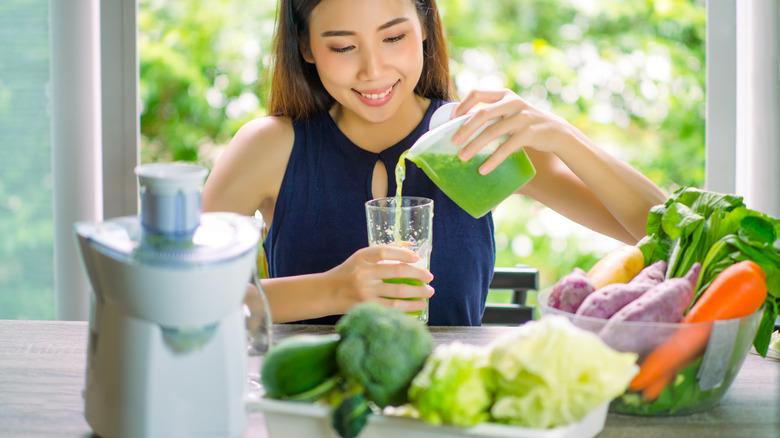 DW2630/Shutterstock
Is hanging out at your local juice bar getting pricey? A cold press juicer might just be the answer you've been looking for. While your daily juice fix may take a little prep and cleaning, investing in a cold press juicer will help keep your nutrient levels up. It may also save you money in the long run.
We have looked at hundreds of cold press juicers to bring you a list of the very best gadgets on the market. We spent hours researching different brands, as well as perusing community and expert reviews. Our search for the best cold press juicers took into account a number of factors including gadget size, design, and versatility. After all, those with a large family and a big kitchen will be looking for a very different machine than a health-conscious single living on their own. Some other factors that played a role in our choices included feeding chute size, cleaning and maintenance, noise level, and price.
Best overall cold press juicer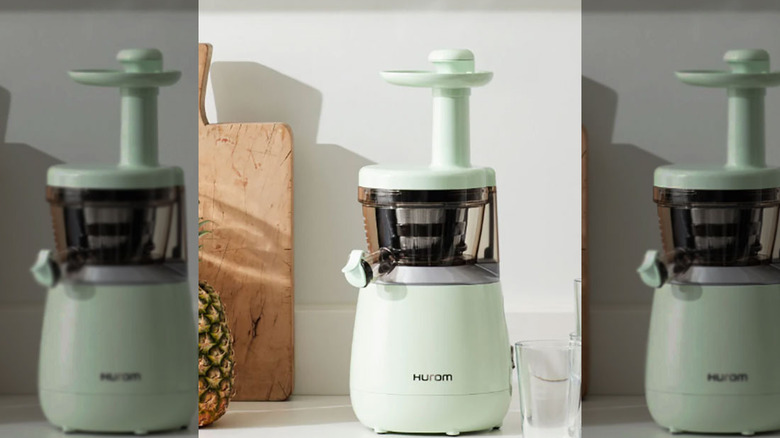 HUROM
Combining style and function, the HUROM HP Slow Juicer features striking retro curves and comes in three appealing colors — mint, pink, and white. The juicer also boasts HUROM's patented Slow Squeeze Technology and works at 43 RPM to replicate the action of manually squeezing juice. Plus, it's designed to squeeze fruit and vegetables to the last drop to minimize waste. It also works on soybeans, nuts, and leafy greens.
Crafted from ABS plastic, the HUROM HP Slow Juicer comes with a sturdy Ultem strainer and an auger that have eight times the strength of standard plastics. The HP is also easy to disassemble and features a built-in brush that rotates during juicing to clean the chamber and strainer. The juicer comes with a cooling system to prevent overheating and safety sensors that stop it from switching on if incorrectly assembled. Plus, it's quieter and more compact than many traditional juicers.
Since the HUROM HP is relatively compact, it comes with a small 11.8-ounce jug. This makes it ideal for personal use or for small families but not so great for large gatherings. The gadget also features a relatively narrow chute, which means a little more prep work cutting veggies and fruit (via Juicing Journal).
At the time of this writing, you can purchase the HUROM HP Slow Juicer from Amazon starting at $322.15.
Best value cold press juicer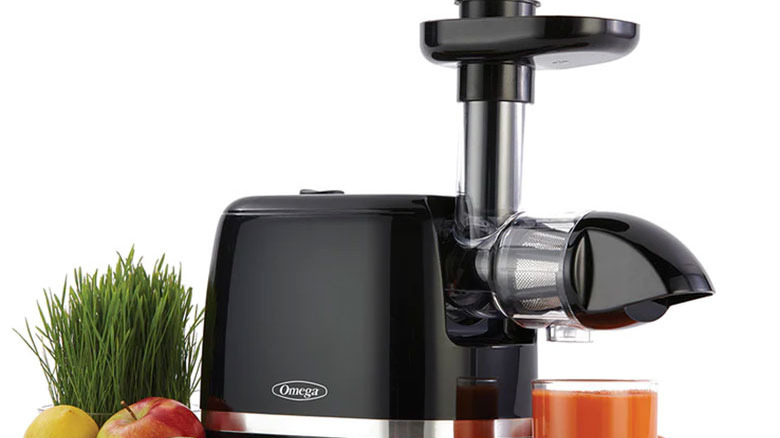 Omega
The Omega H3000D Cold Press Juicer features all the basic functions you may need in a cold press juicer without the hefty price tag. Made from BPA-free plastic, the horizontal juicer is also compact enough not to be overly obtrusive. Working at 90 RPM, the machine has sufficient power to extract juice from a variety of veggies including leafy greens, although it's slower than larger juicers. In her review for Spruce Eats, Donna Currie noted that the greens would sometimes clog in the feed tube when she tried to push them through too fast.
The 28-ounce juicer features a clear drum feed, chute, and juice cup so you can watch it in action and prevent any potential jamming. In case of a problem, the juicer comes with a reverse switch that moves food back out of the auger. The unit also features suction cups to keep it securely in during juicing. One Amazon reviewer called the H3000D a great machine, saying, "This is my second Omega juicer. My first one lasted 10 years. This one is a slightly lower grade but works exactly the same. The only difference is the pulp discharge hole. It's smaller and a little harder to ... clean but this is of little concern, seeing the price was almost [three times] less than my first machine. Works great, easy to assemble, and produces a very good yield!!!"
Purchase the Omega H3000D Cold Press Juicer from Amazon starting at $129.99.
Best compact cold press juicer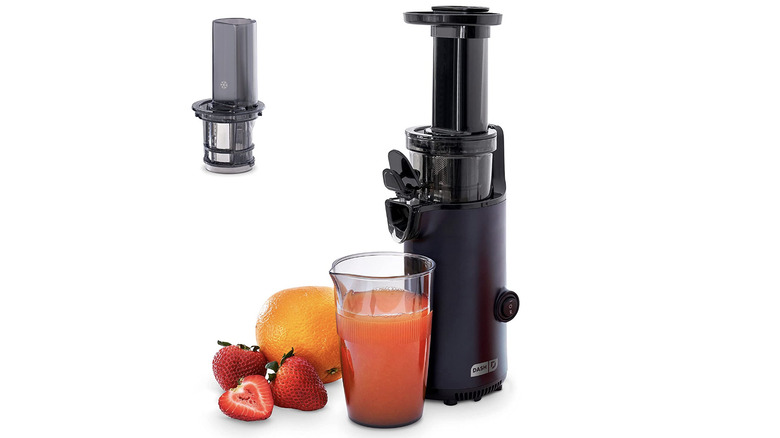 DASH
Ideal for those with limited kitchen space, the DASH Deluxe Compact Masticating Slow Juicer stands at only 14 inches and features a 4-inch base. Despite its small size, the DASH Deluxe has enough oomph not just to crush veggies and fruit but also to make cashew and almond milk. For best results, however, you'll need to cut your produce into one-inch pieces to prevent the machine from jamming. As an added bonus, the machine comes with an attachment for making frozen desserts such as sorbet.
In terms of reviews, both Juicing Journal and Juicer Hack point out that you're unlikely to find another compact and affordable juicer that is this powerful. Many Amazon reviewers agree. One satisfied Amazon customer who recommends the juicer says, "It's not very loud which I love, and it doesn't take up much space which I also love. I was pleasantly surprised to see that it processed celery and did a pretty good job. The pulp got a little stuck but super easy to clean and move out of the way to continue to process the juice. Overall, great price, not too loud when juicing, easy to clean, and compact."
Purchase the DASH Deluxe Compact Masticating Slow Juicer from Amazon starting at $99.99.
Best splurge cold press juicer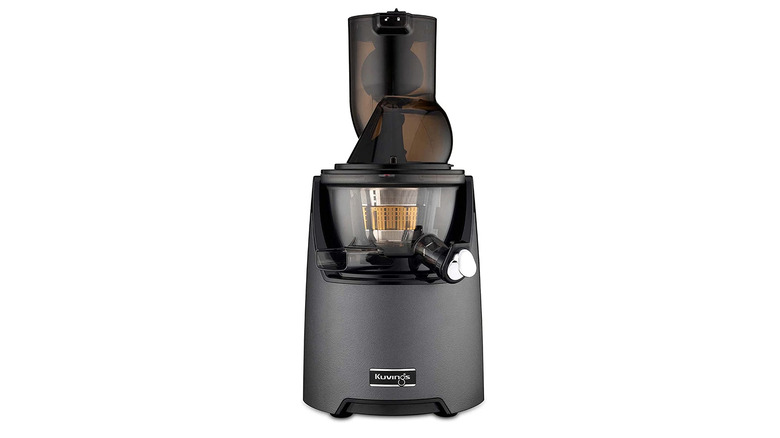 Kuvings
With a price tag of almost $600, the Kuvings EVO820GM Juicer is a good choice if you're after an effective and durable machine that looks great in your kitchen. Available in gold and silver, the 50 RPM juicer features a streamlined body and an elegant leather pattern finishing. In terms of functionality, the EVO820GM comes with a powerful 240-watt motor and a wide 3.2-inch O-shaped feed tube that accommodates larger ingredients. In addition, the large pulp outlet means less pulp in the strainer, which equates to less cleaning. Last but not least, the EVO820GM comes with a 10-year warranty for peace of mind (via Amazon).
While the Kuvings EVO820GM Juicer is on the pricey side, judging by the reviews you do get what you pay for. J. Walters who reviewed the unit on Amazon summed this up, saying, "It is expensive, but it also does an amazing job and is very easy to put together and assemble. I think that you save quite a bit of time by not having to chop things so stringently and it does a universally better and more efficient job ... Cleanup is pretty quick too which is nice. The only real issue that I have is that it's a lot of stuff to store and takes up quite a bit of space. Know that going in and you'll love this juicer."
As of August 2022, you can purchase the Kuvings EVO820GM Juicer from Amazon starting at $599.95.
Best cold press juicer for ease of use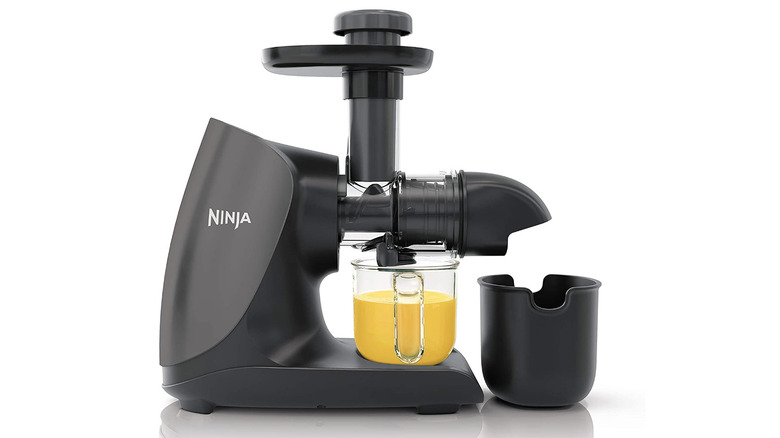 Ninja
With two programs — stop/start and reverse — the Ninja JC101 Cold Press Juicer – is a no-brainer. Simply press the start/stop switch to run the Ninja JC101 and press the same switch again if you want to stop the machine. Press the reverse button if you want to ring out more juice or detect any jams. The six-part juicer is also straightforward to assemble and is dishwasher safe. In addition, the Ninja JC101 comes with three pulp filters for easy customization — choose between no pulp, some pulp, and a lot of pulp. (via Juicing Journal).
The Ninja JC101 is both affordable and compact. This means that while the appliance takes up less kitchen space, it only comes with a 16-ounce jug and a small feeding chute (via CNN). Despite its shortcomings, the gadget is a great choice for singles or small families who appreciate the benefits of a compact design and ease of use.
One reviewer, who purchases the juicer on Amazon, believes that it's a great deal for the price, saying, "I needed something that wasn't too expensive to get me started and see how consistent I would be. This juicer has not disappointed. It is easy to clean and assemble. I'm sure there are better juicers with a bigger price tag that get more juice from the produce but for a starter juice, this is a great one."
Purchase the Ninja JC101 Cold Press Juicer from Amazon starting at $119.99.
Best commercial cold press juicer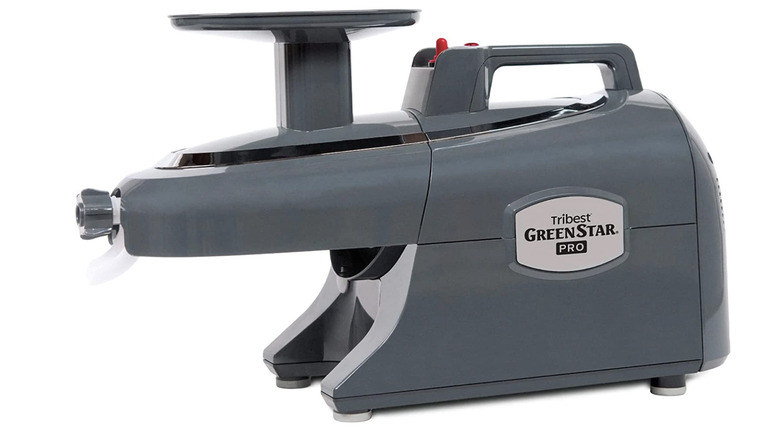 Tribest
There's no juicing job that's too big for the Tribest Jumbo Twin Gears GS-P502 Juice Extractor. A great investment for commercial ventures, the machine comes with dual stainless steel gears that rotate at 110 RPM and feature magnetic technology to ensure that the produced juice retains its nutritional value. 
For maximum yield, the unit features three-stage juicing that involves crushing, mixing, and pressing, as well as an in-built cooling fan that allows 30 minutes of continuous operation (via Juicing Journal). Aside from juicing, the Tribest GS-P502 can be easily converted into a food processor to make pâtés, frozen sorbets, nut butter, and sauces. There is also an optional pasta-maker attachment that can be purchased separately (via Prepared Kitchen).
While at 26 pounds the Tribest GS-P502 is on the heavier and larger side, according to Prepared Kitchen it's a low-maintenance and consistent juicer that will make a great addition to any commercial kitchen. The Tribest GS-P502 comes with a 15-year residential warranty and a three-year commercial warranty. In fact, this machine is the only triturating juicer that can be used for commercial purposes without voiding its warranty, as per the Juicing Journal.
At the time of this writing, you can purchase the Tribest Jumbo Twin Gears GS-P502 Juice Extractor from Amazon starting at $839.95.
Best quiet cold press juicer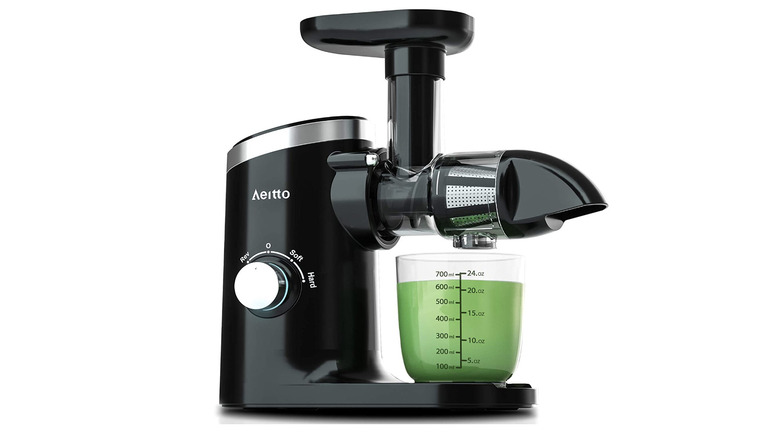 Aeitto
Most of us know that traditional centrifugal juicers tend to make a lot of noise. This can be a nuisance, especially early in the mornings when you are craving juice but your family — and neighbors — are still in bed. This is where the Aeitto Cold Press Slow Juicer can make a world of difference. This is because the appliance operates at under 60 decibels to keep both you and your loved ones happy. In fact, one Amazon reviewer believes that the gadget's biggest selling point is the fact that it's ultra quiet, saying, "I had my phone on speaker and all the while talking to my mom, I was running the juicer without her ever asking what the background noise was." You have to admit it, that is impressive. 
So what are the other pros of the Aeitto Cold Press Slow Juicer? The machine comes with two-speed modes — one (85 – 100 RPM) for soft fruit and the other (95 – 110 RPM) for harder-to-crush veggies. The unit also comes with a reverse function to prevent jamming. Better still, the Aeitto Cold Press Slow Juicer features one-button disassembly and is dishwasher safe.
Purchase the Aeitto Cold Press Slow Juicer from Amazon starting at $109.95
Best cold press juicer for versatility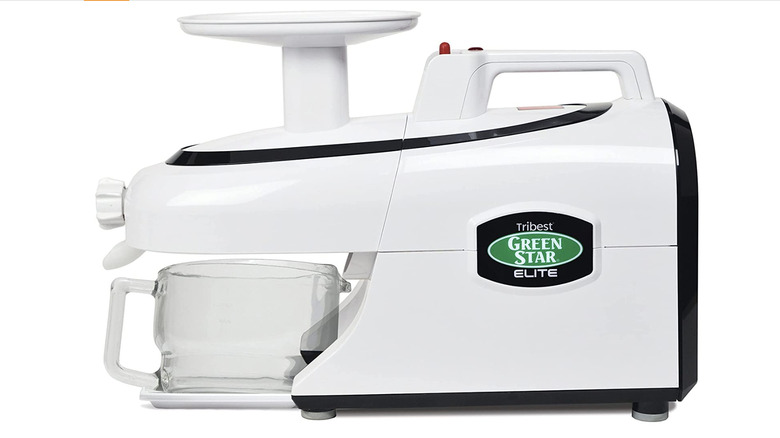 Tribest
Ultra versatile, the Tribest Greenstar GSE-5000 Elite Juicer can do much more than turn your vegetables and fruit into juice. The unit has also been designed for making snacks and desserts such as nut butter, frozen sorbets, pâté, and salsa. There's even a pasta attachment that can turn the Tribest Greenstar GSE-5000 into a pasta press, although it does need to be purchased separately.
The sturdy juicer features two stainless steel gears that work at 110 RPM to crush ingredients. The gears also create a magnetic field to ensure a more nutritious juice and less oxidation. In addition, unlike many cheaper cold press juicers, the Tribest Greenstar GSE-5000 features a three-stage juicing process that involves crushing, mixing, and pressing to extract the maximum possible yield.
While the Tribest Greenstar GSE-5000 will set you back around $600, it's a worthwhile investment for those who will utilize its functions. Madeleine Streets from Tom's Guide calls the Tribest Greenstar GSE-5000 an impressive machine but also says that it may not be the best choice for casual juicers. Streets noted that while it is pricey and has some assembly required that could be a turn-off for some consumers, it's a worthy investment for the right buyer.
Purchase the Tribest Greenstar GSE-5000 Elite Slow Masticating Juicer from Amazon starting at $599.95.
Best juicer with cold spin technology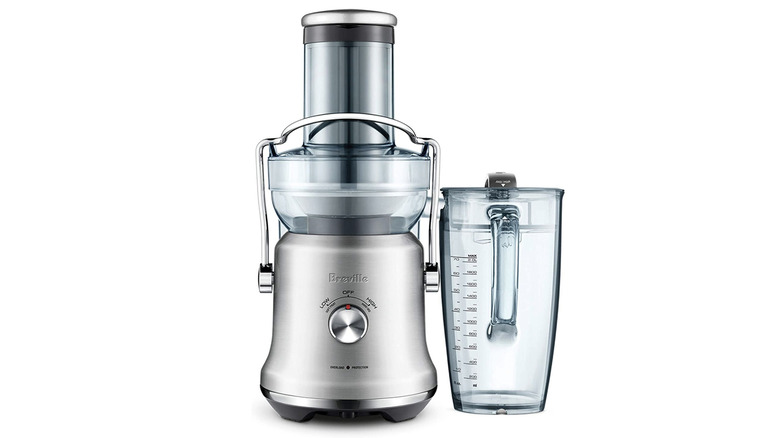 Breville
While technically not a cold press juicer, the Breville Juice Fountain Cold Plus features cold spin technology to ensure that the juice it produces retains its nutritional value. Unlike other centrifugal juicers that damage vitamins and minerals through heat, the Breville Juice Fountain Cold Plus gently rotates fruit and vegetables, letting the juice flow through its mesh filtration system. According to the Breville website, this process generates an "insignificant temperature increase," thus retaining all the goodness of the produce.
While the Breville Juice Fountain Cold Plus is on the bulky side, it comes with an extra large 70-ounce jug, making it perfect for large families. It also comes with an extra wide 3.5-inch feeding chute to reduce prep time. Made from brushed stainless steel, the unit boasts a unique nozzle that can be inverted to prevent the juice from dripping on your countertop once you have finished juicing. Other than the pusher, all of the parts that make up the Breville Juice Fountain Cold Plus are dishwasher safe. This said, please keep in mind that they are rather large and bound to take up a lot of dishwasher space (via Homes and Gardens).
Purchase the Breville Juice Fountain Cold Plus from Amazon starting at $279.95.