How The Viral Pink Sauce Is Getting Its Second Wind
While some people might live in a Barbie world, the viral Pink Sauce has been less than a dream condiment offering. Although Chef Pii might have captivated TikTok with the colorful sauce, the dollop might not have been worth the squeeze. Various accounts of shipping issues, food safety concerns, and a myriad of other comments might have had some people reconsidering grabbing another bottle of the infamous pink liquid. But, for those people who are longing to add a little blush squirt to a dish, there is hope.
For those unfamiliar, Pink Sauce became a TikTok sensation in the summer of 2022. While many TikTok trends enticed people to get into the kitchen, this condiment quickly became a viral sensation. As Today reported, the road to getting those colorful bottles into people's hands was a bumpy one. From labeling issues to concerns over proper food handling, the craving for Pink Sauce left some stomachs grumbling for the wrong reasons. Even though Chef Pii tried to address the FDA concerns and was looking to right the wrongs, her inexperience in this sector of the food world might have been too much to handle. Luckily, a more experienced company is swooping into the fray and hoping to save Pink Sauce from the rubbish bin.
A veteran of the food industry is stepping in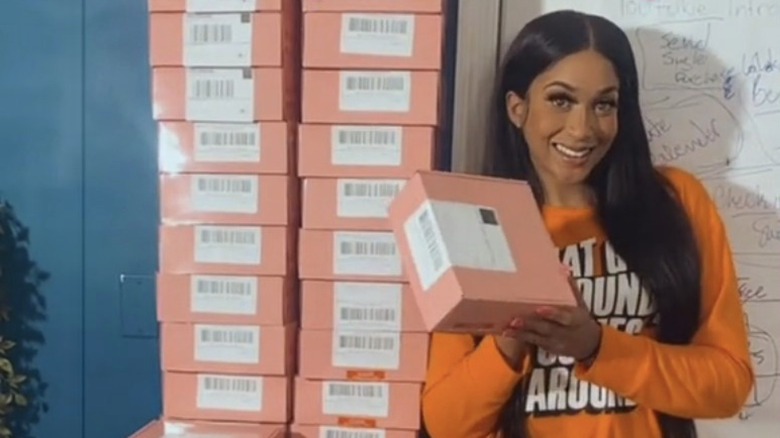 TikTok
While some chefs can have delicious culinary creations, putting that food into consumers' hands can be more difficult. For the infamous Pink Sauce, the colorful condiment is getting a new life thanks to Dave's Gourmet. If that name sounds familiar, it should. The company that started with the "hottest hot sauce in the universe" has been featured on the popular show Hot Ones.
According to a recent press release, Dave's Gourmet has stepped in to help Pink Sauce go from TikTok viral sensation to a marketable product on a safe and large scale. Per Eater, this version of the condiment will be "complicated, dairy-free, and clean of any preservatives, artificial colors or flavors." Although all the details of this partnership have not been revealed, an experienced food company offers the expertise and capabilities that this entrepreneurial idea requires. While this eye-catching sauce might be what the youth wants, there appears to be an interest from restaurant brands and national chains as well. We may soon have a future where Pink Sauce, Slime Ketchup, and other playful creations fill the shelves. Dave's Gourmet looks to bring back Pink Sauce sometime this fall.