Instagram Is Singing The Praises Of Aldi's BBQ Sauces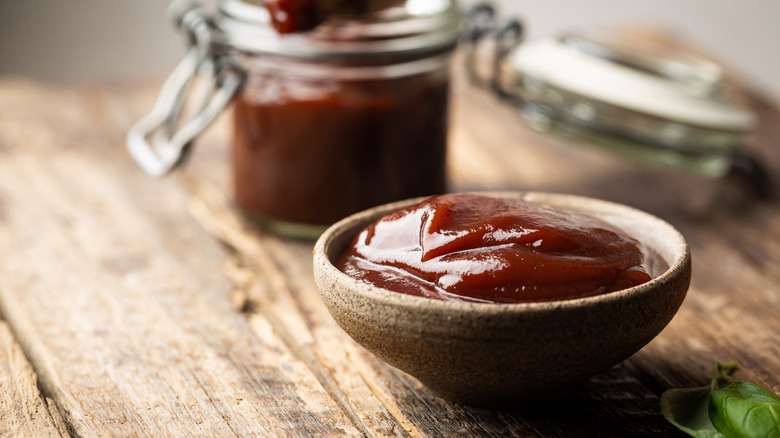 Goskova Tatiana/Shutterstock
There are a lot of barbecue sauce options on the market, but America's favorite barbecue sauce – Sweet Baby Ray's — probably should not surprise you. Our own survey of best sauces also saw Sweet Baby Ray's take the top spot, with 48% of respondents saying it was their favorite barbecue sauce brand. Still, if you are looking for new sauces to try, you might want to check out the offerings at Aldi.
Instagram user @adventuresinaldi posted a picture of three different barbecue sauces from Lillie Q's at that particular grocery store, and other people were quick to praise these flavors. The three sauces are Carolina Barbeque Sauce (a Western North Carolina tomato-based sauce), Ivory Barbeque Sauce (a North Alabama white sauce), and Smoky Barbeque Sauce (a Memphis-style sweet sauce).
In the caption, @adventuresinalid remarked, "I had never seen these before but they look and sound amazing!" One commenter helpfully joined in with more information about the store and brand adding, "Lillie's Q is a local BBQ restaurant in Chicago! Their sauces are so good! Happy to see them getting a bigger distribution." Even if you are not in Chicago or near an Aldi that sells Lillie Q's sauces, you can order barbeque sauces from its website, in addition to rubs and kettle chips.
What else is Instagram saying about Lillie's Q BBQ sauces?
Before you go ahead and buy these sauces, you might be wondering about the reviews from people who have tried them. One person commented on @adventuresinaldi's Instagram post and gave the Carolina Barbeque sauce a fire emoji, with someone else contributing, "They're amazing!" But most of the discussion was about the Ivory Barbeque sauce. One fan included that "the ivory is so good w/chicken and fries."
A white barbecue sauce was surprising to some, with a number of people raising questions about its taste. Others jumped in with comments about its flavor as one person said, "it's Alabama white sauce. So think vinegary mayo with spices. Really tasty. No heat." Another described the white sauce as "tangy and black peppery; not hot at all." From this, it sounds as if this option would be ideal for people who like a bit of sour flavor in their sauces over spice. Since this is an Alabama sauce, its base is mayonnaise with Lillie Q's website adding on that it includes cayenne pepper.
Which of these three barbecue sauces sounds most appealing to you? If you've already tried them all, it might be time to make your own barbecue sauce, which we recommend pairing with these juicy slow cooker ribs.