What Makes Alabama White Sauce So Different From Other BBQ Sauces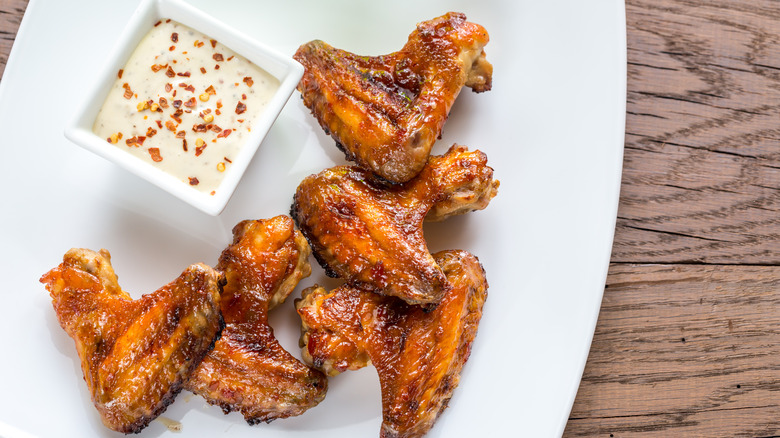 Alexander Prokopenko/Shutterstock
Any BBQ connoisseur worth their sauce knows that you can't expect the same plate wherever you go in the United States. After all, different regions all offer their unique twist on BBQ cuisine, whether that involves a particular level of sweet or heat in the sauce, or even a special step in the preparation process or style of cooking. While there are variations in the different styles of BBQ sauces from region to region, perhaps the one that stands furthest apart is Alabama white sauce. It looks dramatically different from the reddish-brown tint of most other sauces.
Alabama white sauce was first concocted in the 1920s, specifically at Big Bob Gibson Bar-B-Q in Decatur, Alabama. According to Eater, it goes best with smoked chicken, although it also pairs well with pork. The regional favorite is so notorious that it even earned a spot in pop culture history as the sauce Aziz Ansari's character on "Master of None" became utterly obsessed with.
While its color is the polar opposite of most BBQ sauces, there are a few common ingredients in Alabama white sauce that you'll find in regular tomato-based BBQ sauces, like brown sugar, apple cider vinegar, and cayenne pepper for those notes of sweet, tangy and spicy (via Hey Grill Hey).
The one ingredient that sets Alabama white sauce apart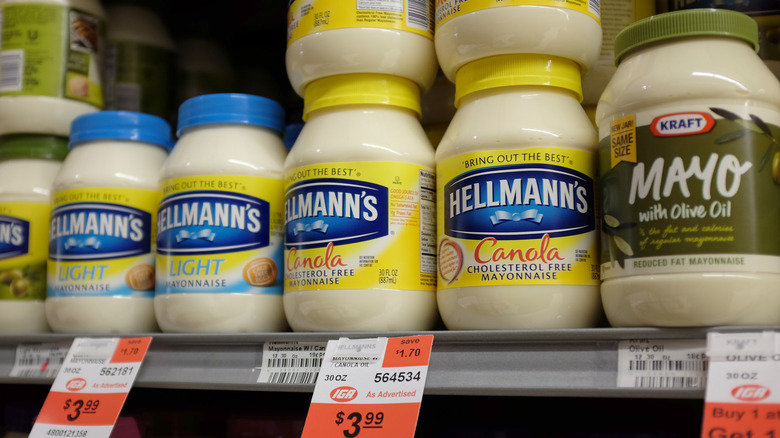 Joe Raedle/Getty Images
As it turns out, the star of the show and the ingredient that alters both the hue and overall taste of Alabama white sauce is plain old mayonnaise. Most tomato-based sauces get their base from a cup or two of ketchup, as Add a Pinch explains. For Alabama white sauce, that base ingredient is mayonnaise, which receives a mouthwatering depth of flavor thanks to additions like apple cider vinegar, Worcestershire sauce, and various spices.
The multi-purpose sauce can be used in a variety of ways, as Chris Lilly of Big Bob Gibson B-B-Q told Southern Living, from a marinade to a table sauce to splash atop your finished dish. Interested in getting your own taste of Big Bob Gibson B-B-Q's fare without traveling all the way to Alabama? According to Meathead's Amazing Ribs, the sauce features ¾ cup of mayonnaise, ⅓ cup of apple cider vinegar, ¼ cup each of apple juice and lemon juice to add some fruity sweetness and tartness, as well as seasonings including garlic powder, salt and pepper, cayenne pepper, horseradish, and mustard powder. The ingredients fuse into the signature sauce with notes of sweetness, acidity, and heat. You simply whisk all the ingredients together — no cooking needed — then let it sit for two hours in the refrigerator, which allows all those flavors to develop.