Classic Egg Custard Pie Recipe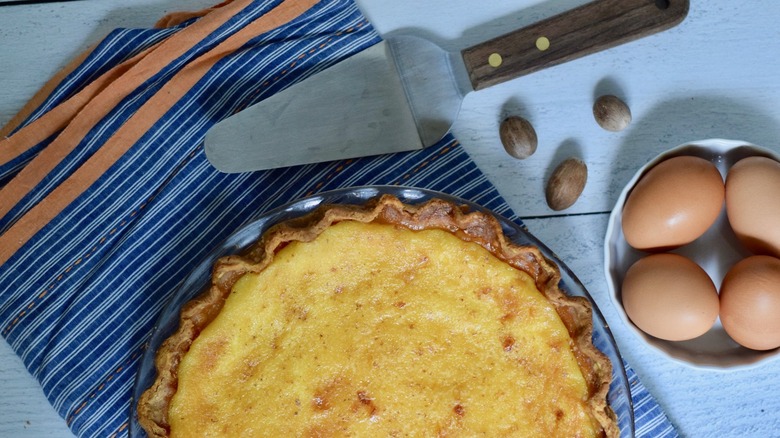 Tara Rylie/Mashed
Egg custard pie — or better yet, grandma's egg custard pie, which it is most commonly known as — is a classic American pie recipe that everyone loves. Everything Pies was able to find and photograph a picture of an egg custard pie recipe from 1845. Now, how cool is that? The recipe came from The New England Economical Housekeeper and was written by H.W. Derby. The recipe was simply written as such: "For a large pie, put in three eggs, a heaping table-spoonful of sugar, one pint and a half of milk, a little salt, and some nutmeg grated on. For crust, use common pastry." How uncomplicated and, well, as-easy-as-pie does that sound? (Pun intended!)
It's funny to think that nearly 200 years ago, this constituted as a recipe. Perhaps home chefs all had a bit more knowledge of cooking and baking than most of us do nowadays? Whatever the case may be, whether you'd know what to do with this recipe or not, recipe developer and chef Tara Rylie of RylieCakes breaks down this recipe (or rather beefs it up) into five easy steps that all home chefs can follow and master to create the most perfect egg custard pie at home. We're not joking when we say it tastes just like grandma's (or dare we say even better). Whatever the occasion you're baking this pie for, whoever is enjoying it will love the taste. As a matter of fact, they will want you to make it again.
Gather your ingredients to prepare this egg custard pie, and parbake the crust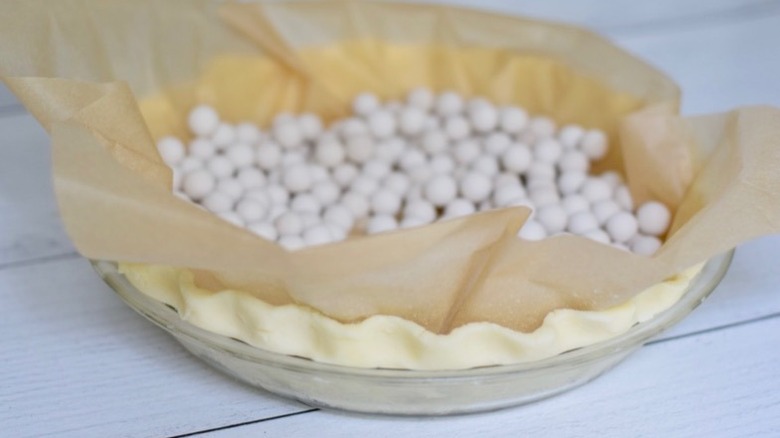 Tara Rylie/Mashed
Before you begin to prepare the recipe, you'll need to assemble your ingredients for this delicious pie. You will need a pie crust, four large eggs, half and half, sugar, vanilla extract, salt, and freshly grated nutmeg. You probably have most of these ingredients on hand already, which makes things that much simpler. Once you have everything ready to go, it's time to move on to the next step.
In creating the perfect egg custard pie, you'll need to parbake your pie crust. Whether you're using a store-bought crust or decide to make a homemade crust, you'll want to place a piece of parchment paper over your cold, refrigerated crust, and fill it with pie weights. Parbake the crust on a half sheet pan in your preheated oven for approximately 12 minutes. Let your pie crust cool slightly before removing the weights, and be sure to leave the heated sheet pan in the oven for when you are ready to bake your actual pie, too.
Placing a heated sheet pan beneath your glass pie pan is a good step, as it will ensure the bottom of your pie browns properly rather than getting too soggy. The metal from the sheet pan helps conduct heat, which allows the base of the pie to brown so much better.
It's all about the freshly grated nutmeg in this pie recipe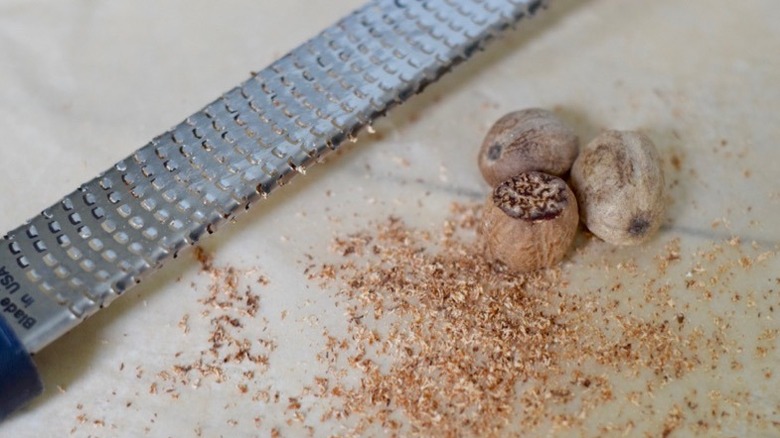 Tara Rylie/Mashed
The one ingredient that matters most of all in egg custard pie (believe it or not) is the nutmeg! We highly recommend you use fresh nutmeg seeds and grate them up yourself by using a microplane. Freshly grated nutmeg has much more flavor to contribute and is far tastier than its pre-ground counterpart. In addition to tasting that much better in any recipe, nutmeg seeds last longer, so you can have that fresh, potent flavor each and every time you cook or bake! 
You may be surprised to know that pre-ground nutmeg, though convenient, loses its flavor pretty quickly. You should plan on replacing it more often, or buy your nutmeg in small quantities. If you do choose to use pre-ground nutmeg in this particular recipe, consider using a little bit extra to get the same flavor profile. We are setting you up here for an absolutely amazing dessert, so get excited.
Mix the filling ingredients, and pour the filling into your parbaked pie crust
Tara Rylie/Mashed
Our version of this egg custard pie could not be any easier to make. However, there is one important step you don't want to miss. When mixing all of your filling ingredients together, we advise you to first whisk your eggs and salt together, and only after they are well combined is it time to add the remaining ingredients. The process of whisking your eggs and salt together first will help to break down the protein in the eggs, which will help to create a creamy custard filling rather than a chewy one. 
After your eggs and salt are thoroughly combined in your bowl, you can go ahead and add the remaining filling ingredients, and whisk them together really well. Then, pour the filling into your parbaked pie crust. Now it's starting to really come together.
Bake the egg custard pie, and let it cool before serving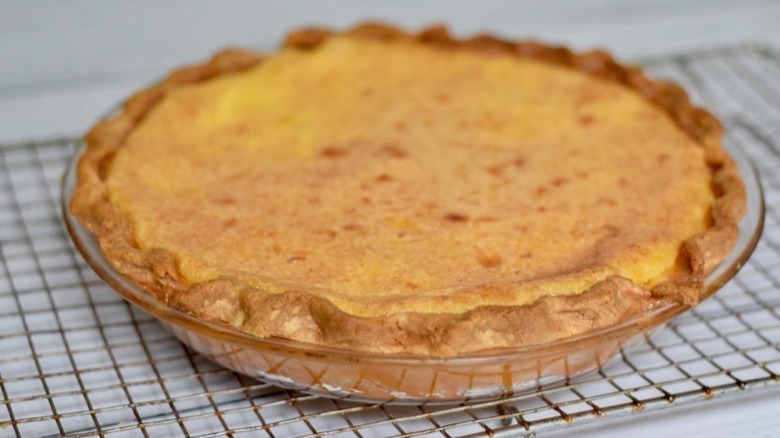 Tara Rylie/Mashed
Reduce your oven temperature to 325 F before placing your pie in the oven on the heated sheet pan. Bake it for one hour until the edges of the pie are set, but the filling center should still be a little bit jiggly. This pie is quite easy to over-bake, so keep in mind that it will continue to cook (carry-over cooking) once it is removed from the oven. Don't be afraid if it looks as though the center of your pie isn't completely set. It will finish cooking after you remove it from the oven, and the result will be a beautifully creamy custard. Over-baked custard can curdle or become spongy in texture, and you don't want that.
Let your pie cool on a wire rack for 45 minutes before sprinkling the top with the remaining ⅛ teaspoon of nutmeg. Then, place your pie in the refrigerator without covering, and let it cool completely. Egg custard pie is best when served with homemade whipped cream or ice cream. Note that we added a sprinkle of cinnamon to our whipped cream, and it totally knocked our socks off. Feel free to copy us.
This sweet dessert will not only taste so good, but it's one that will make a beautiful presentation on your dessert table. Be sure to pick a great platter or cake pedestal to put your egg custard pie on, because it will totally deserve one.
Classic Egg Custard Pie Recipe
Egg custard pie is a classic American pie recipe that everyone loves. This recipe will totally knock your socks off.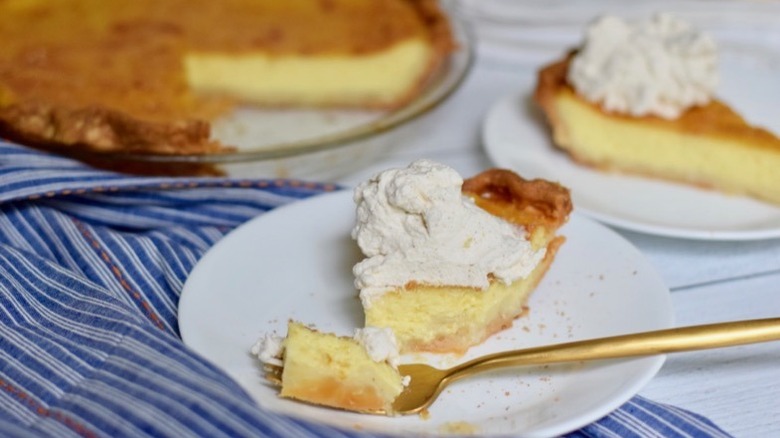 Ingredients
1 pie crust
4 large eggs, beaten
¼ teaspoon salt
2 cups (16 ounces) half and half
¾ cup sugar
¼ teaspoon vanilla extract
¼ teaspoon freshly grated nutmeg, divided
Directions
Preheat oven to 325 F, and place your sheet pan in the oven to heat up.
For the pie filling, whisk together the beaten eggs and salt. Then, add the half and half, sugar, vanilla extract, and ⅛ teaspoon of nutmeg in a medium bowl or 32-ounce liquid measuring cup.
Pour the filling ingredients into the pie crust, place pie on the heated sheet pan, and bake for 1 hour. The pie is done when the edges are set, but the center is still a bit jiggly.
Let it cool on a wire rack for 45 minutes.
Sprinkle the pie with the remaining ⅛ teaspoon of nutmeg, and then refrigerate for 45 minutes.
Serve with homemade whipped cream or ice cream.
Nutrition
| | |
| --- | --- |
| Calories per Serving | 310 |
| Total Fat | 16.2 g |
| Saturated Fat | 7.6 g |
| Trans Fat | 0.0 g |
| Cholesterol | 114.0 mg |
| | |
| --- | --- |
| Total Carbohydrates | 36.0 g |
| Dietary Fiber | 0.5 g |
| Total Sugars | 21.3 g |
| Sodium | 248.7 mg |
| Protein | 5.7 g |