Trader Joe's New Portuguese Custard Tarts Are Turning Heads
Yesterday, Trader Joe's Kitchen, a fan-run Instagram account that covers the store's latest finds, uploaded a post announcing the arrival of the store's new Portuguese custard tarts. Found in Trader Joe's frozen food section, the account followed the air fryer directions of cooking the desserts at 350 degrees for twelve minutes, finding that it had great results but the tarts ended up too hot to immediately dig into.
In their summation, Trader Joe's Kitchen thought the custard tarts were nice, but rather on the sweet side. The comments hewed to a similarly positive tone, with many self-identified Portuguese followers saying that for a frozen import of their dessert, the Trader Joe's product was rather good. "Totally legit," one commenter wrote. "If you find the custard too sweet, suggest having one like they do in Portugal: sprinkled lightly with cinnamon and eat with a cup of black coffee or espresso." As of writing, the only negative opinion voiced was "I wish the box was bigger."
Trader Joe's Kitchen did not share what they paid for the tarts. However, the site What's Good At Trader Joe's also positively reviewed the product, noting that for a box of four tarts, you would pay $2.99.
Why is the Portuguese labelling important?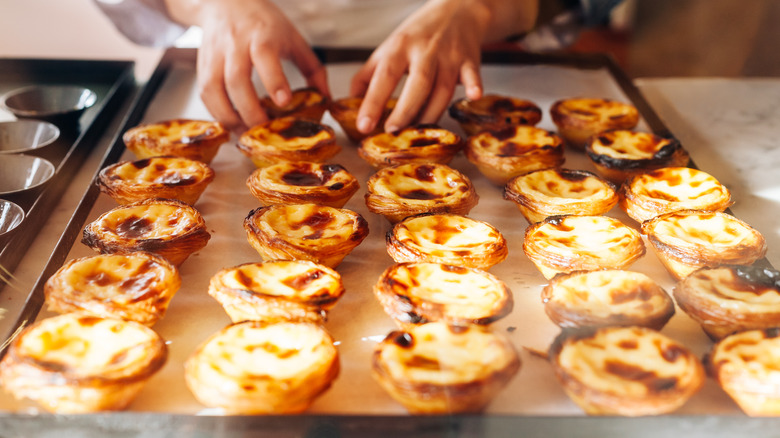 Shutterstock
While not a ubiquitous dessert, the custard tart is still made widely enough that the emphasis of its Portuguese branding warrants a further investigation.
Obviously one reason is that the custard tarts are imported from Portugal, but the other is that they're important to Portugal. As Portugalist notes, the custard tart, which in Portuguese is called pastel de nata in the singular and pastéis de nata in the plural, is one of the country's most famous dishes.
Culture Trip describes the creation of the dish as an 18th century fundraising means by the monks of Jerónimos Monastery in Belem, a "civil parish" near Lisbon. The monks would use egg whites to starch their clothes and the remaining yolks to create the custard, which they would sell. In the 19th century, the monastery closed. However, they sold the recipe to Fábrica de Pastéis de Belém, a cafe that is still open in Lisbon. If you happen to like the Trader Joe's product, then this is a destination you must visit to try the real, freshly made dessert — or avoid at all costs, lest the comparison ruins the frozen treat.