How The Pandemic Changed Chick-Fil-A's First 100 Promotion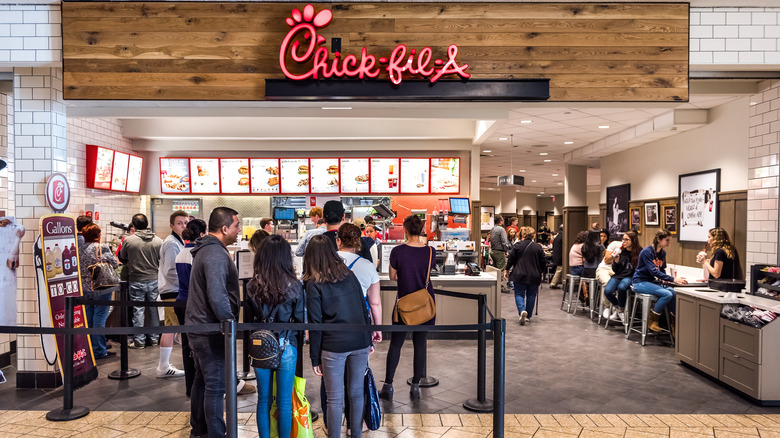 Andriy Blokhin/Shutterstock
Nobody can argue that the COVID-19 pandemic changed life in many ways, and one of the most affected markets was the food industry. For one, more than 100,000 restaurants went out of business in the United States alone, per QSR. As restaurants shuttered their dining rooms, the focus shifted to delivery and takeout. "There were a lot of restaurants that didn't offer those services, specifically delivery, at the beginning of the pandemic," cofounder of Brizo FoodMetrics Trevor Shimizu said.
Additionally, all-you-can-eat buffets simply plummeted. The president & CEO of Golden Corral Corporation, Lance Trenary, said, "COVID-19 has had a devastating impact on the restaurant industry and our segment specifically. We will forever operate differently as a result" (per Today). Still, with 312 restaurants remaining, Trenary seems confident that buffets will rise again. Of course, there are many traditions that had to change or end due to social distancing. This includes a prized Chick-fil-A standard, the First 100 promotion.
A new way of honoring customers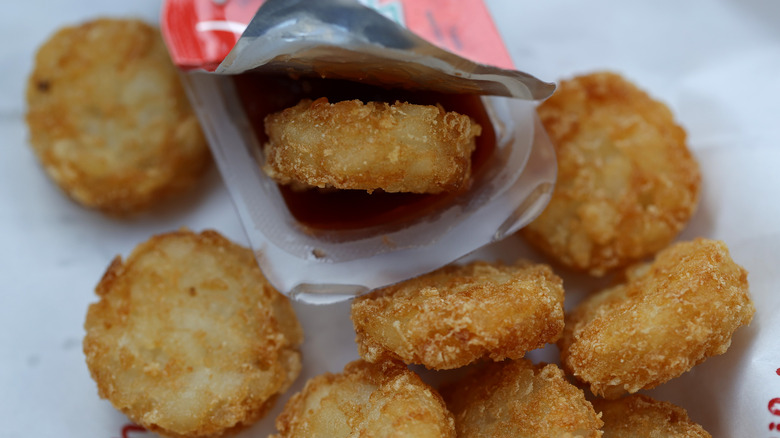 Justin Sullivan/Getty Images
From 2003 to 2019, Chick-fil-A had been offering the first 100 customers in line at a new store location free food for a year, per its website. Traditionally, the First 100 promotion was an overnight event, with customers camping in tents to ensure they got a spot. Unfortunately, per Fox Business, the promotion was suspended as a result of the COVID-19 pandemic. Even though it's never fun to miss out on free food, the corporation found a socially distanced way to honor their customers. According to Chick-fil-A, rather than rewarding those waiting in line, the company's been donating free food to local community heroes.
This isn't the only event that the beloved chicken eatery has been forced to cancel. Chick-fil-A also announced it had to suspend Cow Appreciation Day. The yearly holiday, which took place on the second Tuesday of July, offered free food to those who showed up at the restaurant dressed as a cow. Though consumers can always hope, it's yet to be announced when and if the First 100 promotion or Cow Appreciation Day will return.