How Chick-Fil-A Wants You To Celebrate Cow Appreciation Day 2021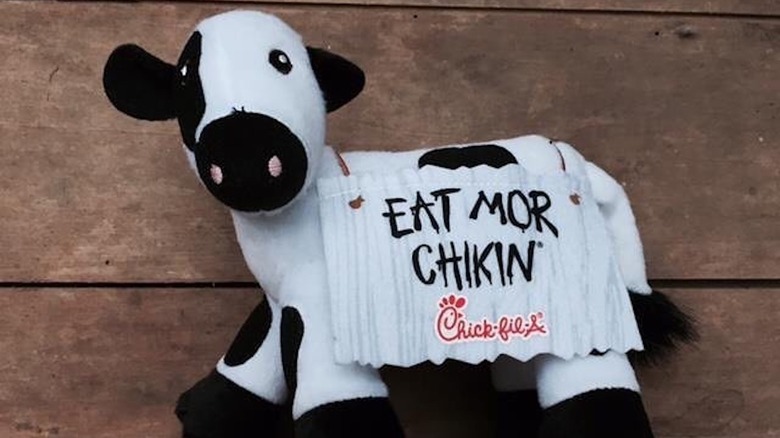 Instagram
For the second year in a row, popular and controversial fried chicken chain Chick-fil-A, known for its incredibly delicious chicken sandwich, has postponed its annual Cow Appreciation Day due to concerns over the ongoing COVD-19 pandemic. Celebrated on the second Tuesday of July, it's become a key Chick-fil-A customer appreciation day. As the company explained in a statement posted on its website, "Ever since 2005, we have celebrated Cow Appreciation Day – a tradition for Chick-fil-A that gives us the opportunity to thank our guests and is an excuse to dress up like the Cows!"
Prior to 2020, customers who showed up at a participating Chick-fil-A during the event wearing any cow attire much like the chain's spotted bovine mascots were treated to a free entrée (other than a salad) (via PR Newswire). The event ties in well with the chain's "Eat Mor Chikin" campaign featuring those spotted and slightly rebellious mascots, which first launched in 1995 and has since been its advertising campaign (via Business Insider). Cow Appreciation Day has been a popular event for the chain, with around 1.95 million participants in 2018 (via USA Today).
There are other ways to celebrate Cow Appreciation Day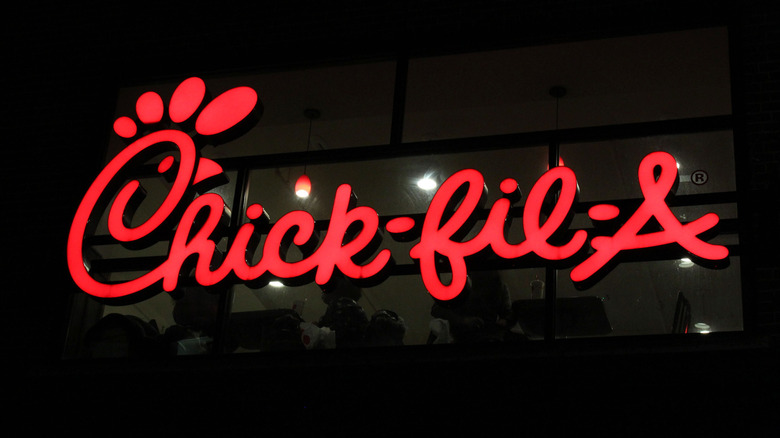 Shutterstock
As was the case in 2020, the postponement was due to safety concerns, and the chain's focus on "keeping Safe Service as our highest priority at this time" (via Chick-fil-A website). Chick-fil-A is still operating only by way of its drive-thru and curbside service at the moment (via Delish) and has implemented enhanced safety procedures that include social distancing, food safety, and frequent hand washing, and daily wellness checks (via Chick-fil-A Safe Service page).
However, Chick-fil-A doesn't want the inability to gather in person to stop Cow Appreciation Day celebrations altogether. The chain is encouraging fans to celebrate at home and has put together a Pinterest board with more than 50 family-friendly ways to celebrate cows and enjoy family fun time together, including Moo bingo, scavenger hunts, coloring pages, stories, and lessons on how to draw a cow (which may help with costume ideas for next year's Cow Appreciation Day). In the meantime, why not get dressed up head to hoof in your favorite moo costume on Tuesday, July 13, 2021, and try out some copycat Chick-fil-A recipes at home to share with your herd?