How To Get Your Hands On The Brand-New White Castle Beer Collab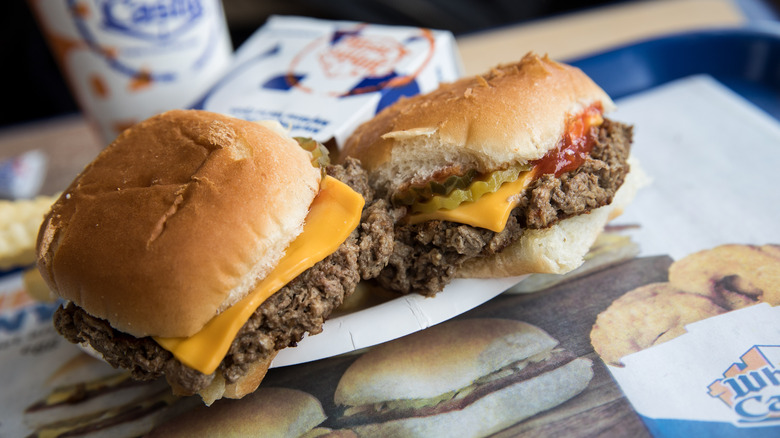 Drew Angerer/Getty Images
This fall, White Castle has been showing its customers how creative the brand can get with its classic sliders. The burger chain just revamped its 1921 Slider lineup with two new options, and one includes bacon. Shortly after, White Castle rolled out Hamburger Castle Bites, which is a fun way to enjoy all the flavor of a slider in an even smaller bite. But that's not all the burger chain has in store for customers this season.
In a press release, White Castle announced a surprising new product: a limited-edition beer. White Castle worked with Evil Genius Beer Company to create the beer "It Hits Different," a tangerine-flavored 6.5% IPA to go along with its iconic sliders. Evil Genius Beer Company has partnered with other fast food chains to create unique beer flavors, like when the company worked with Auntie Anne's to make a beer for Oktoberfest.
According to the press release, It Hits Different is currently for sale in Delaware, Maryland, Michigan, New Jersey, Ohio, Pennsylvania, Virginia and Rhode Island, and you can expect to spend around $11.99 for a six-pack of beer.
A beer to pair with White Castle sliders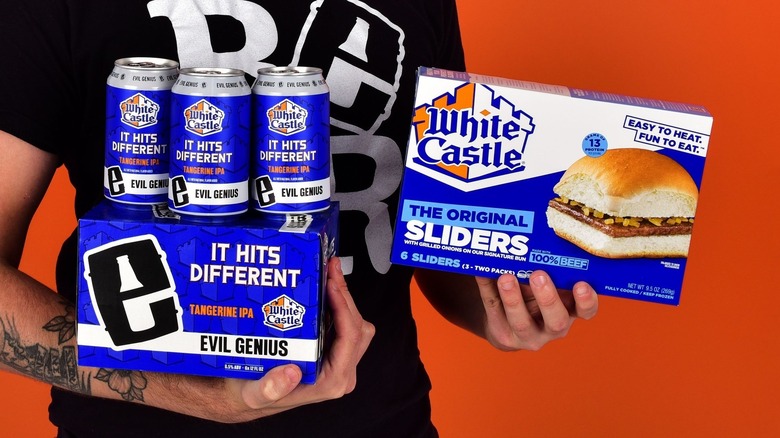 White Castle
Wondering why a fast-food chain would come up with its own beer? Since you can usually find ice cold beer at a summer barbecue with burgers and hot dogs, this might not seem like a huge stretch. But White Castle's beer is more than just something to sip on with dinner. According to a press release, It Hits Different was created with White Castle sliders in mind, and is meant to pair together perfectly.
White Castle's beer is described as having a "pleasant, light tangerine sweetness" and a "subtle bitterness," and the beer is made with Sabro and Centennial hops (via press release). In an Instagram post announcing the product launch, White Castle explains that the flavor of the beer "cuts through the satisfying taste of beef and onions."
Need more booze with your burgers? White Castle isn't the only chain that's bringing alcohol to their menus. Johnny Rocket's new collaboration involves beers inspired by milkshake flavors. Whether you prefer your beer sweet or fruity, there's a beer that's meant to go with a juicy burger.