Johnny Rockets' New Collaboration Has An Unexpected Inspiration
If you've ever been to Johnny Rockets, you know the burger chain is all about classic Americana. While the original concept is based around the stereotypical 1950s malt shop — paper cap-wearing fry cooks serving hamburgers and shakes to leather jacket-wearing greasers while rock-n-roll plays over a bubbler jukebox (when the dancing started is up for debate) — Johnny Rockets hasn't been afraid of embracing the modern world, too.
In 2016, Johnny Rockets introduced a more modern aesthetic, featuring consumer-focused technology, the removal of tabletop jukeboxes, and the introduction of a more technological kitchen, per Nation's Restaurant News. But fans can rest assured that the burgers, fries, and shakes the chain is famous for aren't going anywhere; instead, Johnny Rockets has added a variety of new menu items to accompany its new look. FoodSided notes that in 2019, the chain introduced the "Crunch Menu," which featured a selection of burgers topped with barbecue chips, chips loaded with bacon and cheese, and milkshakes full of Snickers and crushed cookie pieces. 
Johnny Rocket's newest menu items, however, don't seem to be too "family-friendly." After all, when you think Johnny Rockets, you're not exactly thinking about a cold beer, are you?
Johnny Rockets is serving beer inspired by its milkshake flavors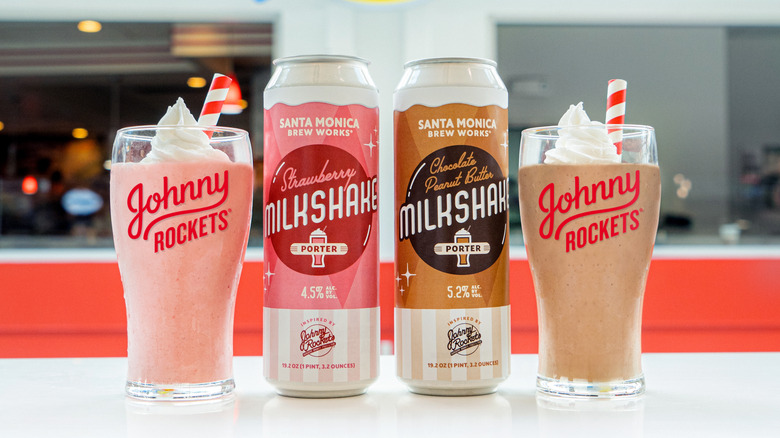 Johnny Rockets
Johnny Rockets has long been the place for people to grab that classic American comfort meal of a cheeseburger and a milkshake. But you might not expect to be able to get a beer there to accompany your burger and fries. But despite having upgraded its décor, Johnny Rockets still keeps that good old '50s rebellious streak, offering customers the best of both worlds: a famous Johnny Rockets milkshake and a crisp, refreshing cold one.
As ChewBoom reports, Johnny Rockets has teamed up with brewing company Santa Monica Beer Works to celebrate National Milkshake Month with two beers inspired by Johnny Rockets' milkshake flavors. Patrons of both Johnny Rockets' Universal CityWalk location and Santa Monica Beer Works' tasting room/beer garden can enjoy the "Strawberry Milkshake Porter" and the "Chocolate Peanut Butter Milkshake Porter." 
FoodSided describes the Strawberry Milkshake Porter as having a juicy, sweet taste mixed with notes of Madagascar vanilla, with a refreshing creaminess rather than an overpowering strawberry flavor. Meanwhile, the Chocolate Peanut Butter Porter has a "smooth finish" with "apparent nutty qualities" and a creamy texture.