What's The Healthiest Option At Dunkin'?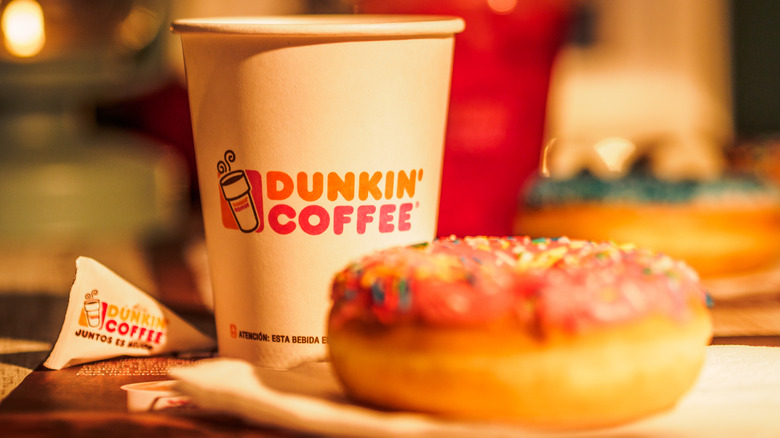 Pere Rubi/Shutterstock
Dunkin' actually has some really great options for those who want a quick and tasty breakfast item to start their day. From its protein-packed omelet bites to the Snackin' Bacon, the chain has a variety of menu choices that will keep its customers fueled while on the go. There are also delicious sweet treats available, as noted by the recent release of its 2022 holiday line, which is decked with lots of promising items, such as the Cookie Butter Donut and the Peppermint Mocha signature latte.
But for customers with certain nutritional goals, it's important to be mindful of particular items. For example, eating a donut, which might cost less than a dollar, might not lead to the same feelings of satiation as an item that has lots of protein, like the above-mentioned snackin' bacon. This poses the question; what exactly is the "healthiest" option that the chain has to offer?
Dunkin' Wake-Up Wrap scores high in macronutrients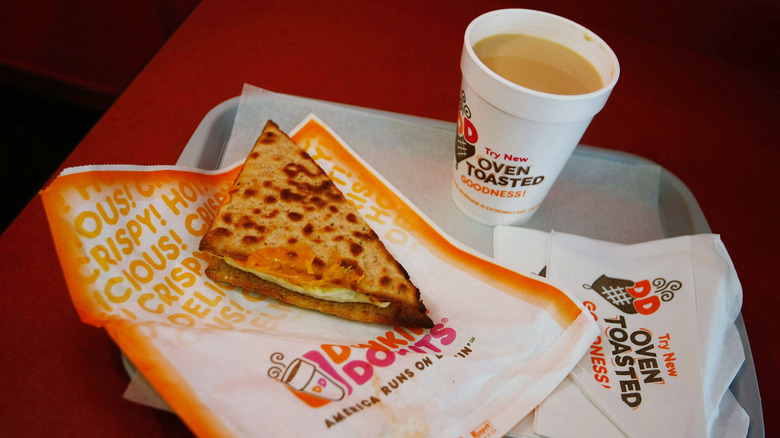 Joe Raedle/Getty Images
According to Brit + Co, the Wake Up Wrap from Dunkin' is the best option for those who want a meal that is both lighter in calories and packed with protein. This dish comes in at seven grams of protein and 150 calories, boasting egg and cheese on a tortilla (via CNN). But while it just might win the title of being the "healthiest item" on the donut chain's menu, it's not the most popular option. According to a Mashed poll, 29.22% of participants stated that this wrap was their least favorite breakfast sandwich on the menu.
Of course, you shouldn't always force yourself to choose the "healthiest" menu option, as it's important to enjoy the food you're eating. And perhaps Dunkin' has helped its fans find that balance by releasing a Pancake Wake-Up Wrap, which is essentially the original item inside of a pancake, rather than a tortilla.