29% Said This Was The Worst Breakfast Sandwich At Dunkin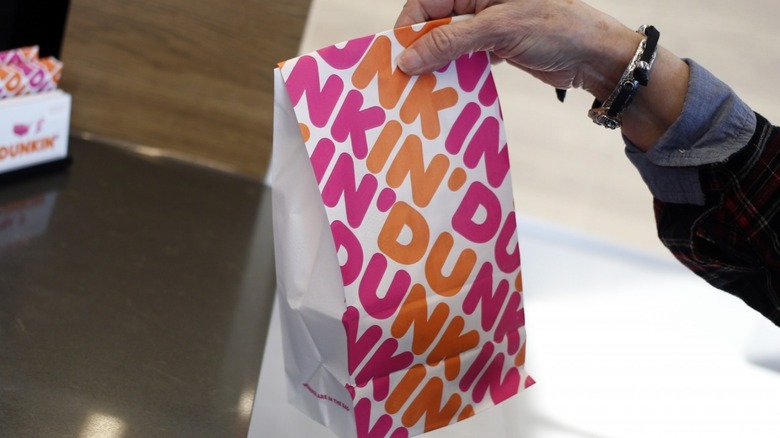 Bloomberg/Getty
If you're not getting some sort of espresso drink at Dunkin' Donuts, you're likely getting a breakfast sandwich at the popular coffee chain. And you really can't go wrong with any — they're all hearty and quite satisfying. They're perfect for on-the-go, whether you're headed into the office or on your way to class.
Most of the sandwiches include some variation of egg and cheese, although there are some slight differences between each. According to CNN, the chain's original Wake-Up Wrap is served in a tortilla and stands at 150 calories, making it an attractive breakfast option to some. The Sourdough Breakfast Sandwich, on the hand, is packed with two eggs, five slices of bacon, and white cheddar, and has 650 calories (via Dunkin').
According to Delish, the chain has had its breakfast sandwiches around for quite some time, but they are still pretty new compared to other menu items. Dunkin' first started operating in 1950, but savory breakfast sandwiches were first brought to the menu in 1997.
The Wake-Up Wrap is largely unpopular
According to a Mashed poll, which surveyed 599 customers from the United States, 29.22% of participants said that the Wake-Up Wrap was their least favorite breakfast sandwich from the chain. This was followed by the Turkey, Sausage, Egg & Cheese, at 22%, and the Sourdough Breakfast Sandwich with 19.20%, or nearly one in five voters, picking it as their least favorite option. The classic Sausage, Egg & Cheese sat in the middle with 12.85% of voters noting it as their last pick, followed by the Ham, Egg & Cheese with 9.02% of votes. Everyone's favorite breakfast sandwich of the poll was the Bacon, Egg & Cheese with only 7.51% of the votes.
Surprisingly, the Wake-Up Wrap doesn't feature that many different ingredients from a lot of the other menu items listed in the poll. It has both egg and cheese, which all the other breakfast sandwiches also have. The only main difference is that it is served in a tortilla, which many people might not be a fan of, hence its lower favorability.
Dunkin' Donuts patrons seem to prefer more classic items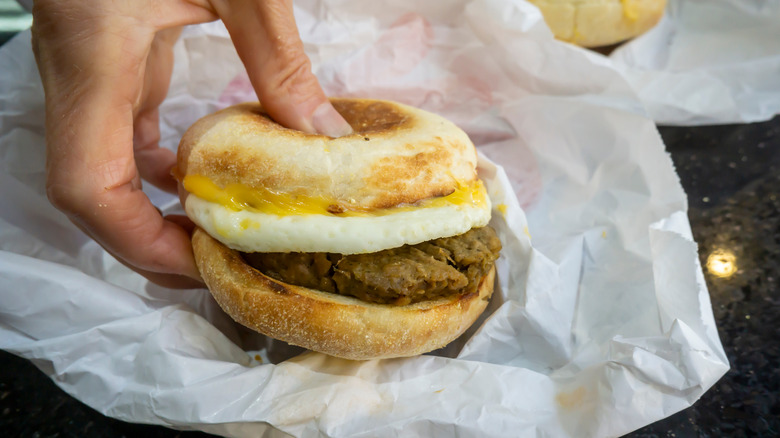 rblfmr/Shutterstock
It seems that all the classics reigned supreme in this poll, and all of the chain's specialty offerings did poorly. 
However, despite its lower popularity in this poll, the Wake-Up Wrap has been around on Dunkin's menu for quite some time. According to the coffee chain's Newsroom, it was first introduced on the menu in 2009, and was listed as a low-calorie, "better-for-you" item. But what can we say? A Bacon, Egg & Cheese just hits the spot differently in the morning, and sometimes, stressing over calories isn't at the top of our list. 
In addition to the items mentioned in our poll, the coffee shop also offers a number of other breakfast options, including the Beyond Sausage sandwich and the avocado toast. So, regardless of what people like or dislike from their menu, there's always plenty of great morning pick-me-ups at Dunkin' Donuts.