Sunny Anderson Is Behind The Bobby Flay 75th Birthday Prank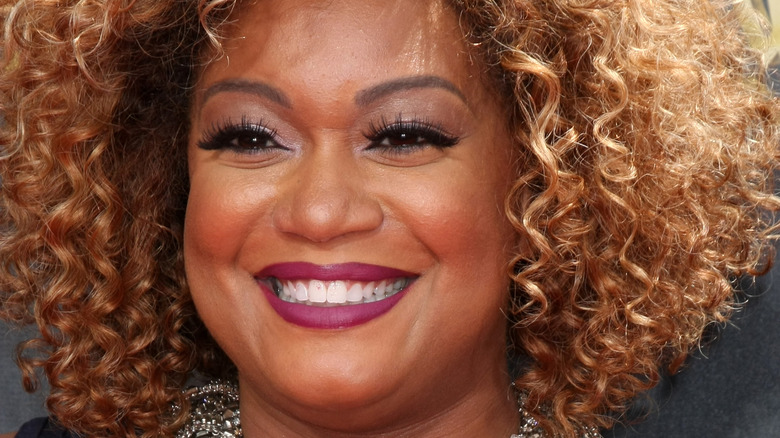 Kathy Hutchins/Shutterstock
Have you ever had the pleasure of working with one of your friends? Whether you're slinging burgers at McDonald's, or pushing papers at an ad agency, working with a buddy always makes the experience more fun. So when your job is already fun — think, Food Network superstar — then working with friends is that much more awesome. It's evident when you see the chemistry between the stars on shows like "The Kitchen" and "Beat Bobby Flay," but where this camaraderie really shines through is on social media.
Take Bobby Flay and Sunny Anderson. Anderson has made no secret of her friend crush on Flay, both in appearances on his show and in social media posts — like in her Valentine's Day shout-out to the star. Instagram cracked up at Anderson's Bobby Flay socks, and her trolling of Flay on Instagram always brings the laughs. Now, she's the mastermind behind a new hilarious birthday prank that started with her own post on social media and then migrated over to Flay's own feed. The joke in question? Anderson asked fans on Instagram to wish Flay a happy 75th birthday on December 10, which was actually his 57th birthday. The results, as you can imagine from any workplace prank between friends, were hilarious.
Flay's fans were in on the prank
It all started innocently enough on Bobby Flay's part. The Food Network star made a post on Instagram asking if fans had watched the holiday movie "One Delicious Christmas," in which he and his food appears, yet. Then came the comments. Sunny Anderson chimed in first. "Happy 75th Birthday, Bobby!" Most people were in on the joke. "You don't look a day over 75," said one. But some didn't seem to know what was true, leading a different user to write, "Guys he is NOT 75 years old. Sunny, look what you done started."
Anderson's prank seemed to get approval from at least one of her Food Network co-stars. Alex Guarnaschelli commented on Anderson's original post with a series of heart-for-eyes, clapping hands, and heart emojis. And lest anyone worry that Flay himself might bristle at the prank, just look at how he's reacted to Anderson's antics in the past and it's clear that he's in on the joke. Even when Anderson has called him out, Flay has responded with good humor, responding to her jests with heart emojis of his own. Having friends at work means you're always in for a good time, and it seems like that's just as true for us common folk as it is for Food Network's A-list celebrities.