Big Changes Are Coming To Your Favorite Steakhouse Chains In 2023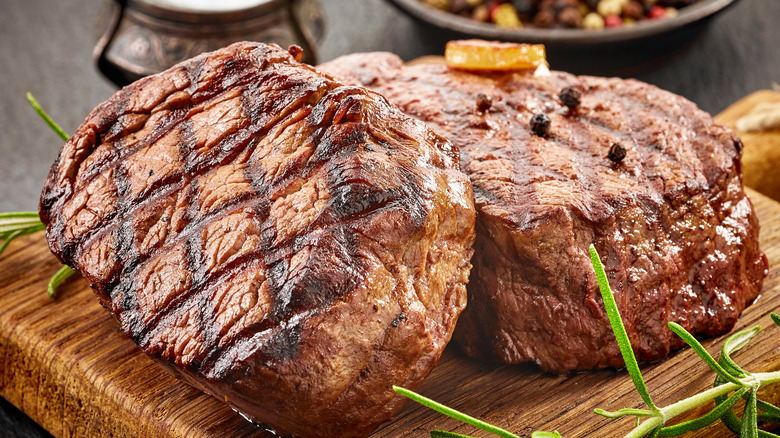 Magone/Getty Images
Restaurants that have survived the last few years of changing dining habits and rising food costs have had to make big changes in how they do business. It's been a change-or-die world out there, but most of the U.S.'s big chain steakhouses seem to be making the right adjustments to thrive. Several are doing so well that they're expanding to even more locations. Some of the smaller chains, like Fogo de Chão, are slowly edging their way into new states and cities. So, expect more places to eat steak near you as the year unfolds.
Additionally, several steakhouses are updating their look and shuffling their space to accommodate their growing takeout and delivery business. Outback Steakhouse is even ordering new clamshell grills, so it can make its steaks in half the time to accommodate all its customers. Other big changes are happening on menus, with restaurants catering to shrinking customer budgets, providing non-steak options, and offering their customers "experiences" to make their money feel well spent. Adversity often inspires changes that leave us with something better than we ever expected, so read on to find out what steakhouses have waiting for you in 2023.
Texas Roadhouse is expanding to even more locations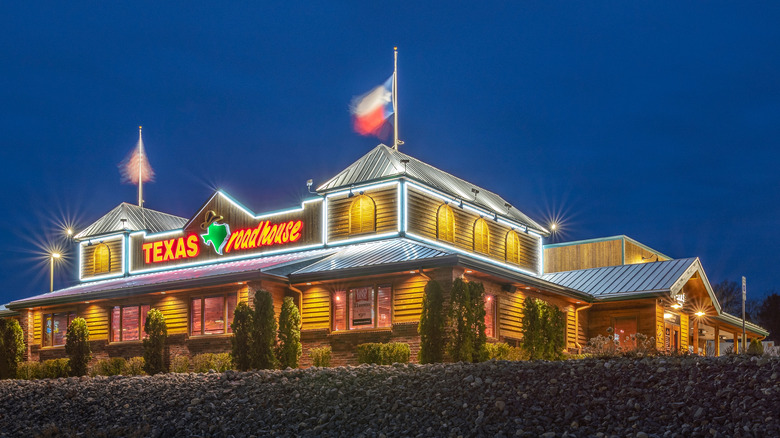 Mahmoud Suhail/Shutterstock
In upcoming years, it will be even easier to find a Texas Roadhouse wherever you go. When 2023 began, it was possible to find a total of 652 Texas Road Houses in every state except Hawaii and in 10 other countries across the world. However, the chain doesn't think that's nearly enough locations. The steakhouse's ultimate goal is to have about 900 total restaurants. Of course, opening about 250 new restaurants won't happen overnight. There are only about 30 new restaurants slated to open in 2023, which means that, at this rate, the chain won't start approaching 900 locations until closer to 2030.
Let's try to put this new future that Texas Roadhouse envisions into perspective with the other top casual-dining restaurants in the U.S. There are currently nearly 897 Olive Gardens and 1577 Applebee's locations in the U.S. So, you will be seeing about the same number of Texas Roadhouses in the future as you now see Olive Gardens. But you won't see nearly as many of them as you can find Applebee's, which has the most restaurants of all casual dining chains in the U.S.
To expand this much, Texas Roadhouse will need to start to move into even smaller cities than before. There are about 300 cities in the U.S. that have over 100,000 people living there. However, the chain has been trying out cities with as few as 40,000 inhabitants lately, which has been a successful experiment so far.
New Outback Steakhouse restaurants won't be as large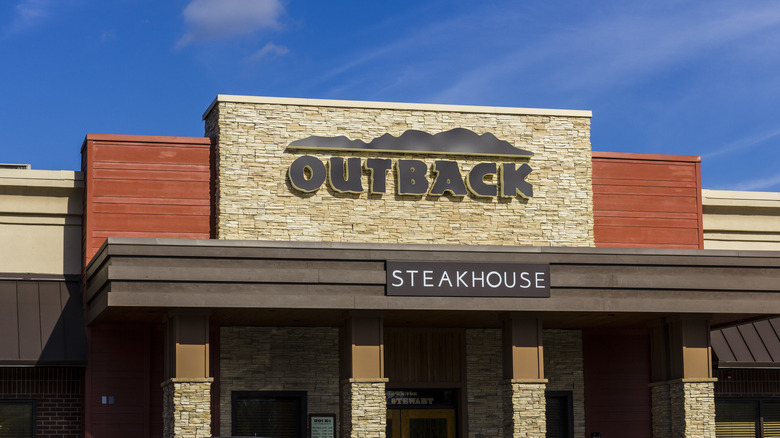 Jonathan Weiss/Shutterstock
Back in 2022, Outback Steakhouse decided it would make some changes to its future Aussie-inspired restaurants. The Covid-19 pandemic changed how diners like to eat their steak, with more preferring to take it home than before. With only 71% of its sales now coming from dine-in customers, it made sense for Outback to try a new optimized design that accommodates more delivery and catering options. The new restaurants will change in size from about 6000 to 5000 square feet and some of the larger existing restaurants, like the 9000-square-foot Outback in Old Bridge, New Jersey, will be demolished to build a smaller, updated restaurant.
Both new and updated Outbacks will have a Next Gen Design — featuring a colorful Aussie-inspired graffiti mural, and a Southern Cross constellation chandelier. With a 70% smaller bar that now hugs the wall and fewer tables for four, the smaller space will still seat 187 customers as it always has.
The chain tried the concept out in three restaurants in 2022, across three states — and the redesign worked in each location. Little surprise then that Outback has decided to use the redesign in the 75-100 new restaurants that it plans to build in 2023 and beyond.
Outback Steakhouse will complete the process of updating tech, ovens, and grills
Whether you visit an old or new Outback Steakhouse in 2023, you'll still see plenty of changes. As Outback has experienced more growth in its takeout and delivery orders, the company has been brainstorming what to do to get orders out as quickly as possible. The expectation is for all the new tech and kitchen equipment to make employees more productive, which should lead to millions of dollars in savings in 2023 if everything goes according to plan.
One of the new changes has been to update the kitchen with time-saving equipment like new ovens and industrial-grade clamshell grills. As a result, customers get their steaks in half the time, which keeps the kitchen from backing up and keeps customers moving through the dining room faster. By the end of 2022, the new kitchen equipment was available in about 35% of existing restaurants, but the chain will continue rolling it out to others in 2023.
New technology is also coming to both the kitchen and the dining area, both of which should improve productivity. By mid-2023, new kitchen tech will allow the cooks to pace dining room, takeout, and delivery orders more efficiently. And by the end of 2023, servers will all have handheld tech to assist with orders so that online and dining room orders are seamlessly digitized.
LongHorn Steakhouse is providing more rather than less food for your buck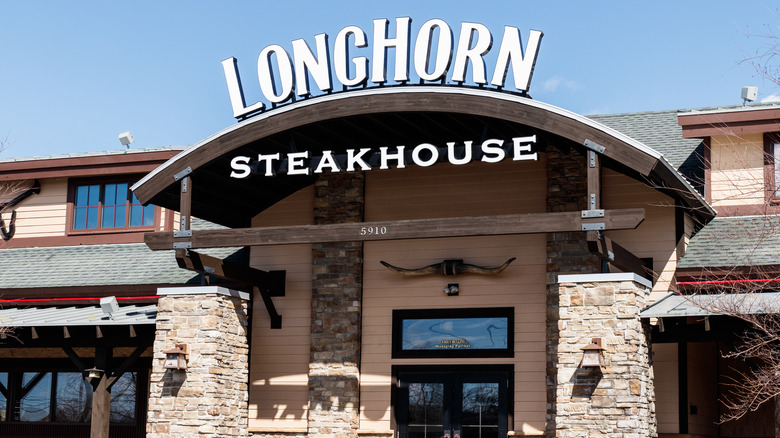 Jonathan Weiss/Shutterstock
Over the past few years, we've all watched prices go up while portions have gone down. This shrinkflation phenomenon has occurred everywhere from grocery store shelves to restaurants. With more people eating at home and making dining out a special occasion, LongHorn Steakhouse has decided to serve larger steaks to make customers feel like they're getting their money's worth. LongHorn Steakhouse says customers will be receiving generous portions of everything and ultimately getting more food for their money in 2023.
While the size of all the steaks at LongHorn Steakhouse has increased over the last year, it no longer offers its gargantuan 30-ounce steak. Back in 2012, LongHorn offered a 30-ounce steak for $39.99 with two sides and two salads to feed — you guessed it — two. Currently, the biggest steak available at LongHorn is a 22-ounce porterhouse steak. This steak currently costs just over $30 and only comes with one side and one salad, but for about $8 more, you can add an extra side and salad for a second person. The cost of the 20-ouncer with extra sides in 2023 would have been equivalent to $29.67 in 2012 prices. Thus, in 2012 prices, the 30-ounce steak dinner was worth $0.75 per ounce vs. $0.67 per ounce for today's 20-ounce steak dinner. As you can see, the 20-ounce steak available today is a better deal (and easier to eat) than the 30-ouncer from 2012. So, the company isn't making empty promises about its food value.
Ruth's Chris Steak House is giving itself an overhaul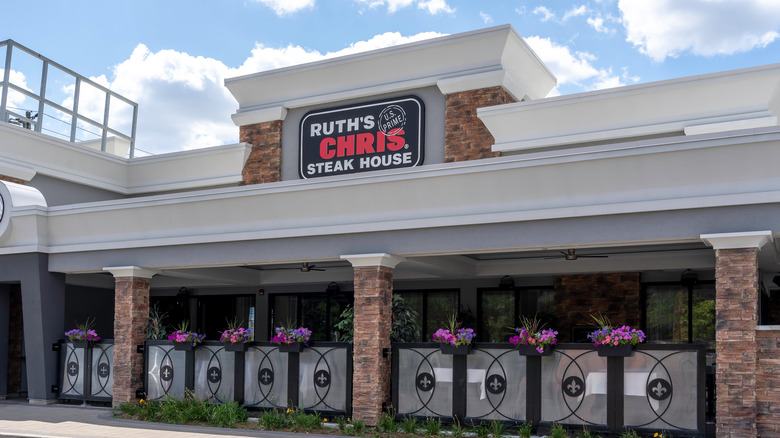 JHVEPhoto/Shutterstock
Ruth's Chris Steak House is among the many steak restaurants that have come to the realization that they needed both a tech and design overhaul. They've already added new tech to make getting your order more efficient. Even so, the changes you will see in 2023 are more related to the restaurant's design, the serving experience, and the menu.
As an experiment, the company redesigned its Winterpark, Florida, restaurant in 2022 with a new bar style and more outdoor seating. The redesign was an immediate hit and helped the restaurant make roughly 35% more money than usual in the final two months of 2022. With the company seeing instantaneous positive results from its overhaul, the chain has decided to remodel 10 more of its 154 restaurants in a similar way in 2023.
The restaurant design isn't the only change you'll see at Ruth's in 2023. Your servers will have new training and be wearing new uniforms. Regular diners may notice a few changes in the way servers set the table and the serving ware they use. Plus, the company plans to change its food and drink menu, enticing more customers with a range of prices and more ordering options.
Texas de Brazil is expanding and moving into new states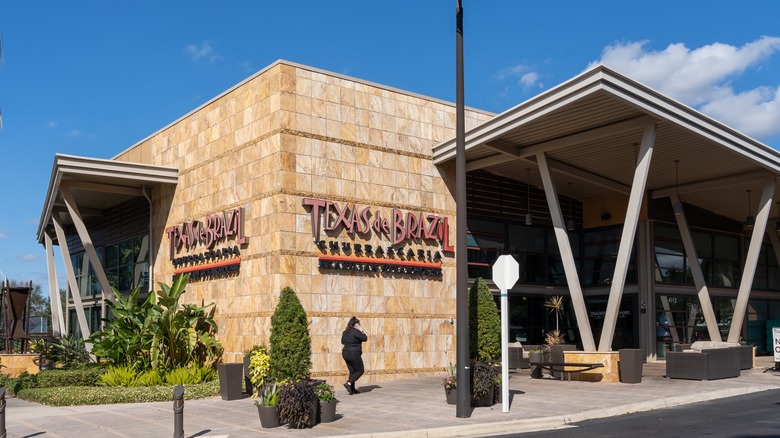 JHVEPhoto/Shutterstock
Some of the changes Texas de Brazil is making in 2023 is moving into its 23rd state. Despite having locations around the world, the chain only existed in 21 states before 2023. The restaurant plans three new locations this year. It will be opening its second Michigan location, its first South Carolina location, and its first Arkansas location.
Rogers is the perfect city for Texas de Brazil to open its first Arkansas restaurant. Northwest Arkansas is home to the University of Arkansas and various food industries like Walmart and Tyson Food, so the tightly-connected area is projected to double in population and hit a million people over the next couple of decades. The restaurant will be in the Pinnacle Hills Promenade outdoor shopping center, which already draws people from the surrounding area to shop, eat, or for entertainment. With just a few places to eat and shoppers walking across 152 acres between over 100 shops, it may be even more likely to entice hungry diners.
Opening its first location in South Carolina in Greenville is another wise decision for Texas de Brazil. The Greenville metro area is home to over half a million people and continues growing. It will open in Haywood Mall, the state's biggest shopping destination. Plus, it's only a couple of miles from the Greenville Convention Center, making it easy to visit for out-of-towners.
Fogo de Chão has serious growth plans
If you haven't yet encountered a Fogo de Chão Brazilian steakhouse yet, don't worry. They're slowly spreading across the U.S. with locations now in 24 states. While the lion's share is in California and Texas, new restaurants are popping up elsewhere. The chain has already secured plans to open 12 more locations in the U.S. and Mexico in 2023, with more to come. The company is in a constant state of strategizing where to open next. They're mainly looking for locations able to draw in customers from surrounding retail shops and nearby hotels. All the new restaurants will feature the chain's new warm — yet social — design, with some adding enclosed outdoor eating spaces or a Next Level Lounge for relaxation, extra seating, and special events.
Four of the new locations will be in California (Brea, Emeryville, Huntington Beach, and Thousand Oaks), bringing the number of California locations to 12. A new Miami Dadeland opening will bring the number of Florida restaurants to six. Maryland will get its third location, which will be in National Harbor. Two new cities in New Jersey will bring the total NJ restaurant count up to three. Rhode Island will be getting its first Fogo de Chão in Providence. A new North Irving location will become Texas' ninth restaurant. And a Lynnwood addition will bring the total in Washington up to two.
Black Angus Steakhouse will be offering multiple-course meal experiences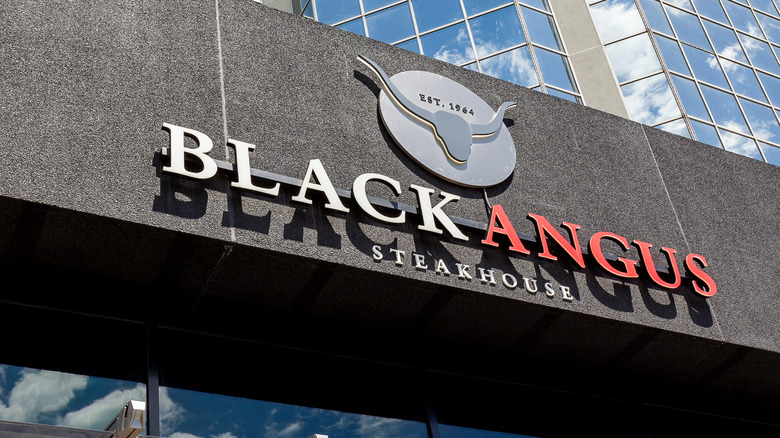 JHVEPhoto/Shutterstock
As food prices have risen, Black Angus Steakhouse has been busy thinking about how pricing will affect its profits. The chain found it absolutely necessary to raise prices by 3-6% in 2022, depending on location. Other steakhouses raised prices even more, but Black Angus was worried about chasing off its core customers — those who look for good deals when they eat good steak. The chain's solution is to create a menu in 2023 devoted to "Experiences." All the experiences are no more than $33-$46 per person, and you certainly won't walk away hungry.
Black Angus' new Experiences include an alcohol-paired three-course meal, a classic steak dinner for two, or meat and alcohol "flights." With the Wine Pairing Dinner and Whiskeys of the World Pairing Dinner, you get a different wine or whiskey with each course. The meal starts with a meaty appetizer, ramps up with a filet mignon and sides, and finishes with a dessert. The New York Steak Flavor Flight and Seafood Flight contain a flight of three steak or seafood dishes accompanied by a flight of three well-paired wines. Meanwhile, the Cowboy Cut Prime Rib Dinner for Two offers several dishes to share. The meal starts with an appetizer and a choice of soup or salad, adding a 1.5-pound prime rib and two sides, then ending with a shared dessert. More adventurous diners might opt for the Chef's Secret Menu, which most likely will include a mystery appetizer, main course, and dessert.
Golden Corral's new servers are robots
The future is here. We've long worried about when AI and robots will come for our jobs. However, the introduction of a Golden Corral robot has actually worked out positively for employees. When WMTV interviewed Golden Corral waitress Ashley Mullins in Beckley, West Virginia about the new robots, she said, "They're awesome. They actually help us to save steps and energy throughout the day and give us more time to be with our customers and talk with them."
The robot is able to take customers to their seats and sing "Happy Birthday" to guests. Guests can also load up the robot with dishes to go to the dishwasher. The servers aren't the only ones liking the new robots — it turns out that employees washing dishes can now schedule more hours since the bots are faster and more efficient at clearing tables than the human servers.
As of March 2023, only two "bus boy bots" are working for free in Golden Corrals in the U.S. However, with their success so far, we'd not be surprised if more Golden Corrals and even other buffet-style restaurants add robots to their restaurants soon — like Hola and Bella in the fancy Cosmo buffet located in Liverpool, who not only will sing you a happy birthday but will let you know when you meander into their path with a cheeky, "You got in my way."
Steak and Ale is updating and making a comeback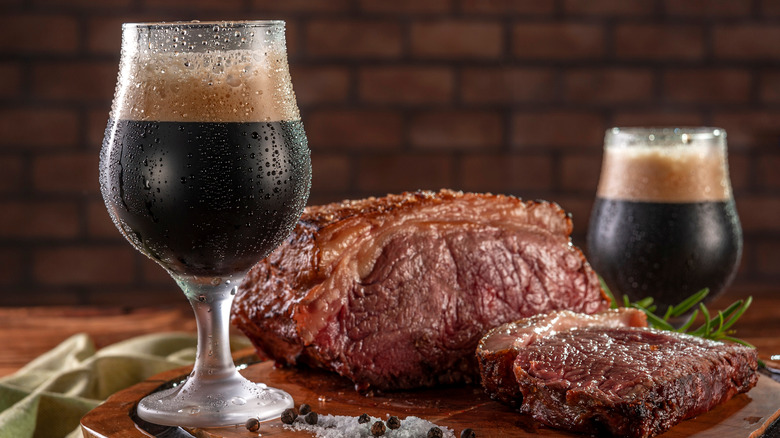 Tibilletti/Shutterstock
If you've not heard the news yet, you'll be happy to know Steak and Ale is making a comeback in 2023. The Tudor-style restaurant where many of us celebrated special events in decades past is finally opening its doors again. It's been 15 years since Steak and Ale suddenly closed following a surprise bankruptcy in 2008. Fortunately, the restaurant was acquired in a package deal with Bennigan's back in 2015. While Bennigan's has remained open in several locations all along, Steak and Ale fans have anxiously awaited word that it, too, would reopen. 
We recently talked with Steak and Ale's CFE, Paul Mangiamele, and he told us that everything is still on track for the company to open its first new restaurant in 2023 in Burnsville, Minnesota, about 16 miles south of Minneapolis. The first reopenings will mainly be in Midwestern states — including Oklahoma — as the company continues to search for compatible matches for its brand.
The new restaurants will all feel similar to the old restaurants inside. You can also still expect the famous salad bar experience and many old favorites from the original menu, like the Kensington Club and Hawaiian Chicken. However, there will be some changes. For example, diners can visit a prime rib carving station, order craft beers, and experience a more fusion-based menu. The new locations will also be about 3/5ths of the original size, with some ghost kitchen versions popping up on delivery apps.
Sizzler is getting a design update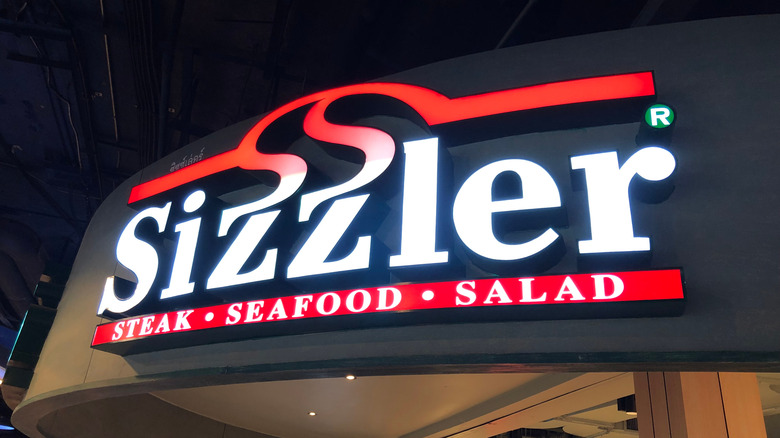 charnsitr/Shutterstock
Sizzler first started making design changes back in 2010. Dark wood and earth tones set the mood, and locations suddenly had a 20% jump in sales after the new design. Now, the chain is back at it again. Only this time, the new design will combine its classic steakhouse look with more modern elements for the 2020s. The idea is to make the restaurant appeal to customers of all ages and not just the older steakhouse set who may have been eating there since the chain opened back in 1958.
The restaurant will ramp up its cozy feel with new woodless fireplaces — and while its colors will remain warm, the overall effect will be more vibrant and contemporary. For environmental sustainability and to continue with its goal to eliminate carbon emissions within its restaurants, the new design also includes using recycled wood on various surfaces. Some of the current furniture will remain where possible while the chain will also add some tables with larger seating capacities. The salad bar has been streamlined with a sleeker look, with planters above adding to the new ambiance. New easily-changeable digital menu boards greet customers near the cash register, adding to the modern feel. Plus, the redesign accommodates the growing delivery and pickup side business. Overall, the coming design change combines old and new elements to appeal to and work better for everyone.
Charlie Palmer Steak is focusing on menu items other than just steak
Like nearly every other restaurant on the planet, Charlie Palmer Steak is still recovering from the changes in everyone's restaurant habits during the early days of the Covid-19 pandemic. The restaurant has been working toward improved job happiness and has focused more on providing food for corporate events and encouraging visitors for happy hour. However, they've also acquiesced to the fact that the average customer in 2023 has become more health-conscious and often has a budget to maintain.
Sure, Charlie Palmer is primarily a steakhouse, but they'd be remiss not to also cater to people who may not walk through the door of a steakhouse with plans to order a steak or spend lots of money. So, the restaurant has started to offer more non-steak options. Some non-steak menu options include robust salads, burgers, roasted or grilled chicken, vegetable dishes, macaroni and cheese, potato dishes, and seafood. In fact, the restaurant offers seafood options like grouper amandine and grilled octopus, which are just as refined as ordering a black Angus ribeye. If you can't decide what you want, the restaurant also offers a Family Style Dinner for groups of eight or more. For just under $100 each, everyone can share a variety of starters, sides, entrees, and desserts to get a taste of all the best menu items.