Whataburger's Newest Shake Flavor Is Only Available For Summer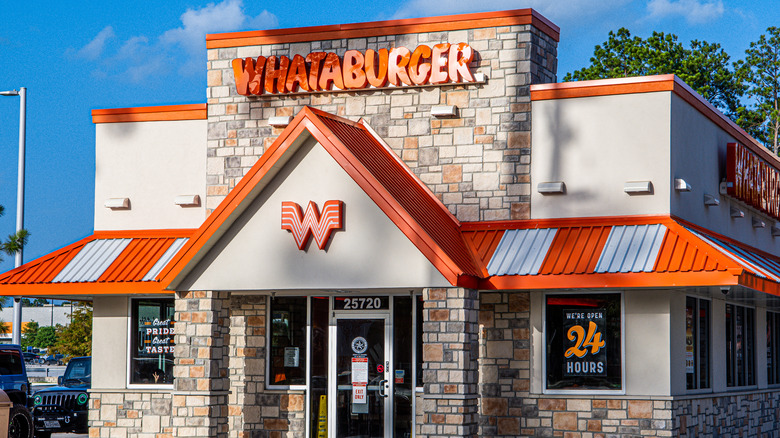 Shutterstock
Is there a more refreshing treat on a warm summer day than a nice, cold milkshake? It's a snack that's not quite a beverage and not quite ice cream, but rather the perfect blend of a treat that's sweet and creamy without being too heavy. Not only is it not quite as filling as a big bowl of ice cream, but it is also a much more portable and less messy dessert, one that is far less likely to drip all over your hands in the hot sun.
So, with all of the great things it has going for it, it's no wonder that Whataburger has decided to make this summer the season of the shake. According to Guilty Eats, the fast food chain has just announced it will be releasing a seasonal new Peaches & Cream Shake. But this sweet and fruity dessert will only be available through the summer months, so you won't want to wait to get your hands on one.
Whataburger's new milkshake blends sweet vanilla with fruity peach flavors
The new milkshake delivers a tasty blend of real ice cream, light and creamy vanilla flavoring, and the bright, summery notes of fresh peaches (via Whataburger). It is the tenth of Whataburger's limited edition milkshakes offerings, with some other notable fan favorites including salted caramel, banana, pineapple, and coffee. "Our shakes are known as some of the best shakes customers can get, and we expect the new Whataburger Peaches & Cream Shake to live up to that reputation and become a summer must-have," said Whataburger Senior Vice President, Rich Scheffler.
According to Chew Boom, the refreshing new shake will be on sale at participating chain locations for a limited time starting at around $2.84. Fans of the treat that are in a rush can even place their order for delivery or curbside pickup online or with the Whataburger App, so they don't even have to wait in line to sample this delicious dessert. If you've been craving a cool, refreshing, and fruity dessert this summer, you'll definitely want to give this specialty drink a try.