Is Mama Cozzi's Pizza Only Sold At Aldi?
At Aldi, it can sometimes be hard to tell the difference between what's a normal brand and what's store-specific — in part due to smart copycat packaging and the competitive quality of the products. However, 90% of the products at Aldi come from private labels, meaning it's far more likely than not that a product is store-exclusive, no matter how it's packaged. Mama Cozzi's, the popular frozen pizza brand all over Aldi's deli and freezer sections, has fooled many into thinking it's an established independent brand, though it's just as much of a trademarked Aldi creation as any of the Kirkwood products.
Anyone searching for Mama Cozzi's in the frozen food aisle of another store can call off the hunt; the take-and-bake pizza brand is owned by the German grocery giant, and you won't find it anywhere else. The affordable pies usually cost somewhere in the $3 to $4 range, and come in several different varieties. The Take and Bake Deli Pizza alone is available in pepperoni, Five Cheese, Supreme, Thin Crust Mega Meat, and sausage & pepperoni, and is praised by Aldi customers as one of their favorite items from the entire store. Aldi has featured the Take and Bake Deli Pizza multiple times in their fan-favorite polls, making it into the "Hall of Fame" in 2022.
It's one of the stores most popular brands, and it sells out frequently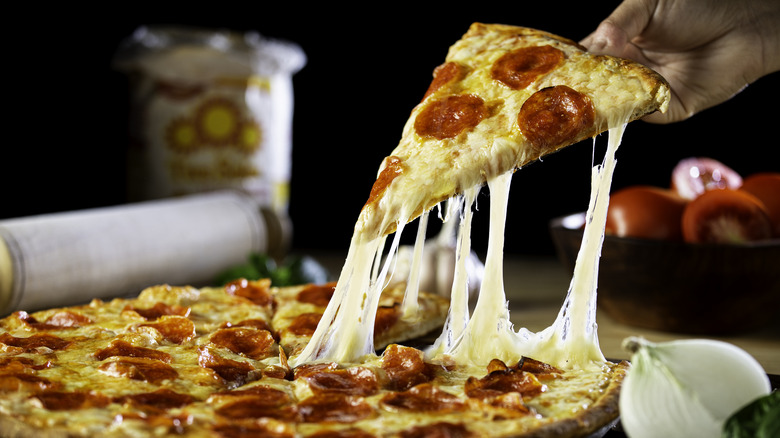 Wirestock/Getty Images
The brand has gained something of a cult following online, where users consider it the best frozen pizza at Aldi and compare it favorably to DiGiorno, praising its low prices and extensive options. However, it's also avoided by some Aldi shoppers, who cite inconsistency and lack of flavor. According to an Aldi source, Mama Cozzi's is offered in 60 additional varieties year round, on top of its normal 17, and it's often sold out on Fridays (via The Kitchn). The brand's frozen offerings include thin crust, rising crust, gluten-free cauliflower crust, stuffed crust, and pizza bagels — if you count bagels as pizza, that is — in different sizes. There were even ghost- and pumpkin-shaped Mama Cozzi's pizzas to celebrate Halloween. 
Lately, the brand's cheese-drowned Tavern Style Supreme pizza has gotten some buzz, but there's always a new flavor or pizza type coming from the brand, leaving something for everyone. They also offer some enticing flatbreads, breadsticks, and calzone options. Even if you're not a big pizza person, the Aldi brand might still offer something that interests you. While fans might be frustrated that they can't find Mama Cozzi's elsewhere, the underrated frozen pizza always seems to return to Aldi shelves, year after year.