Canned Food Combinations You'll Wish You Knew About Sooner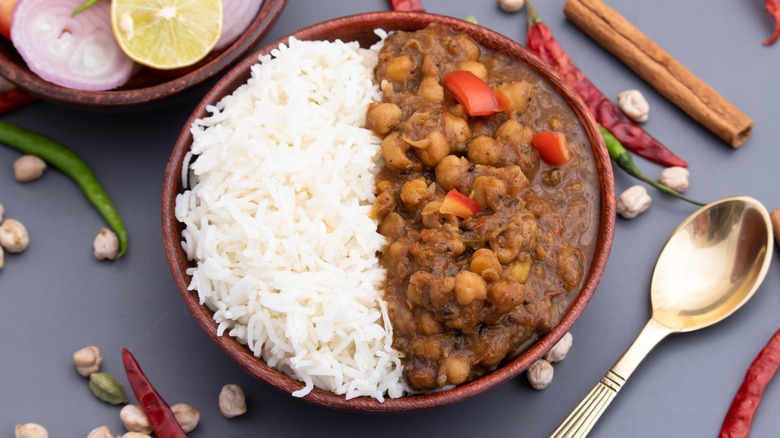 Rangeecha/Shutterstock
We've all been there — looking into our pantry, trying to figure out which canned foods we can put together to make a decent meal. Using multiple cans to make a single dish is convenient because it eliminates a lot of chopping and cooking steps. While there are plenty of unappetizing combinations you can put together, we're here to provide a list of canned foods you can use to make meals you're likely to want to make again and again. Some are extremely simple, while others require a few extra ingredients or spices. We've also included some that allow you to change up ingredients based on what you have in the pantry.
The trick is finding multiple canned foods that work well together. Our list includes everything from appetizers and soups to curries and casseroles. We even have a couple of desserts on our list. We want to help you think outside the box (or the can), and use multiple canned foods together to your advantage, rather than as a sad consolation prize dumped into a container to heat up.
Loaded chicken and potatoes
You can combine canned chicken and canned potatoes for a meal that is unexpectedly good — loaded chicken and potatoes. It has the same fun feel as loaded tots or loaded nachos, and is just as easy to make. Starting with pre-cooked, canned potatoes saves time with both chopping and cooking. You can also make them in the air fryer instead of the oven for convenience.
You'll start with a layer of canned potatoes. If they're whole potatoes, you may want to cut them in fourths or slice them. Then, you'll add the canned chicken on top. We like the idea of seasoning the potatoes and chicken before you load them up with your favorite toppings. You could go with a generic or Mexican seasoning mix, depending on the flavor profile you want. You could add cheddar cheese and cooked bacon before baking, and then top with fresh ingredients like sour cream and green onions after the potatoes have warmed through and the cheese has melted.
Canned pumpkin and chickpea hummus
Pumpkin hummus can be as simple or fancy as you'd like. The three main ingredients all come in a can or jar — unsweetened pumpkin, chickpeas, and tahini. Chickpeas taste surprisingly good with pumpkin. The combination works year-round, but it's especially fun in the fall. Using orange juice instead of lemon juice with your olive oil can be especially tasty. And if you don't have tahini, you can grind sesame seeds (or any nut really) to make your own. You can even make it with premade grocery store hummus and canned pumpkin to cut out all the work (and the tahini).
You can add as many seasonings or herbs to pumpkin hummus as you want. You can go with cumin and minced garlic for seasonings, or even use nothing but pumpkin spice. You can go a step further than a simple olive oil topping by adding ingredients like pumpkin seeds, pomegranate seeds, or a drizzle of maple syrup. The pumpkin flavor also invites dipping fruit in it like apples and pears, in addition to your usual pitas and veggies.
Pantry pasta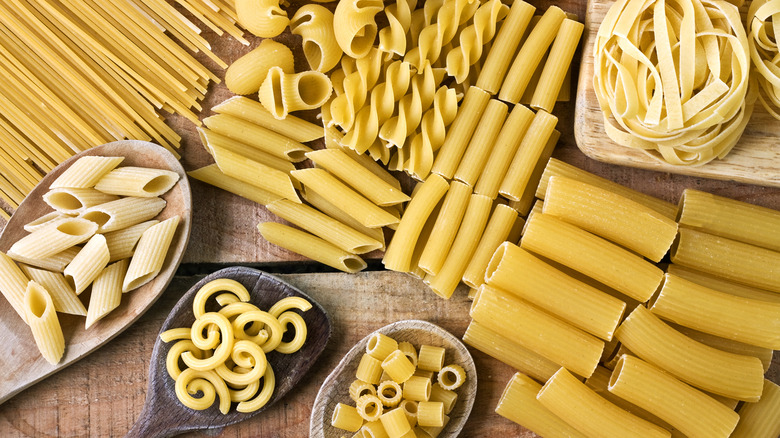 Minoandriani/Getty Images
There's almost no wrong way to make pantry pasta. The trick is to look in your pantry and see what you have that will go with pasta, especially when you're out of jarred pasta sauce. A touch of pesto would be nice, but you could even go with non-Italian sauces like chili crisp, gochujang, or some other similar condiment instead. A lot of people use canned anchovies for the salty and umami part of the pasta, but you can also use fish sauce. Canned items like olives, artichokes, regular or sun-dried tomatoes, chilis, garlic, capers, and roasted pine nuts are also great choices.
The pasta dish starts with sautéing alliums like onions or shallots and garlic in olive oil or butter before adding in any sauces, canned items, lemon juice, cooked pasta, and Italian seasonings or fresh herbs. You can use either pasta water or canned chicken broth to make the sauce saucier, and top it with Parmesan cheese or some other cheese when you're done (if you have any).
Texas caviar
Because Texas caviar is so easy to make, it's an easy go-to option for potlucks and lazy summer meals. While you certainly could go the long way with this dish, you also can make the whole thing without cooking or chopping a single vegetable if you want. Texas caviar includes canned ingredients like black-eyed peas, black or pinto beans, and whole-kernel corn. While you can use fresh bell peppers and fresh red onions, it's also possible to use canned versions instead. Canned red onion slices work especially well since they're already marinated in vinegar. Canned green chilis, jalapeños, and garlic are also good options to take the flavor up a notch.
Once you've gathered your canned ingredients, you simply need to open them, drain them, and mix them together in a bowl. We suggest adding a few fresh ingredients like fresh cilantro, lime juice, and sliced green onions, along with a dressing of vinegar and olive oil since they make all the canned items come alive and seem fresher than they actually are.
Easy 4-can chicken pot pies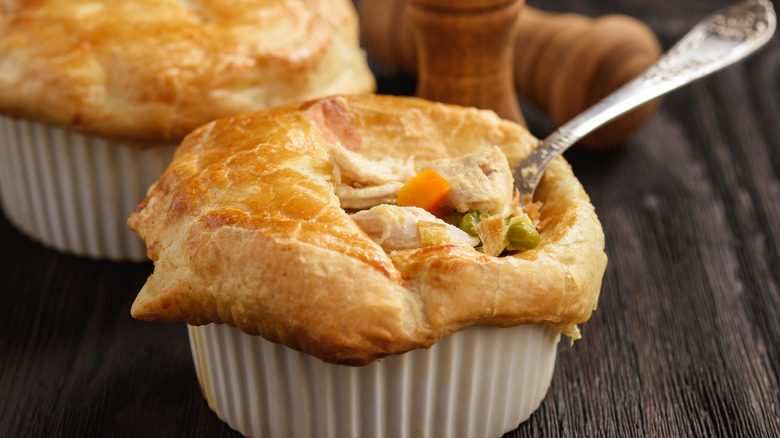 Iko636/Getty Images
Chicken pot pie is one of those dishes that you can make completely from scratch or by can. The long way could take hours with making your own crust and sauce, and then boiling a chicken. Meanwhile, the short way takes less than 30 minutes, including baking. If you want to make a chicken pot pie entirely by can, you'll only need canned biscuits and a mixture of canned chicken, mixed veggies, and cream of chicken soup. Either put the mixture in a casserole dish with the raw biscuits on top or stretch each piece of biscuit dough to make a small bowl in a muffin tin and fill it with the mixture. Then bake it for 15-20 minutes or until the dough is done and browned.
Of course, you could elevate this recipe by seasoning the filling with garlic (even that could be canned), and using frozen puff pastry instead of canned biscuits for the crust. You can also use nearly any "cream of" soup instead of cream of chicken, such as cream of celery or cream of mushroom (our favorite).
Spam fried rice with canned veggies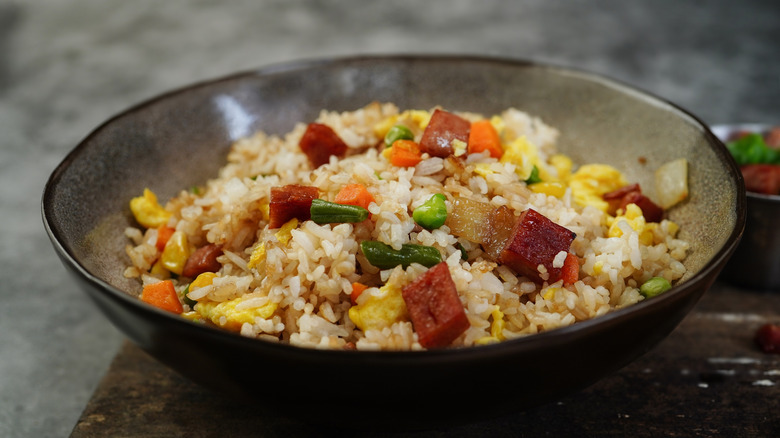 vm2002/Shutterstock
If you have canned spam and canned veggies in your cupboard along with an egg and leftover rice in your fridge, spam fried rice can be ready to eat in minutes. The saltiness of the spam brings the perfect flavor punch to fried rice, while the canned veggies add nutrition and color to the meal. Peas, carrots, corn, a mixture of carrots and peas, or a can of mixed veggies all work fine. To make Hawaiian-inspired spam fried rice, you could even add a can of drained pineapple tidbits or crushed pineapple. The best part is that it only takes minutes to make.
Start out cooking the spam cubes with ingredients like green onions, ginger, and garlic (canned garlic also works). Then, you can add in the leftover rice and drained veggies, along with drained pineapple. The final touch is adding soy sauce and scrambled eggs, and cooking until warmed through.
Pineapple baked beans
There are tons of flavored baked beans available these days, so when you notice that plain can of baked beans sitting on your shelf, it can be less than exciting. However, we have an idea for jazzing up baked beans that we think will make your mouth happy — pineapple baked beans. Pineapple brings an instant sweetness to your baked beans and textural interest if you choose pineapple tidbits over crushed pineapple.
While you could simply mix pineapple into your pork and beans, heat, and call it done, you can get even more richness from the dish with a few extra ingredients. You could add depth to the sweetness with molasses or brown sugar. Ketchup, spicy mustard, and Worcestershire sauce can also add a punch of flavor. We also like the idea of adding liquid smoke or smoked paprika, caramelized onions, or meats like bacon or smoked sausages. With pineapple being an ingredient, you could even try spam as your meat. Baking helps bring out the caramel flavors of the pineapple.
Vegan jackfruit sloppy Joes
If you have looked into meat alternatives, you've likely encountered references to (or even tried) jackfruit barbecue. Since jackfruit has a mild and slightly umami flavor, it takes on the flavor of the sauce you add without competing with it. The texture of the jackfruit is a good mimic for pulled pork. Jackfruit sloppy Joes play on the same concept and give you the ease of canned sloppy Joes with a canned non-meat alternative. Unless you want to get fancy, all you need is a can of sloppy Joe sauce like Manwich, a can of jackfruit, and buns.
Simply prepare the sloppy Joes as the can suggests, substituting shredded jackfruit for meat. Then, serve it on a toasted bun. To kick it up a notch, add some fresh coleslaw on top of the jackfruit before adding the top bun. If you want to keep everything simple, you can always buy coleslaw premade from the store rather than making it yourself.
Chickpea curry
Chickpea curry is surprisingly easy to make with canned ingredients, even if you've never tried making Indian food at home before. The bulk of your curry will come from canned chickpeas and canned coconut milk. You can even add canned tomatoes and mixed veggies if you want a little more interest to your curry. However, it will taste just fine with just chickpeas and canned coconut milk. We especially like using coconut milk for curry instead of yogurt because you don't have to worry about it curdling. Plus, it gives the curry a lush flavor.
The base of this curry starts with sautéing onions and garlic. Then you add in curry powder, with the option of adding in other spices like chili powder, cumin, turmeric, and coriander if you'd like. The next step is to add in your canned ingredients and cook until the chickpeas start to absorb all the flavors. When your curry is done, you can add fresh cilantro if you'd like, and serve it over basmati rice or with Indian bread like naan.
Tomato coconut chicken curry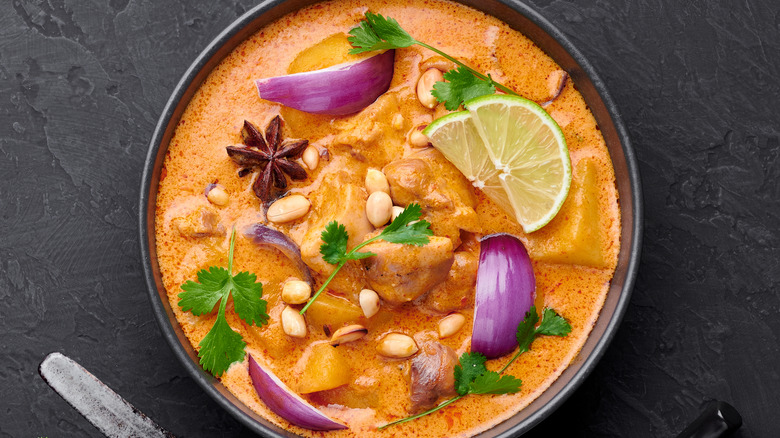 Kravtzov/Shutterstock
Two components for a tomato coconut chicken curry — tomatoes and coconut — usually come from a can. So, it's not that big of a stretch to add canned chicken and canned spinach as well. Canned chicken tastes better than a lot of other canned meats, and it is even more forgiving when it has soaked up all the flavors of a tomato-based curry. If you draw the line at canned spinach, you can always use fresh instead.
After you've fried up your onions, ginger, garlic, and curry spices, you can start adding most of your canned ingredients, like tomatoes, coconut, and chicken. While you can use water to increase the liquid content, a can of chicken broth can also be helpful. Fresh or canned spinach goes in toward the end of the cooking process, along with fresh cilantro. Basmati rice and naan bread is always a great accompaniment to curries, and this is one is no exception.
Creamy pumpkin and coconut soup
Pumpkin and coconut soup is extremely easy to whip up and is a comforting combination. We especially like it as a creamy fall soup. While you can eat pumpkin and coconut soup alone, it's extremely versatile, making a great base for vegetables (especially root vegetables). This soup contains canned pumpkin, canned chicken or vegetable broth, and canned coconut milk. You can even add a tablespoon of tomato paste for a richer soup, or mild beans like a can of northern beans if you want added protein.
The other ingredients you should add will depend on the flavor profile you want. We like to add cooked shallots, garlic, and ginger. While you could just add seasonings as simple as cumin and paprika, we like to use curry powder, turmeric, and smoked paprika in our creamy pumpkin soup. Toppings can include anything from sour cream to pumpkin seeds or cilantro. Once you make this soup once, let your imagination guide you for what to add the next time you cook it.
Chicken, vegetable, and wild rice casserole
Wild rice casserole is a comfort-food dish you'll likely find yourself making again and again. Even picky eaters tend to like the results (even if they think they don't like wild rice). While you can turn it into a casserole, we've also made it on a camp stove while camping. The canned ingredients you can use for it include canned chicken, cream of mushroom or cream of chicken soup, and canned mixed veggies.
You simply make a box of flavored wild rice according to the package, add the canned ingredients (chicken, veggies, and cream of mushroom soup), and add any seasoning you might like (garlic powder, pepper, etc.) before popping it in the oven with a generous sprinkling of cheese on top. Of course, you can make chicken and rice casserole the long way, or with different vegetables like broccoli, but it's so much easier and faster by can.
Pizza with canned ingredients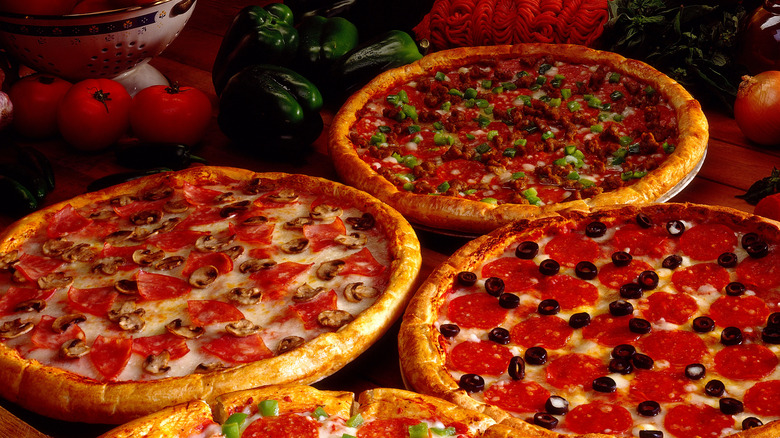 Burke/triolo Productions/Getty Images
There are plenty of canned ingredients you can use to jazz up a frozen pizza, or to top a pizza you're making from home from scratch or with a pre-made crust. Using canned toppings for a pizza cuts down on prep time so that you can get the pizza out of the oven and into your mouth that much faster.
You can find several meat toppings that come packaged rather than refrigerated that work just fine for pizza, like cooked bacon, pepperoni, spam, and anchovies. Of course, canned chicken will probably taste better mixed with barbecue sauce. There's also a plethora of other pizza toppings that come in a can, like capers, artichokes, sun-dried tomatoes, pickles, peppers of all kinds (including jalapeños), garlic, pineapple, olives, onions, and mushrooms. You can even get your pizza sauce and parmesan cheese from a jar or can. So, there's no need to dirty a pan cooking up meat, or get out a chopping board when making a pizza at home or enhancing your frozen pizza.
Haitian makawoni au gratin (elevated mac and cheese)
One of our favorite dishes to make that includes canned ingredients is the Haitian version of macaroni and cheese, called makawoni au gratin. It's an easy and creamy baked version of mac and cheese that includes elevated ingredients like sautéed onions and peppers. Other than the fact that it's extremely flavorful, we like being able to use evaporated milk in it instead of having to labor over a mornay sauce since it thickens with the cheese in the oven. And we've also discovered the shortcut of using canned peppers and garlic to cut down on the chopping and cooking involved in this dish.
Making Haitian makawoni au gratin is as easy as mixing together cooked rigatoni pasta with sautéed onions, canned peppers, evaporated milk, and your favorite cheeses and popping the dish into the oven until the sauce is done. There's a bit of a debate over whether you should also add mayo, and some people also add meat, so canned chicken could work here as well.
Fruit cocktail and maraschino cherry popsicles
There's more that you can do with that fruit cocktail in the pantry besides eating it with a spoon or throwing it into Jell-O. The idea of turning canned fruit into fruit cocktail popsicles is so simple that you'll wonder why you haven't thought of it sooner. We don't know about you, but our favorite part of a fruit cocktail is the cherries. Unfortunately, there are rarely enough in the can for our liking. That's one reason we suggest using a jar of maraschino cherries in your canned fruit popsicle. Because we're big canned cherry fans, we suggest layering the popsicles instead of mixing everything together. That way, you can get layers of nothing but cherries next to layers of fruit cocktail. But that's just us.
Once your layers are in your popsicle mold like you want, you'll add in some of the remaining juice from the fruit cocktail, cherry jar, or both to fill the mold. Some people add a mix of cream, evaporated milk, and condensed milk instead of fruit juice for a creamy treat. It will take four or five hours to freeze, but the wait will be worth it.
Millionaire pie with canned pineapples and cherries
As the name suggests, millionaire pie tastes like a million dollars, but the secret is that it's super easy to make, and a lot of the ingredients come from a can. And what doesn't come from a can, you can get pre-made or in a box or bag. The canned ingredients include sweetened, condensed milk, crushed pineapple, and maraschino cherries. All the ingredients come together perfectly with almost no work involved. And using sweetened condensed milk allows you to bypass adding extra sugar, or having to incorporate sugar into the ingredients.
All you have to do is mix together sweetened condensed milk, lemon juice, coconut flakes, chopped pecans, crushed pineapple, and thawed whipped topping and put it in a premade graham cracker crust. Don't forget to add the cherries on top. The hardest part about making this pie is waiting two hours to eat it while it sets up in the fridge. It has a refreshing and tropical flavor that most people (except coconut haters) will love.