Once-Popular Chefs You May Have Forgotten About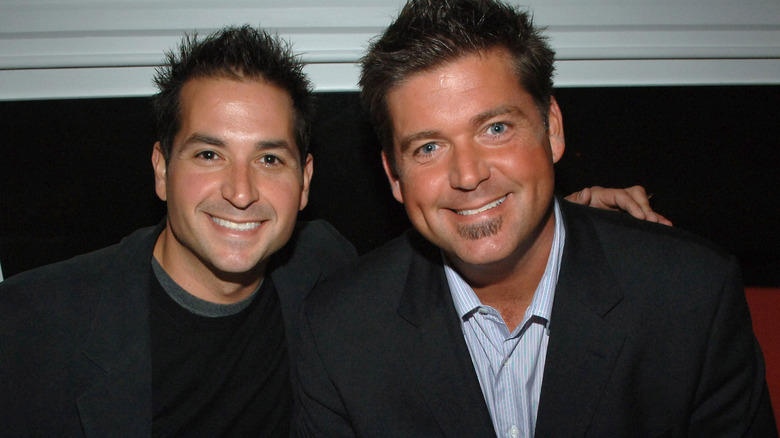 Duffy-marie Arnoult/Getty Images
There are some celebrity chefs who just seem to transcend time. For example, Julia Child died nearly two decades ago in 2004, and yet her legacy still lives on through books, movies, and museums. Ask any media-consuming foodie about their favorite chefs, the ones they grew up watching on television when home sick from school, and they'll likely mention not just Child, but also individuals like Emeril Lagassé and Mario Batali, chefs who have more or less left the limelight but remain in our memories. More recently, you have chefs like Guy Fieri, Rachael Ray, and Bobby Flay, who seem to have such a chokehold on not just food television, but also their own food empires in general, that sometimes you wish you could forget them.
But then there are the other chefs — the ones who had their spots of fame, sometimes even decades of it, but who have now faded from memory. These are those chefs. You'll likely recognize all the individuals on our list and probably think, "Hey, yeah! What happened to them?" Keep reading to find out.
Sandra Lee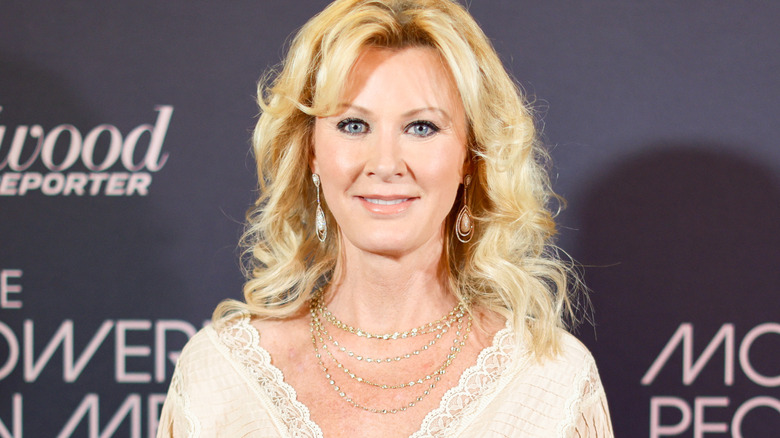 Dimitrios Kambouris/Getty Images
Long-time Food Network fans know Sandra Lee. Her show "Semi-Homemade Cooking with Sandra Lee" launched in 2003 and endured until 2011. She's written nearly 30 books. Even if you didn't watch Lee in the 2000s, you likely have seen that infamous gif of the chef pouring a very, very healthy helping of vodka into a cocktail shaker as she cheekily says that it's just two shots. However, sometime around the mid-2010s ("Semi-Homemade Cooking with Sandra Lee" concluded with more than 200 episodes in 2016), Lee pretty much fell off the food television radar. She appeared in one-off episodes of various Food Network competition shows, but that was it. Her most recent television appearance was on "Entertainment Tonight" in 2021.
So what's Lee been up to otherwise? Well, in 2015, she received a breast cancer diagnosis and underwent a double mastectomy (she made a short documentary called "RX: Early Detection — A Cancer Journey with Sandra Lee" that was released in 2018). In 2019, she broke up with long-time boyfriend, former New York Gov. Andrew Cuomo. In 2022, she officially announced a new relationship with nonprofit interfaith leader Ben Youcef on social media. Most recently, in 2023, she's been hinting at a new project on Instagram, but details have yet to be revealed.
Pat and Gina Neely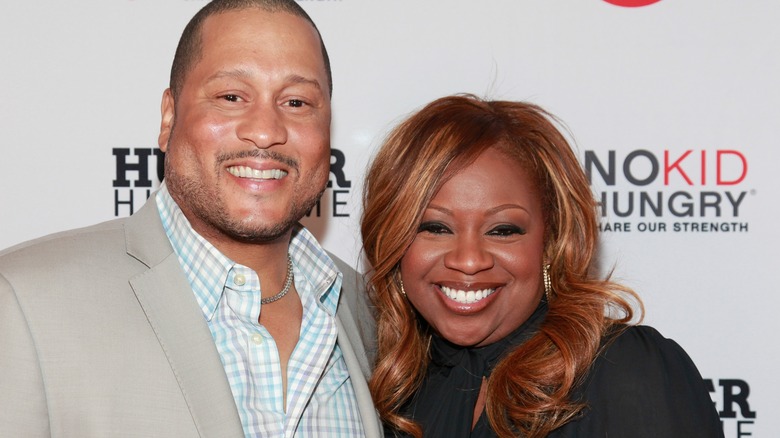 Charles Eshelman/Getty Images
Food Network fans will recognize culinary power couple Pat and Gina Neely from their hit show "Down Home with the Neelys," which Food Network reported was one of the best-performing shows in its particular time slot when it premiered in 2008. After the show's debut, the two also hosted "Road Tasted with the Neelys" for one season and went on to appear on various other Food Network shows as guests. However, their initial show and the Neelys both left the air in 2014, when the couple split.
Since then, Gina Neely has undergone a huge transformation. In 2017, she launched a new cooking show on the Aspire TV Network, called "Chop It Up with Gina Neely." She starred in "To Rome for Love" in 2018, a Bravo reality show that followed single women to Italy. In February 2022, she gave an exciting life update, letting fans know that she was going to become a grandmother. As for Pat Neely, he has continued his culinary career outside the television spotlight, remarried in 2017, and is active on YouTube.
Sara Moulton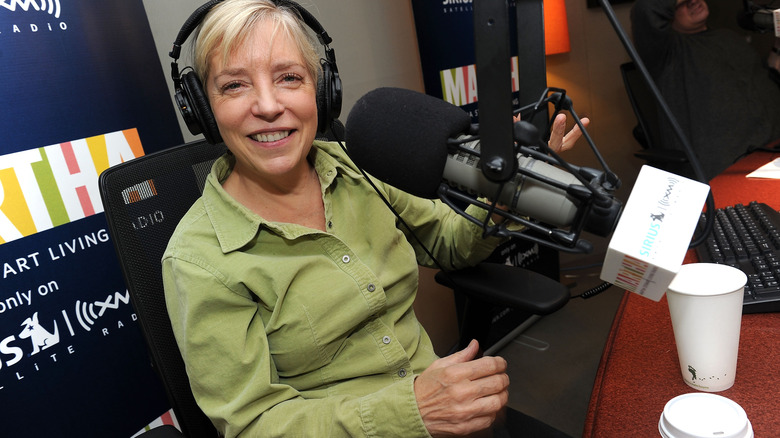 Jason Kempin/Getty Images
Sara Moulton is a real Food Network throwback as one of the early stars on the cooking channel with her show, "Cooking Live," which debuted in 1997. Her other network shows include "Cooking Live Primetime" and "Sara's Secrets." However, her experience on the food channel is mostly limited to the network's first 10 years. Moulton, who considers herself Julia Child's protégé, has a much broader career that touches PBS, "Good Morning America," Gourmet magazine, The Washington Post, Associated Press, and other outlets. She's also appeared as a guest on a range of popular shows, from "Rachael Ray" to "The Chew."
So, while Moulton certainly is still active in the culinary community, why would she leave the limelight that Food Network provided? The real reason that her Food Network show was canceled, she told Eater in an exclusive interview, was that Food Network wanted the change, not the other way around. The decision was in part blamed on the network's switch to a different demographic — one that wanted hosts with a certain look and certain personality.
Cat Cora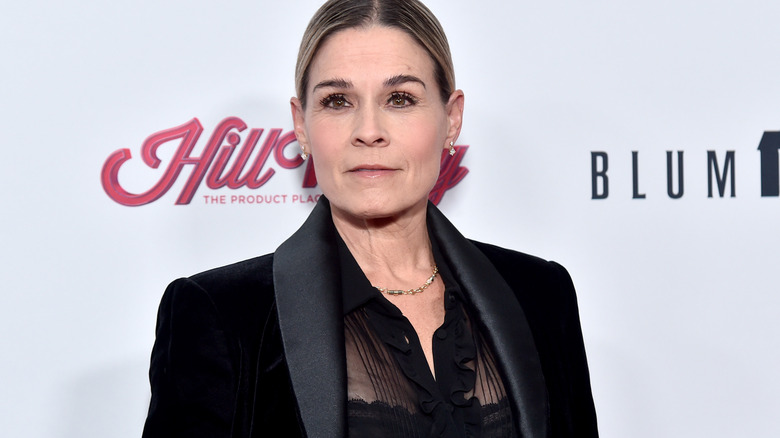 Alberto E. Rodriguez/Getty Images
For any OG "Iron Chef America" fans, the competition's first female Iron Chef, Cat Cora, was a staple, appearing in nearly 80 episodes from 2005 to 2013. She'd already appeared on shows such as "Melting Pot with Rocco Di Spirito," "My Country, My Kitchen: Greece," and "Date Plate," but "Iron Chef America" really cemented Cora's food television fame. Since 2013, though, Cora has spent less and less time on the Food Network, so she fell from the limelight a bit.
That said, she's hardly been resting on her Iron Chef laurels. She's appeared on nearly 40 other shows and series since then, ranging from food competitions (including a handful from the Food Network) to talk shows to frankly unexpected competitions like "The Real Dirty Dancing," which is exactly what you think it is. Most recently, in 2023, she was on "Stars on Mars," where celebrities compete to survive an astronaut simulation. She also sells food on GoldBelly and has partnered with a non-alcoholic wine brand.
Stephanie Izard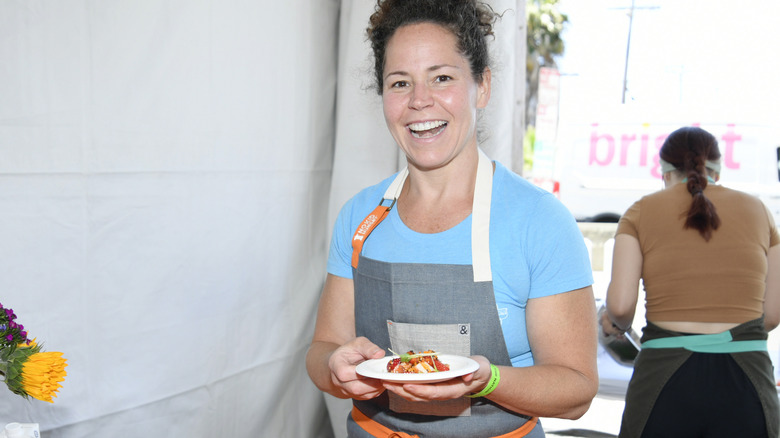 Michael Tullberg/Getty Images
Unlike some forgotten chefs who first burst onto the celebrity scene decades ago and have quietly faded into the background, Stephanie Izard's fame is a little more recent. The James Beard honoree and Chicago chef was the first woman to win Bravo's "Top Chef" during season 4 of the show in 2008, and in 2017 she won the first season of "Iron Chef Gauntlet." Most of the attention given Izard centers around these dates, with further appearances on "Iron Chef America," "Top Chef," "Chopped," and other well-known favorites.
Recently, though, Izard has been more focused on her many restaurants rather than potential television appearances, having opened two new restaurants in Los Angeles in 2021 and 2022. She has a retail product line of spices, sauces, and crunches called This Little Goat, and her Chicago bakery that opened in 2020 called Sugargoat now ships sweets nationwide through Goldbelly. Yes, she's still appeared on a few talk shows and Guy Fieri's "Tournament of Champions" this year, but this is one TV chef who seems to not need the spotlight because she is focused on actually cooking.
Rocco DiSpirito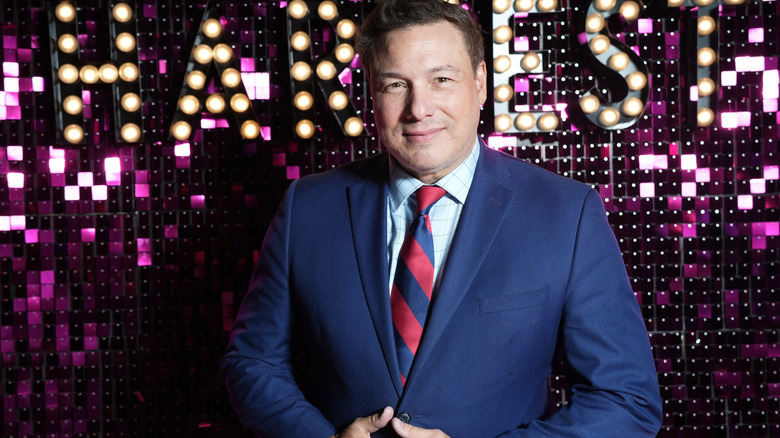 Jared Siskin/Getty Images
What happened to chef Rocco DiSpirito? Much like his once-upon-a-time co-host Cat Cora, he was one of the earliest players in the food television game. Just a year after his 2003 television show "The Restaurant" aired, DiSpirito left the restaurant industry. He wrote some cookbooks and appeared on various cooking shows and other competitions like "Dancing with the Stars." Eventually, in 2018 he took another job as chef at The Standard Grill in Manhattan ... and then left that role as well shortly after. 
While you won't currently find DiSpirito helming a restaurant, or even hosting his own show, he still has quite a lot going on at the moment. As he told Mashed in an exclusive interview in 2022, he's been busy appearing at food festivals, creating custom meals for private clients, working on more cookbooks, and creating NFTs. His Instagram profile also indicates that he's still making a fair number of guest appearances on Food Network, mostly on the Guy Fieri suite of shows.
Ming Tsai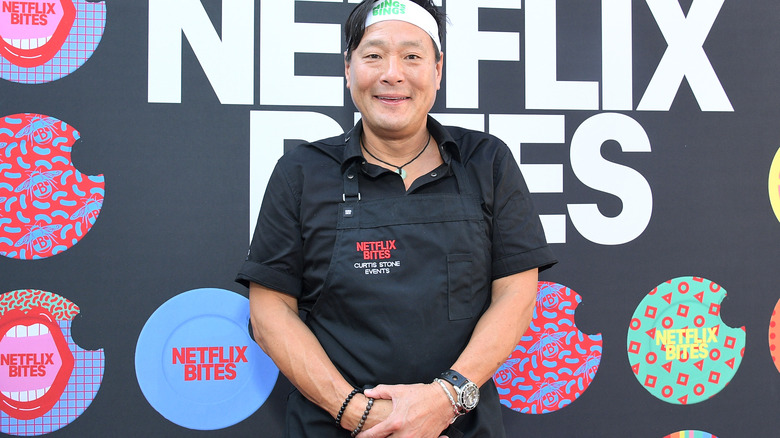 Charley Gallay/Getty Images
Iron Chef Ming Tsai boasts an impressive resume, with multiple restaurants and various awards. His PBS show "Simply Ming," is among the longest-running cooking programs for the network, with more than 350 episodes from 2004 to 2021. However, if you don't frequently tune into PBS, you may have forgotten this highly lauded chef following the conclusion of his first show, which aired on Food Network. The show where Tsai got his start, "East Meets West with Ming Tsai," ran from 1998 to 2003. Otherwise, his gigs are mostly one-offs, with a handful of appearances on Food Network shows such as "Guy's Grocery Games" and "The Best Thing I Ever Ate." He's also appeared on a handful of talk shows and, of course, "The Next Iron Chef" and in 2022, "Iron Chef: Quest for an Iron Legend."
So what's this chef up to today? Tsai's most recent project is MingsBings, founded in 2020. With gluten-free, vegan, and nut-free offerings, the frozen snack brand created by Tsai followed his wife's cancer diagnosis, when he realized there were few tasty, non-inflammatory foods available for convenient eating. Now, the brand offers a selection of handheld, pocket-like snacks that feature a rice wrapper on the outside and flavorful, plant-based goodness on the inside.
The Deen Brothers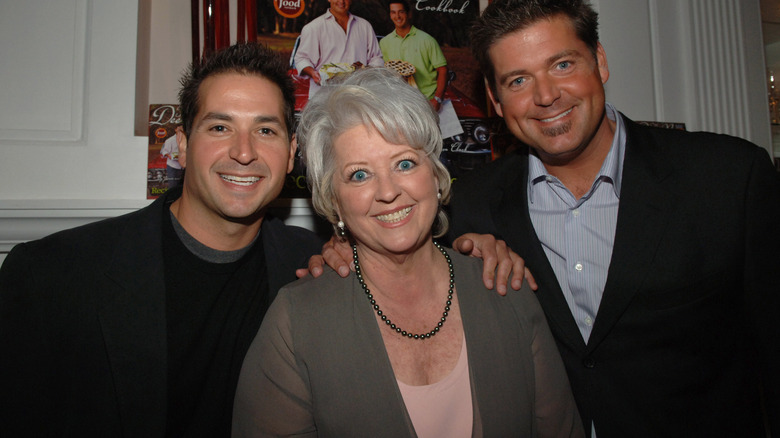 Duffy-marie Arnoult/Getty Images
No one's going to forget Paula Deen. In 2013, the woman known for her Southern cooking was the subject of wide-reaching controversy when she was accused of racism and lost a lot of her fanbase. She was soon booted from the Food Network. What happened to Deen afterward is hardly a comeback success story. She remains recognizable and memorable, but mostly due to odd attempts to remain relevant, with her appearing as a contestant on "Dancing with the Stars" in 2015 and starting a clothing line. However, while Deen is instantly (and notoriously) memorable, the same can't be said for her two sons.
The Deen brothers, Jamie and Bobby, initially became famous thanks to their mother, appearing on her shows and co-owning her restaurant in Savannah. However, with their mother's fame, both Jamie and Bobby Deen found opportunities of their own. They have appeared on numerous Food Network shows (Bobby Deen hosted several baking championships on the TV network), and Bobby Deen also has a show on the Cooking Channel. Both have authored several books. However, in more recent years, the brothers have faded from the spotlight, focusing on fatherhood, family, and achieving personal goals beyond the TV screen.
John Besh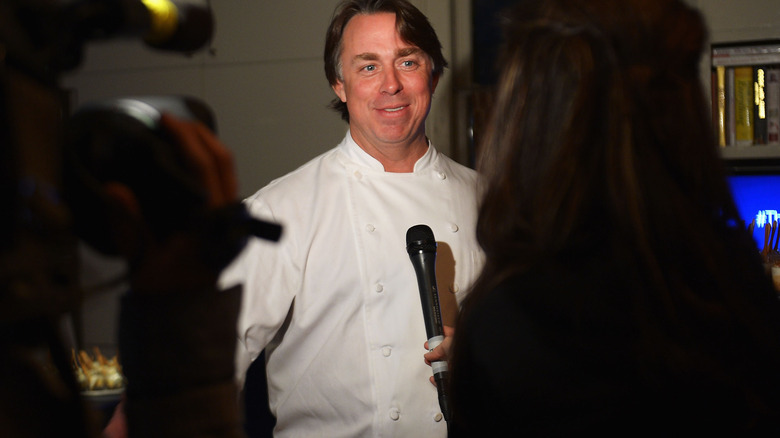 Michael Loccisano/Getty Images
Award-winning chef and restaurateur John Besh first caught the public eye in the mid-2000s, when his home of New Orleans (and home to his once-many restaurants) was affected by Hurricane Katrina. Besh served victims and first responders following the hurricane and played a role in the city's rebuilding; he received a lot of media attention as a result. Over the next decade, this attention translated into a variety of other opportunities, as Besh appeared on the Food Network and a variety of other food-focused shows and hosted his own two public TV shows. In 2014, he launched a new show on the Spike network called "Hungry Investors."
That said, Besh's rising star was cut short in 2017, when more than two dozen former or current employees from Besh's restaurants brought forth claims of sexual harassment. Besh stepped down from his restaurant group as a result and has since completely left the public eye. Some report that he's rarely even seen out and about in New Orleans and that he's supposedly relocated completely.
Fatima Ali
Fatima Ali caught most of the world's attention when she competed in "Top Chef" in the late 2010s. However, she appeared on a range of other shows, too, running the celebrity chef circuit with appearances on series such as "Chopped" and Ming Tsai's "Simply Ming" as well as on various talk shows.
Sadly, Ali is one of several Food Network stars you likely didn't know passed away. As she wrote in an exclusive essay for Bon Appetit, Ali was diagnosed with cancer directly after filming "Top Chef" in 2017. The rare form of cancer called Ewing sarcoma would cut her life and career short in 2019. Still, while some may have forgotten the Pakistani-American chef's impact, Penguin Random House published a posthumous memoir in 2022 that includes writings from Ali during her final months along with excerpts from her mother. Her collaborating writer was Tarajia Morrell. The memoir, called "Savor: A Chef's Hunger for More," was published to rave reviews, including coveted starred reviews from Kirkus and Publishers Weekly.
Carl Ruiz
Another Food Network star you likely didn't know passed away was Carl Ruiz, who first came into the public eye when he appeared in the early 2010s on "Diners, Drive-Ins and Dives." One episode featured the New Jersey restaurant, Marie's Italian Specialties, owned by Ruiz and his wife. Guy Fieri must've noticed Ruiz's potential because, soon after, Ruiz began appearing on Fieri's various other shows, such as "Guy's Grocery Games" and "Guy's Ranch Kitchen." In fact, between 2016 and 2020, Ruiz appeared on more than 60 episodes of "Guy's Grocery Games." (It's worth noting that Ruiz and Fieri were acquaintances before the initial "Diners, Drive-Ins and Dives" appearance. While it might not be well known, part of the untold truth of Ruiz was that he actually recognized Fieri in New York while Fieri was competing in "The Next Food Network Star" back in 2006. Ruiz offered to buy Fieri dinner if he won the contest, which he did. And the two ended up celebrating one night over dinner.)
However, while Ruiz could've easily become a long-standing staple Food Network personality, he passed away in 2019. The chef died in his sleep due to atherosclerotic cardiovascular disease, leaving behind additional restaurants, such as La Cubana in New York City, and what had become a popular YouTube series that rated food from mostly chain restaurants.
Gale Gand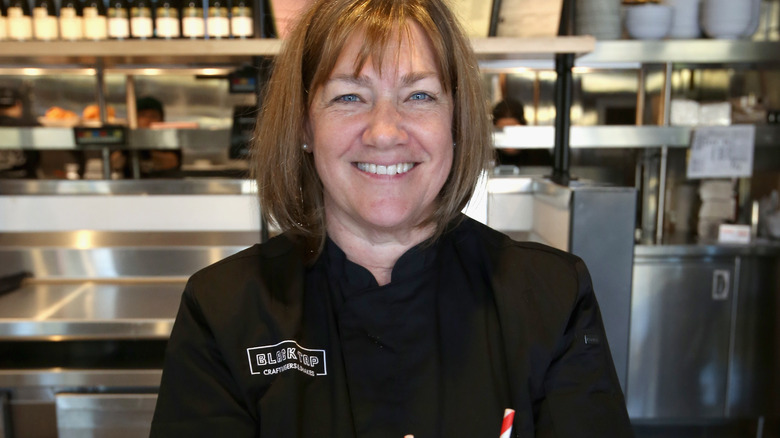 Jesse Grant/Getty Images
If you were a Food Network fan in the 2000s, you may have caught episodes of "Sweet Dreams," the show that Gale Gand hosted for eight years and that was the first and only dessert-focused cooking show at the time. She is also the author of eight cookbooks, the most recent of which was published in 2014. Since her show left the air more than a dozen years ago, Gand has appeared on an array of other Food Network shows and similar food-focused programming, bringing her expertise in all things pastry and baking.
However, despite all of Gand's talents, she hasn't remained one of Food Network's most recognizable faces, especially when you consider that there were other celebrity chefs on the network in the early 2000s whom we still see on a regular basis, such as Bobby Flay. Instead, her television appearances have remained minimal. It looks like she's spent a good amount of time over the last 10 years out of the TV spotlight teaching cooking classes and judging various cooking competitions (non-televised) around the country, such as the Just 4U Creative Cake & Celebrations Expo and Cake Competition, the Aurora Best Desserts Contest, and the Whirlpool Accubake Unique Cake Contest. She was also admitted to the American Academy of Chefs Culinary Hall of Fame in 2019.
Ron Ben-Israel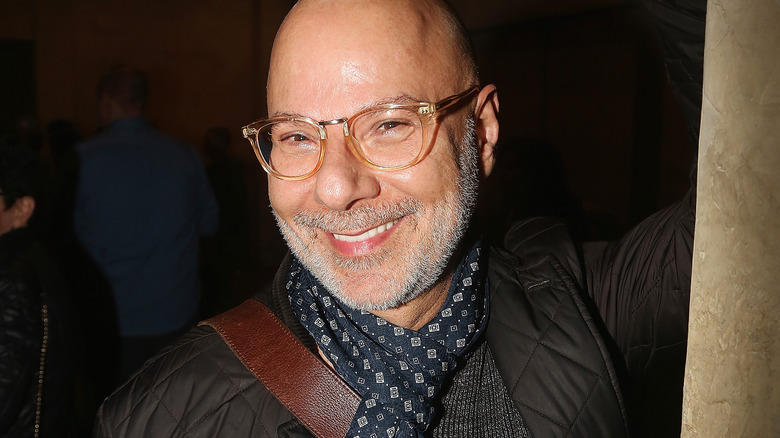 Bruce Glikas/Getty Images
There was a brief period of time during which you couldn't turn on the Food Network without seeing a commercial that featured Ron Ben-Israel. The network enthusiastically pushed Ben-Israel's pastry chef reality competition, "Sweet Genius," that aired from 2011-2013. After the show's cancellation, Ben-Israel spent a few years making one-off appearances on various Food Network shows before appearing as a judge on nearly three dozen episodes of "Cake Wars" in 2015–2016, a period that was followed by a few more years of near-silence from the pastry chef.
Most recently, though, Ben-Israel found a home as a judge on "The Big Bake," which is still airing and which focuses on teams competing to bake extra-large cakes and other creations. However, this show isn't one you'll just so happen to catch when you turn on the Food Network, like "Sweet Genius" or "Cake Wars." Instead, this show is produced by Food Network's Canadian arm, it films in Canada, and it is available to stream on StackTV via Amazon Prime or on the Global TV app.