A Totally New Taco Shell Might Be Coming To A Taco Bell Near You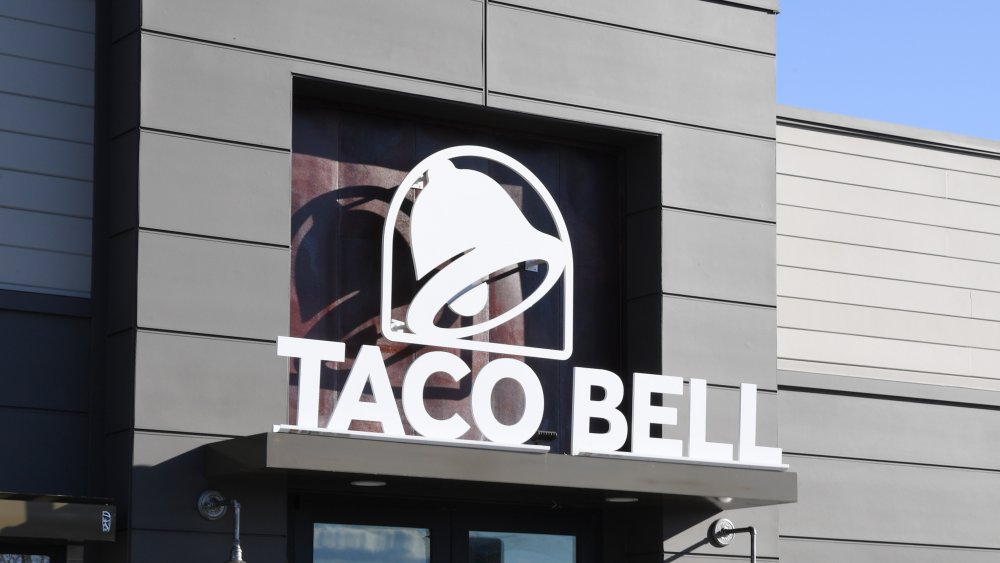 Ethan Miller/Getty Images
Lately, whenever Taco Bell has been in the news, it seems it has something to do with their ever-shrinking menu, as one beloved item after another bites the dust — farewell, Nachos Supreme, adios, Cheesy Fiesta Potatoes, and ciao, Quesarito (sort of). Well, this time, we're going to taco 'bout something different — a menu addition, instead! Taco Bell giveth as well as taketh away. As Heather Mottershaw, Taco Bell's vice president of Product Development, told Forbes, the menu reductions may have just been setting the stage for a "menu evolution" featuring "new options and new innovations."
One of those new options, the Grilled Cheese Burrito, is now available at Taco Bells everywhere, but several others, such as chicken wings, are still in the trial phase. While both of these items may be somewhat new and different for Taco Bell, another item also being given a limited edition test run is something they've introduced many times before: a new and improved kind of taco shell. Unlike past shells such as the mega-popular Doritos Locos ones or the not-so-well-received Black Jack tacos, this latest shell boasts no extreme flavor or color. Instead, as a spokesperson told Thrillist, the Cantina Crispy Melt Taco in its new white corn shell is meant to offer a more "elevated experience of the iconic Crunchy Taco."
All about the Cantina Crispy Melt Taco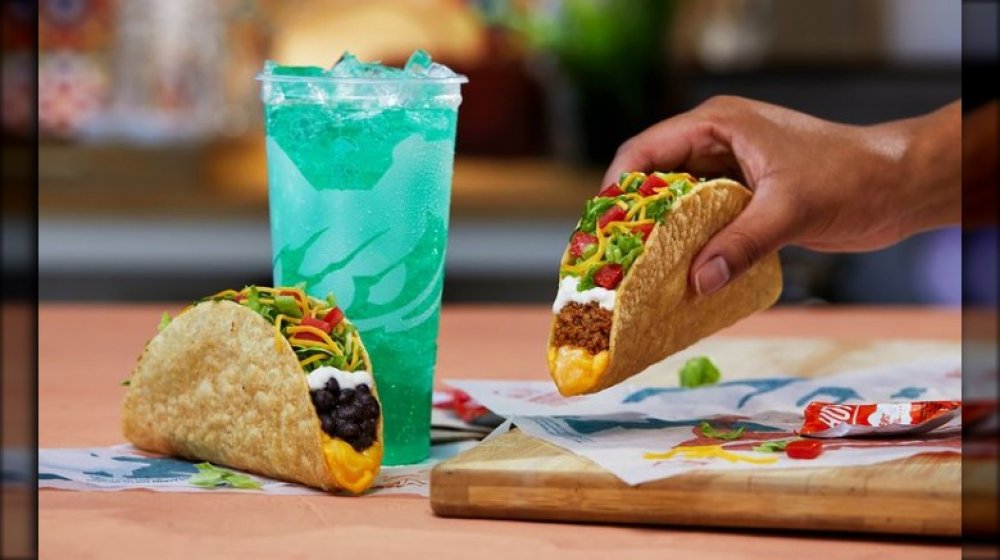 Taco Bell
Besides its brand-new shell, the Cantina Crispy Melt Taco consists of nacho cheese sauce, three-cheese blend, seasoned beef, sour cream, lettuce, more shredded cheese (cheddar, this time), and tomatoes. Taco Bell also allows you to customize a veggie version by swapping black beans for beef. According to Delish, an a la carte Crispy Melt costs $1.99, but it's also available as part of a $5 box along with a Beef Chalupa Supreme, Crunchy Taco, and medium drink. The bad news for most of us is that these Cantina Crispy Melts are, at present, only available in the Detroit area. The plan, however, is that if they prove successful there, they'll likely be rolled out nationwide in the not-too-distant future.
As to how social media is reacting to Taco Bell's latest menu offering, well, when they tweeted out the news, most of the comments they got were from customers still upset over the sad loss of Nacho Fries and other potato items. One Twitter user, however, was thrilled at the thought that the new taco shell might, in fact, be the re-introduction of an old favorite, saying: "Omg is this the shell they used way back in the day & called it a taco light or something like that? I dream of this shell all the time." If that's true, this new taco may go a long way toward recovering some of the goodwill Taco Bell lost when they first downsized their menu.