The Adorable Way Maneet Chauhan's Children Reacted To Her Surprise Tournament Of Champions Win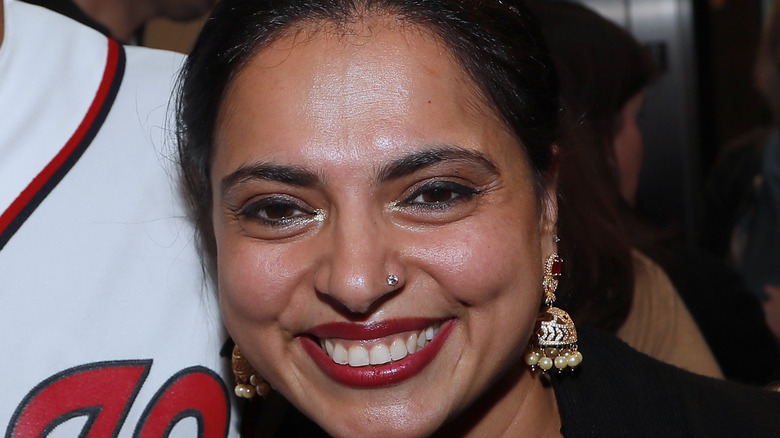 Paul Morigi/Getty Images
Food Network's first season of "Tournament of Champions" in 2020 was a huge hit, so it's no surprise that the channel decided to bring back the Guy Fieri-hosted show for a second helping this spring. Competing in Season 2 (a.k.a "TOC II") was inaugural winner and reigning champ Brooke Williamson (per Foodsided), co-owner of Playa Provisions in Los Angeles. She was pitted against 15 other diverse celebrity chefs from the East and West Coasts to determine the final champion.
Those who have been watching TOC II know that those competitors included some pretty big names with some serious résumés, including Amanda Freitag, former executive chef of The Harrison in NYC, "Iron Chef" competitor, and "Chopped" judge (per AmandaFreitag.com); The Food Network's "Ultimate Thanksgiving Challenge" 2018 winner and 2008 Team USA Olympic chef Darnell Ferguson (via his website); and Cat Cora, the first-ever female "Iron Chef" and owner of 18 restaurants around the world (via CatCora.com).
But coming out on top this year was none other than star chef, "Iron Chef America" competitor, and "Chopped" judge Maneet Chauhan. She made a name for herself at Vermilion in Chicago more than a decade ago, and has became well-known by her glowing reviews in publications like Bon Appétit, Esquire, and Travel & Leisure, according to Star Chefs. She and her husband Vivek Deora are now owners of Morph Hospitality Group, which operates four restaurants in the Nashville area (via Worth).
Shagun and Karma cheered for mom the whole season
While listing Maneet Chauhan's accomplishments, we'd be remiss to leave out the title of "mom." She and husband Vivek Deora are parents to daughter Shagun, 9, and son Karma, 6 (via Famous Chefs). They (along with Ted Allen) were Maneet's biggest fans during the "Tournament Of Champions" competition. 
Speaking with the Food Network's podcast, "Food Obsessed" (find it on Apple), Chauhan told host Jaymee Sire that although the finale was recorded ahead of time, she didn't tell her kids she won. Like the rest of us, they had to wait to find out if she or reigning champ and fellow finalist Brooke Williamson took home the TOC II championship title.
Chauhan said it was difficult to keep the win a secret because her kids were so invested in the competition. Shagun and Karma were crushed, she said, when their mom lost TOC I last year. "It was a good lesson," Chauhan told Sire. "You win some you lose some!" This year's semi-finals, she said, also brought Karma to tears when it looked like mom might lose to Darnell Ferguson. But, last year's loss made the TOC II win that much sweeter for the family, she added. "I was excited, Vivek was excited. The kids [were] just jumping around ... they were like 'Oh my God!'" 
And we have to admit, as far as watch parties go, the ones at the Chauhan-Deora house sound like the best.