The Chef Who Surprisingly Beat Alex Guarnaschelli By One Point On Tournament Of Champions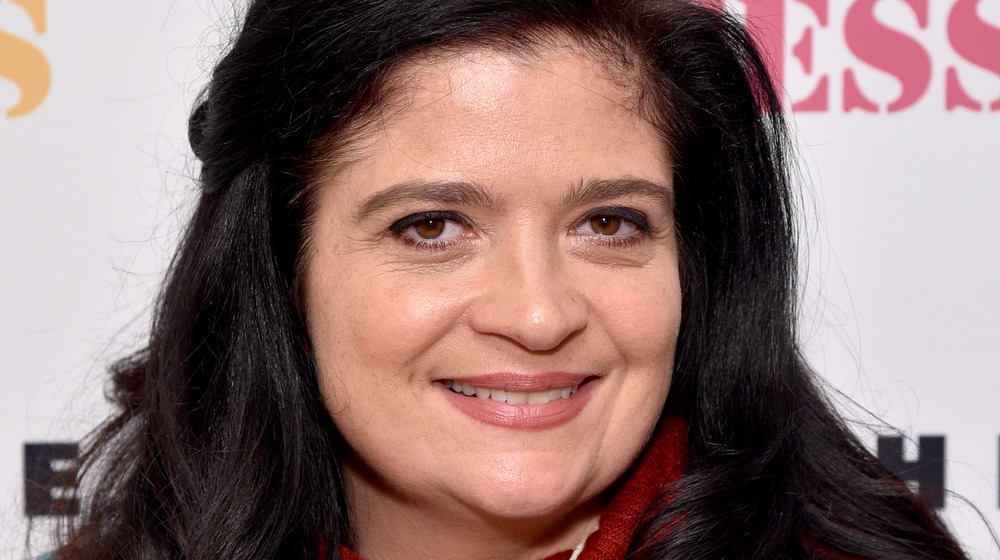 Bryan Bedder/Getty Images
Did you catch the "biggest upset in culinary history" on the first season of Food Network's Tournament of Champions? That's what host Guy Fieri called Alabama-based chef Darnell Ferguson's win over Alex Guarnaschelli, the executive chef of the New York-based Butter, Iron Chef, and Food Network mainstay. In the first round and third battle of the bracket-style culinary tournament, Ferguson beat Guarnaschelli by a single point with his glazed pork tenderloin and spicy sugar snap peas (via Food Network).
Ferguson, whom you may have seen on other shows like Beat Bobby Flay and Guy's Grocery Games, is a professionally trained chef who rediscovered his love of cooking after a year of homelessness, unemployment, and time in and out of jail as a young adult, according to his website. He later opened his own restaurants, where he serves "urban eclectic" breakfast dishes at Superhero Chefs in the town of Tuscumbia as well as SuperChefs in Louisville, Kentucky. Ferguson says that he finds purpose in inspiring others to discover the joy of cooking, employing those in need at his restaurant, and working with organizations that feed hungry youth.
How Darnell Ferguson beat Alex Guarnaschelli on Tournament of Champions
Tournament of Champion's signature "randomizer" generates a series of criteria that competitors must meet in every challenge. Ferguson and Guarnaschelli had 35 minutes to use pork tenderloin, peas, a glaze, and a waffle iron in one cohesive dish. "What do we have to do to re-spin on the waffle iron?" Guarnaschelli asked Fieri. No luck there. "Time starts now, let's go!" he answered. Though Ferguson compared cooking against Guarnaschelli to "David versus Goliath," he remained composed during the challenge, opting to season his pork with Asian-inspired spices, sear it until crispy, and baste it with rosemary-scented butter.
Comparing the chefs' dishes, it's clear why Ferguson won. Guarnaschelli's two-cheese quesadilla stuck to the waffle iron, and judges were overwhelmed by her hurriedly assembled plate, saying there was "too much sweetness in the glaze, too much crisp in the quesadilla, and too many peas in the pea salad." Ferguson's elegantly plated pork, on the other hand, was glazed scarlet and interspersed with whole sugar snap peas, which he blanched and stir-fried with a garlic, scallion, and Fresno chile relish that he made in a mortar and pestle. He also got creative with the waffle iron, crisping up whole shiitake mushrooms for a side dish that judge Marcus Samuelsson said he had never seen before. Though Ferguson lost a later round of the tournament (via Fansided), he's getting "better and better" and is "here to stay," he said on Instagram.