Quick And Easy 15-Minute Jackfruit Tacos Recipe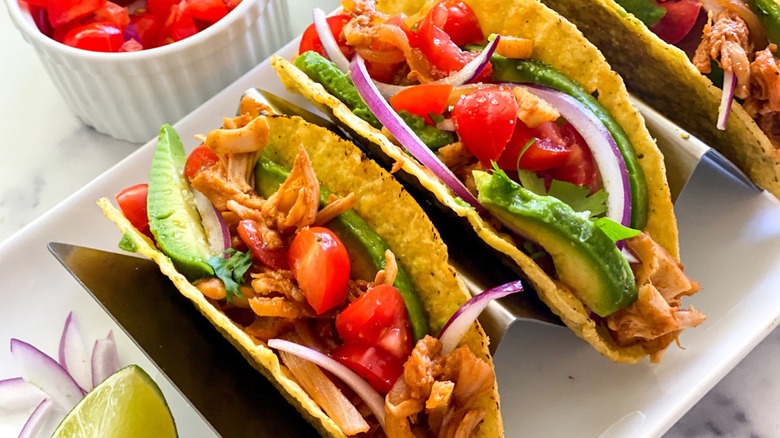 Miriam Hahn/Mashed
Whether you're celebrating Taco Tuesday or want a fun, filling meal that's well suited for the whole family, you really can't go wrong with tacos. 
Maybe you're looking for a vegetarian or vegan taco filling that's different than your usual beans and corn, or you want to try something new after years of combining ground beef and taco seasoning for your family's taco night. Wellness coach Miriam Hahn's recipe for 15-minute jackfruit tacos is the perfect way to shake things up! It's simple, it's flavorful, it's customizable, and most importantly, it's convenient and quick.
Jackfruit isn't quite as common a taco filling as chicken, beef, or beans, but it definitely deserves a spot in your taco night rotation. "I love jackfruit as a taco filling because it is such a great plant-based option," recipe developer Hahn explains. "It takes on the flavors of the spices and the texture is just like pulled pork."
What is jackfruit?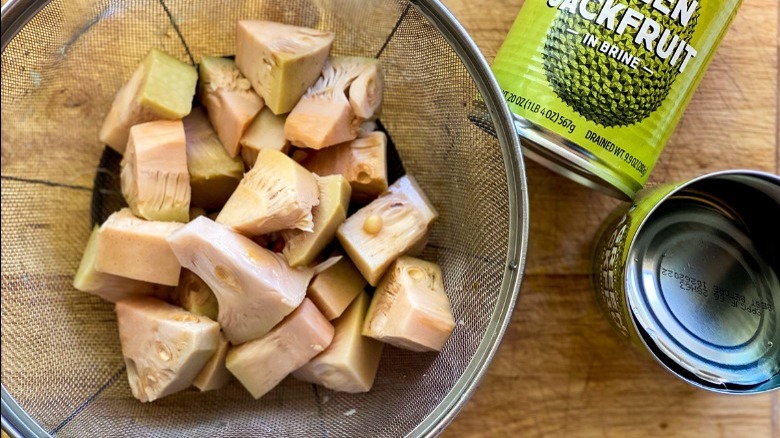 Miriam Hahn/Mashed
If you haven't seen or heard of jackfruit before, it's a fruit native to Southeast Asia that, when shredded, has a texture similar to pulled pork and other such meat dishes. Though yes, it's technically a fruit, green (or unripe) jackfruit has a more neutral taste similar to a potato, so it easily takes on the flavors of whatever seasonings you add.
Jackfruit isn't just a tasty way to make vegetarian tacos, it's also a healthy choice packed with nutritional benefits. "Jackfruit is loaded with all of the B vitamins as well as vitamin C, magnesium, and potassium. As a wellness coach, this is such a great option for my clients with high cholesterol," Hahn adds.
Begin with your jackfruit taco ingredients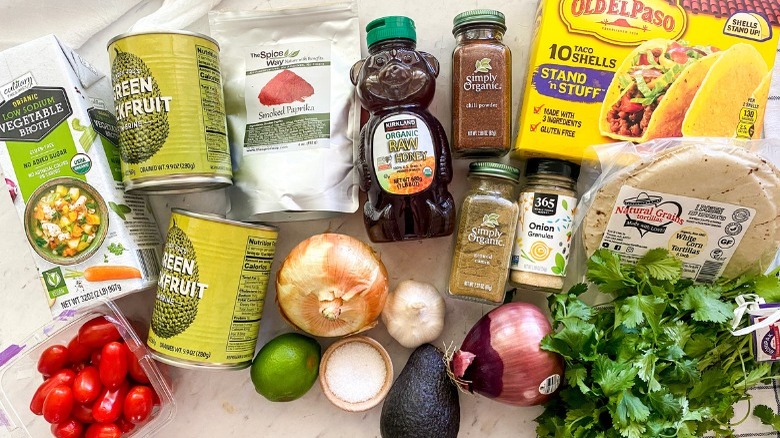 Miriam Hahn/Mashed
There wouldn't be a recipe without the ingredients, so make sure you have everything before you get started. For these jackfruit tacos, you'll obviously need some jackfruit — recipe developer Miriam Hahn keeps things simple by using canned jackfruit (2 cans, to be specific), which you should be able to find at stores like Whole Foods, Sprouts, or Trader Joe's. You'll also need 1 onion, 4 cloves of garlic, vegetable broth divided into 1/2 cup and 2-3 tablespoons, the juice of one lime, a tablespoon of honey, and your favorite crispy taco shells or soft tortillas. If you follow a vegan diet and don't eat honey, Hahn suggests swapping it out for agave or maple syrup.
Seasoning-wise, you'll need 1 teaspoon each of chili powder, onion powder, and smoked paprika, and half a teaspoon of salt.In terms of taco toppings, the sky is the limit, but Hahn suggests avocado or guacamole, cilantro, red onion, cilantro, and tomatoes.
Slice, saute, and shred your jackfruit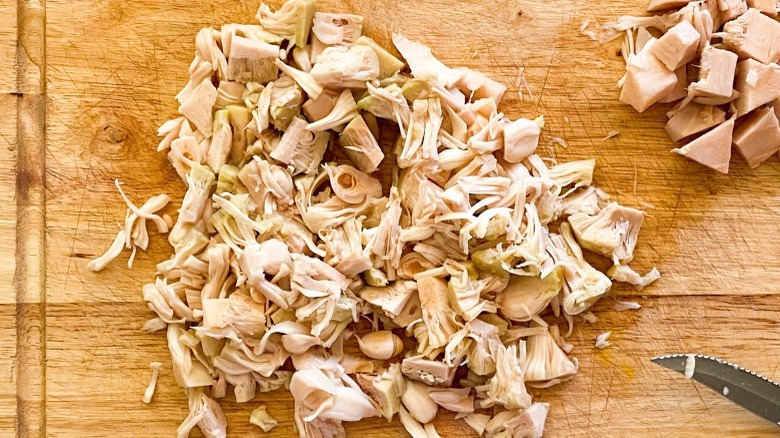 Miriam Hahn/Mashed
Start by slicing your onion (any onion will do) and mincing your garlic. Then, heat 2 tablespoons of vegetable broth in a pan over medium-high heat and saute the garlic and onions for about five minutes, stirring occasionally and adding more broth if the pan looks dry. "Sauteeing in broth or water is a great way to reduce the calorie dense oil. You don't lose any flavor by doing it this way," Hahn explains.
While that's cooking, prep your jackfruit — just make sure you're watching the pan to make sure nothing is overcooking. Canned jackfruit makes this easy; simply cut off the fruit's tough tip and then slice and shred the rest of it using a fork. If you've ever shredded chicken or other meat, it's a similar process.
Start cooking the jackfruit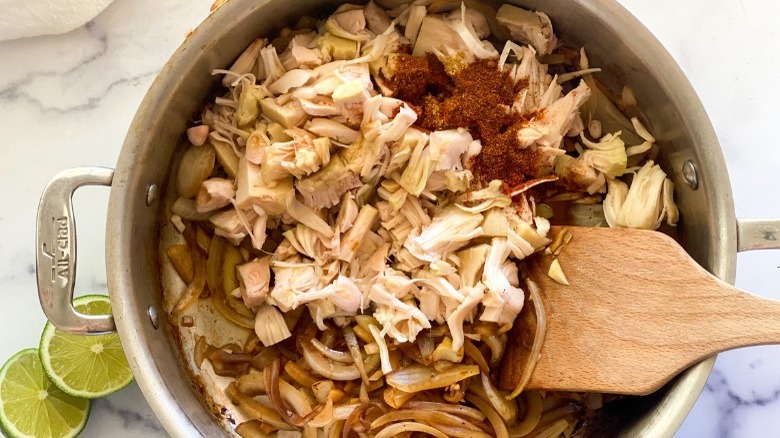 Miriam Hahn/Mashed
Now, the real magic happens. Your garlic and onions should be good and sauteed now — add your shredded jackfruit to that same pan along with your remaining vegetable broth, honey, lime juice, and spices (chili powder, salt, smoked paprika, and onion powder). Lower the heat to low, and let the whole mixture cook down and infuse with flavor for about 10 minutes, stirring occasionally. Take care to notice how the jackfruit's looking, and if there are any excessively large pieces, use your wooden spoon to break it apart further. 
Prep your jackfruit taco toppings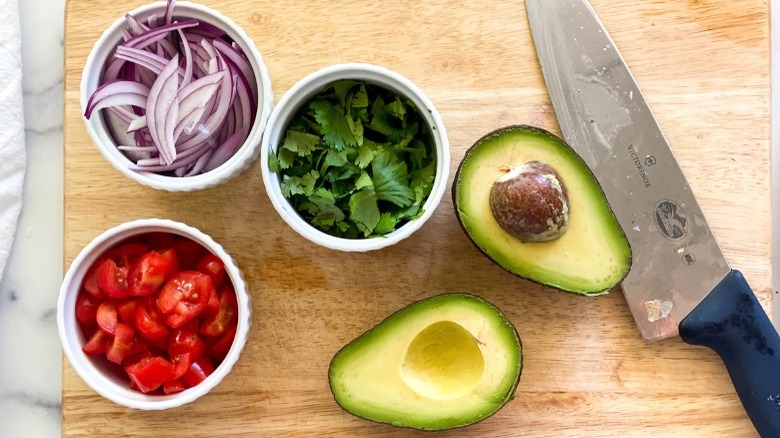 Miriam Hahn/Mashed
The jackfruit needs time to cook, so why not use that time to get your taco toppings ready? Of course, you can use whatever you prefer, but Miriam Hahn suggests avocado or guacamole, red onion, tomatoes, and cilantro. If you're making your own guacamole, it might be best to do that before cooking, but if you're just using avocado, take this time to cut it into slices. Then, chop your tomatoes into bite-sized pieces, thinly slice the red onion, and separate the cilantro leaves from the stems. Lime wedges can be a good addition, too, as well as condiments like sour cream and hot sauce.
While you're at it, get your tortillas ready. Hahn says "I love using hard corn taco shells, but they are so good also with the small flour soft tortillas that are warmed up. Both are amazing with this!"
It's jackfruit taco time!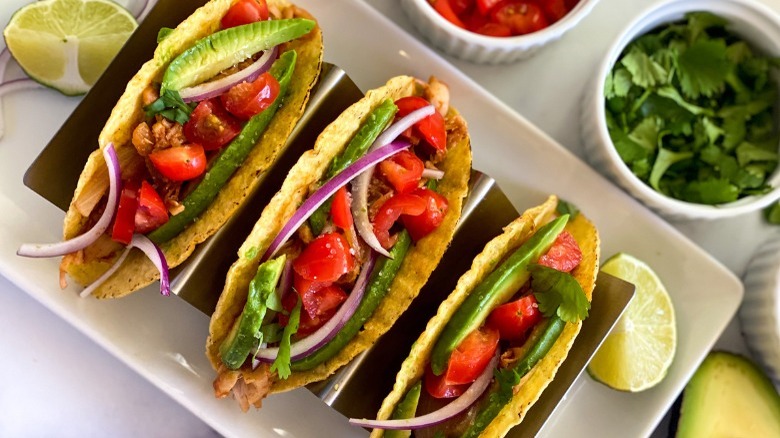 Miriam Hahn/Mashed
It's time to eat! Set up your tortillas or taco shells and fill them with the seasoned jackfruit mixture, then adorn your tacos with whatever toppings you like. Wasn't that easy?
Hahn says that when she makes these jackfruit tacos, she likes to set up a toppings bar so the people she's serving can customize their tacos to be exactly what they desire. Plus, building your own tacos adds an extra layer of fun no matter how old you are.
Your friends and family will love these jackfruit tacos, but if you end up with leftovers, that's okay! Hahn notes the jackfruit mixture "stores great in the fridge in an airtight container for five days," and suggests using your leftover seasoned jackfruit "on a taco salad or even a bun." Once you discover the magic of jackfruit, you'll be making these tacos again and again.
Quick And Easy 15-Minute Jackfruit Tacos Recipe
Taco night gets an upgrade with the addition of jackfruit. These vegetarian tacos come together in mere minutes and work well with a variety of taco toppings.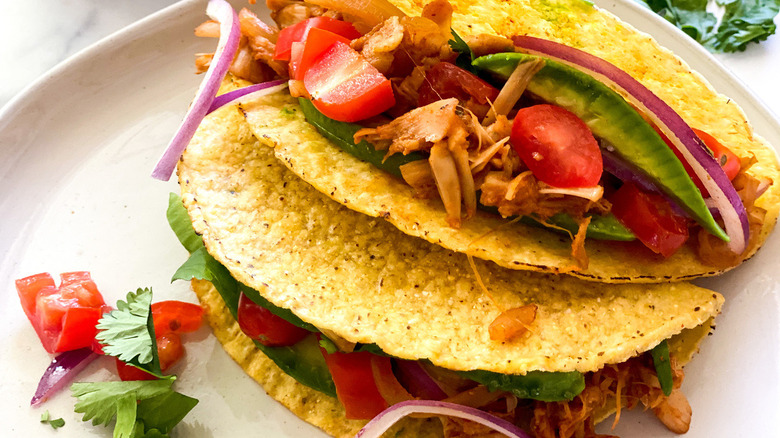 Ingredients
2 cans Jackfruit
1 onion, sliced
4 cloves garlic, minced
½ cup vegetable broth + 2-3 tablespoons, divided
1 tablespoon honey
juice of one lime
1 teaspoon chili powder
1 teaspoon smoked paprika
1 teaspoon onion powder
½ teaspoon salt
taco shells or small soft tortillas
Optional Ingredients
avocado, guacamole, red onion, tomatoes, cilantro
Directions
Slice the onion and mince the garlic.
Saute the onion and garlic in 2 tablespoons of broth for about 5 minutes. If the pan gets dry, add more broth.
While that is cooking, drain the jackfruit. Cut off the hard tip and discard. Then slice and shred the remaining part with a fork.
Add the jackfruit, ¼ cup broth, honey, lime juice and spices to the pan. Cook on low for 10 minutes. Continue to break apart jackfruit with a wooden spoon if some still needs shredding.
While this is cooking, prepare your toppings.
Once the mixture is done cooking, remove from heat and fill your taco shells starting with the jackfruit mixture and then any toppings.
Nutrition
| | |
| --- | --- |
| Calories per Serving | 197 |
| Total Fat | 0.5 g |
| Saturated Fat | 0.1 g |
| Trans Fat | 0.0 g |
| Cholesterol | 0.0 mg |
| | |
| --- | --- |
| Total Carbohydrates | 51.1 g |
| Dietary Fiber | 3.1 g |
| Total Sugars | 6.1 g |
| Sodium | 336.0 mg |
| Protein | 1.5 g |