Antonia Lofaso Dishes On Her Relationship With Guy Fieri - Exclusive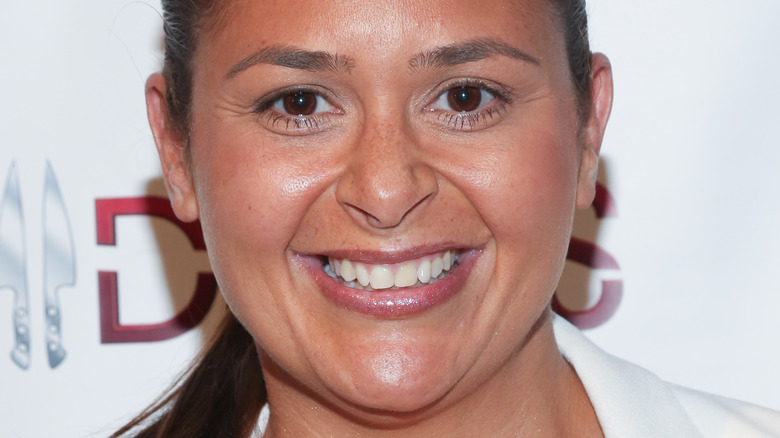 J Carter Rinaldi/Getty Images
When we heard that celebrity chef, restaurateur, and cookbook author Antonia Lofaso would be co-hosting LendingTree's "Restaurant Reboot" with Guy Fieri, we knew there had to be an interesting backstory. Certainly, Lofaso, who is the executive chef and owner of three restaurants in Los Angeles and has graced TV screens on "Top Chef," "Chopped," and "Cutthroat Kitchen," is a familiar face to many. But Guy Fieri is in a category all his own. The host of the uber-popular "Diners, Dive-ins and Dives" is a million-watt megastar who recently inked an unprecedented $80 million deal with Food Network.
As it turns out, Lofaso and Fieri have a long history as colleagues as well as a genuine friendship. And that combination is at least partly responsible for having made "Restaurant Reboot" such a magical experience (of course, it didn't hurt that the premise of the TV event was giving away $300,000 in grants to 11 deserving restaurateurs). Their friendship certainly lent a personal touch to Fieri's 2020 documentary, "Restaurant Hustle 2020: All on the Line," which followed four chefs, including Lofaso, as they handled the realities of the pandemic. During an exclusive interview with Mashed, Antonia Lofaso gave us the scoop on her relationship with Fieri.
Lofaso and Fieri are friends off-screen too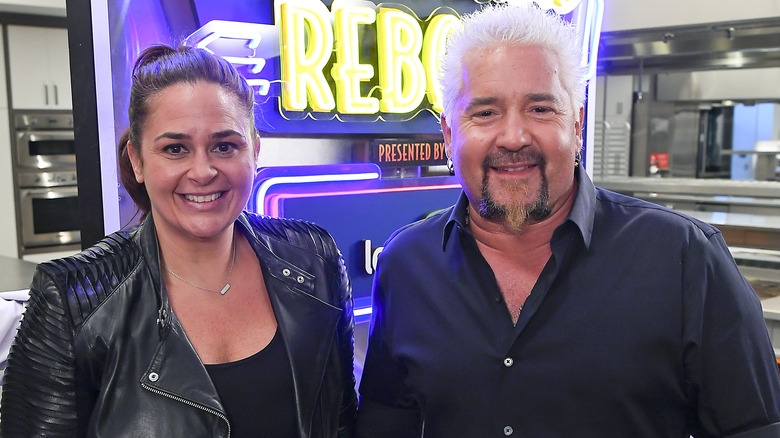 Steve Jennings/Getty Images
"Guy and I — we've always worked together," Antonia Lofaso explained. "I've done 'Guy's Grocery Games' and 'Guy's Ranch,' and we have an incredible working professional relationship as well as a friendship." That includes time spent off-camera with one another's families. "I've spent a lot of time with [Guy's] wife and his kids, and he spends time with my daughter. ... We like to spend time with each other." 
That connection is how "Restaurant Hustle" came to be. The idea for the documentary began with Guy Fieri innocently FaceTiming Lofaso while shooting promo footage for "Tournament of Champions." The thing was, Fieri happened to be catching Lofaso at a particularly vulnerable moment during the earliest days of lockdown. "Now mind you, I'm now bagging groceries and we have the bare minimum staff," Lofaso explained. "I just started crying."
Fieri immediately called Lofaso back on a private line to ask what was wrong. She opened up to Fieri about the pain of possibly having to furlough 500 employees at her restaurants. The next day, Fieri set up a phone meeting with Lofaso and Courtney White, president of Food Network, Maneet Chauhan, Marcus Samuelsson, and Christian Petroni. It was during that meeting that Fieri pitched "Restaurant Hustle," which would follow the chefs as they navigated the uncharted territory of the pandemic. It was greenlit.
Antonia Lofaso and Guy Fieri share a mutual trust and respect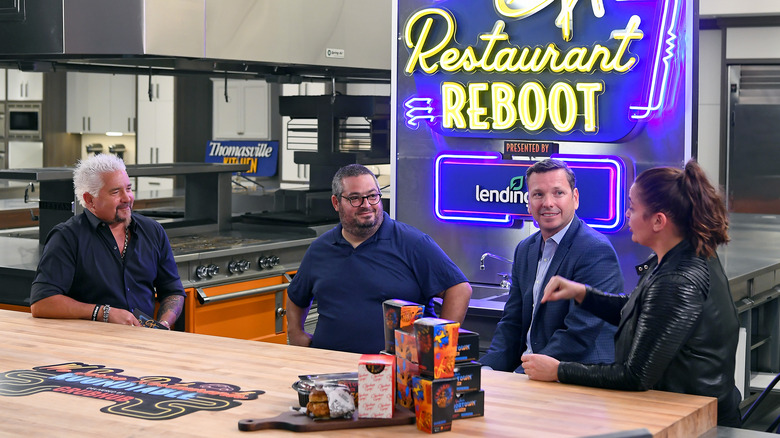 Steve Jennings/Getty Images
If it weren't for the mutual trust and respect that Antonia Lofaso and Guy Fieri share, it's hard to imagine how "Restaurant Hustle" would have happened. It was, after all, bound to be an emotional experience. But according to Lofaso, "Guy kind of saw 15 steps ahead." At first, she questioned how she could participate while struggling to keep her restaurants afloat, but Fieri was able to convince her. "You don't understand how powerful this is going to be for the whole world to see this," Lofaso recalled Fieri telling her. "People are going to feel supported, and we're going to raise all this money. And people are going to feel like they're not alone out there." 
And Lofaso is, of course, proud to have been part of the documentary, but also of all the work she and her staff accomplished for the community. "I'm so happy that I trusted [Guy] and did it," Lofaso told Mashed.
To see Lofaso in action co-hosting LendingTree's "Restaurant Reboot" with Guy Fieri, you can watch it on Guy's Facebook page or you can visit GuysRestaurantReboot.com to learn how to view it on various platforms.