Everything We Know About Guy Fieri's Restaurant Reboot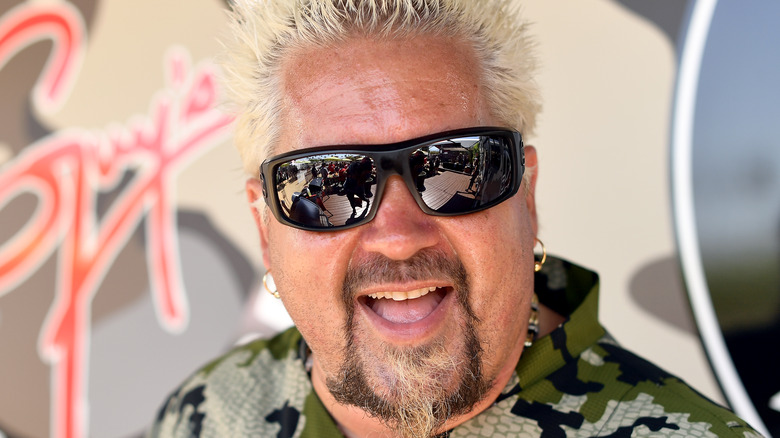 Matt Winkelmeyer/Getty Images
Guy Fieri, who broke industry records with his recently-inked $80 million deal with the Food Network — making him the highest-paid chef on cable television, hasn't been wasting any time leveraging his fame and fortune to help reinvigorate the flagging restaurant industry, which was gutted as a result of COVID-19-related restrictions.
According to Fortune, as of April 1, 2021, 10.2% of all U.S. restaurants have closed permanently since the pandemic began. This came as no surprise to Fieri, who, according to The Hollywood Reporter recognized just days into the worldwide response to COVID-19, that the restaurant industry now stood at a precipice. 
In response, the spiky-haired host of "Diners, Drive-Ins, and Dives" and "Guy's Grocery Games" founded the Restaurant Employee Relief Fund, which raised more than $25 million and provided financial assistance to more than 43,000 restaurant workers. He also got busy producing and directing the Food Network documentary, "Restaurant Hustle 2020: All On The Line" (via IMDb), which aired in December 2020 and examined how real chefs managed their restaurants amid the pandemic.
Now, coinciding with America's imminent "return to dining," Guy Fieri has announced the premiere of "Guy's Restaurant Reboot Presented by LendingTree," a primetime television special set to air on June 12 at 7 p.m. (EST), during which $300,000 in grants will be distributed live to inspire and empower "the next generation of restaurant owners and diners," according to a press release sent to Mashed. Here's everything we know about Guy Fieri's "Restaurant Reboot."
Guy's Restaurant Reboot promises star-studded fun and the giving away of $300,000 in grant money
On May 26, 2021, Guy Fieri announced the premiere of "Guy's Restaurant Reboot Presented by LendingTree" — a free, live-streamed special during which $300,000 in financial aid will be distributed to 11 grantees. The grant funds represent the generous contributions of LendingTree, Pepsi, SpotOn, AT&T, GrubHub, Cascade, Dawn, Twisted Tea, Conagra, Thermomix, and Thomasville, and are being made available by the "Help Build Restaurants Grant," which was created in partnership among Guy Fieri, The National Restaurant Association Educational Foundation, and the California Restaurant Foundation.
Produced in conjunction with an award-winning production company, Medium Rare, "Guy's Restaurant Reboot" will be co-hosted by chef Antonia Lofaso and will feature appearances by a wide assortment of culinary icons, including José Andres, Marcus Samuelsson, Cat Cora, Jon Taffer, Buddy Valastro, Alex Guarnaschelli, Robert Irvine, and Matthew Kenney. In addition, culinarily-inclined celebrities, Shaquille O'Neal, Rob Gronkowski, Wale, Adriana Lima, and Kane Brown will be on hand — in a team effort with Pepsi — to create signature menu items with their favorite local restaurants. Musical guests will include Diplo and Old Dominion.
Guy Fieri is uniquely suited to this restaurant relief effort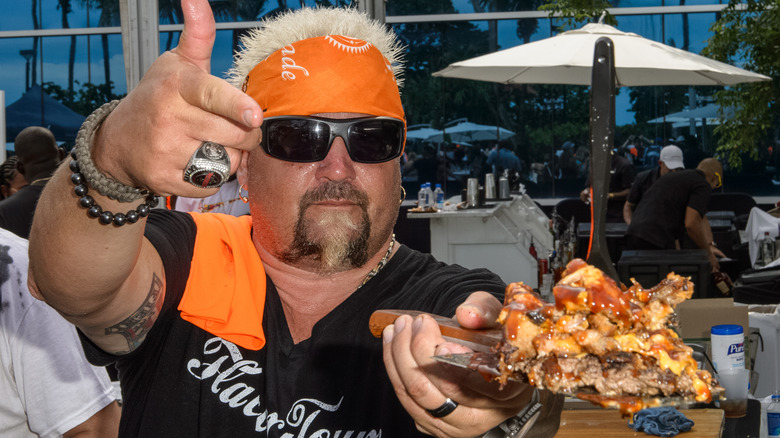 Jason Koerner/Getty Images
In a statement sent to Mashed by LendingTree, Guy Fieri made the following statement: "The hospitality industry is as resilient as any but this past year has been a challenge like we've never seen. 'Guy's Restaurant Reboot Presented by LendingTree' is all about great people and companies coming together to inspire and encourage the future of our restaurants and the hard-working entrepreneurs behind them." With respect to his commitment to "rebooting" the restaurant industry, Guy Fieri has noted that he needs to keep doing this "because it just needs to be done" (via The Hollywood Reporter).
Indeed, there may be no one so well-suited to the job than Fieri, of whom Food Network president Courtney White has said, "There's a power to his enthusiasm. It gets people to rally around his vision, whether it's a pitch for a show or in raising all that money."
Guy Fieri's new show will live-stream for free and will air on June 12, 2021, beginning at 7 p.m. (EST) via Guy Fieri's Facebook page. It will also be simulcasted by LiveXLive across 20+ other platforms including, LiveXLive, YouTube, Twitch, TikTok, Twitter, and can be viewed at GuysRestaurantReboot.com.