Giada De Laurentiis Shares Oddly Satisfying Pasta-Making Video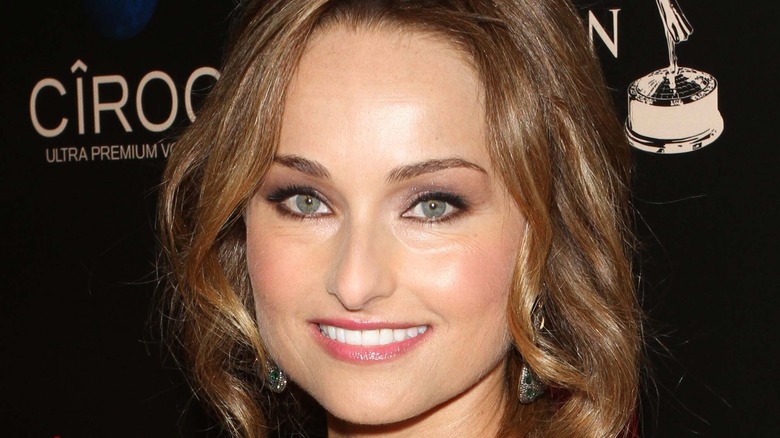 s_bukley/Shutterstock
Since she's known for her Italian cooking, we trust chef Giada De Laurentiis when it comes to her pasta. From the pasta brand De Laurentiis swears by to the way you should add cheese to your pasta, we know that she's got all the tips to making the perfect pasta dish. There's one recipe that De Laurentiis shared that she calls a "pantry pasta" because there's a chance you already have all the ingredients on hand sitting in your kitchen. But what if you want to get fancier and make some pasta from scratch?
If you're making your own pasta from scratch, there's one big mistake that you want to avoid. But for most of us, we won't be making each strand by hand. Pasta makers come in handy for that, and De Laurentiis recently shared a video on Instagram showing what this process looks like.
You can see the video on her main Instagram page @giadadelaurentiis, as well as on @giadavegas, the account for the Las Vegas-based restaurant that bears her name: Giada. The caption of the @giadavegas post explains that the pasta dough is made fresh each day for her restaurant and mentions, "The secret to fresh pasta starts with the dough." Fans loved the behind-the-scenes look.
What do fans have to say?
The video clip gives the pasta tip that you can prevent your dough from sticking by using semolina flour, but viewers' minds might have been focused elsewhere. Fans seemed enthusiastic and in some cases downright spellbound as they watched the pasta-making process play out. One comment on the @giadavegas post said, "Pasta heaven," and we couldn't agree more. Another fan exclaimed, "Could watch that all day!" A third commenter gave an almost visceral, two-word reply: "I want."
You will find heart-eyed and plain heart emojis galore in the comments section of the @giadadelaurentiis video post. Some Instagram users said that watching the pasta take shape was "hypnotizing" and "mesmerizing. Another described the video as "so satisfying to watch." Apparently, many viewers agree, as the post has garnered more than 24,000 likes.
You don't have to make pasta from scratch to have a delicious meal. Here's how to make perfect pasta every single time, and if you want music to listen to while you're prepping dinner, Barilla made playlists to help you with your timing so that your pasta cooks just right.