Selena Gomez Just Announced The Celeb-Studded Guest List For Selena + Chef Season 3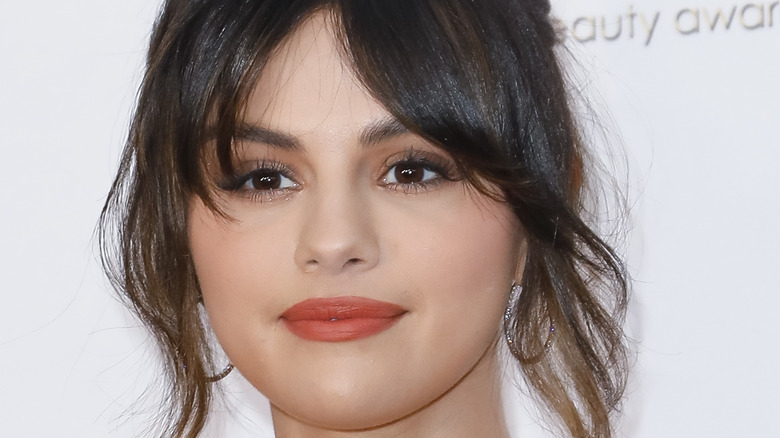 Tabrina Hobson/Getty Images
From "Amy Schumer Learns to Cook" to "Cooking with Paris," celebrity cooking shows have never been more popular. Conceived in the early days of quarantine, "Selena + Chef" is another American reality cooking series that centers around a celebrity with little to no cooking abilities: singer and actress Selena Gomez. The concept of the show is simple and self-explanatory: Gomez invites famous chefs into her kitchen (virtually) to teach her how to make a meal (via Variety). Occasionally the "Only Murders in the Building" star is joined by her roommates and her Texan grandparents, Nana and Papa, to help prep, cook, but mostly eat the dishes. From learning how to cook the perfect omelet to an immaculate souffle, let's put it this way — some dishes turn out better than others.
Aside from watching Gomez set fire to her kitchen, one of the obvious highlights of the show is getting to learn tips and tricks from award-winning chefs. From watching Roy Choi whip up delicious Korean BBQ breakfast tacos, to learning how to craft a formidable vegetable buffet with Nancy Silverton, the culinary superstars and their masterful creations just get better and better with each episode (via Rotten Tomatoes). The unexpectedly delightful cooking show was renewed for a third season, which Gomez recently revealed on her Instagram. In the highly anticipated trailer, Gomez answers the main question on every fan's mind: which familiar celebrity chefs are we going to see this time around?
The Season 3 roster of Selena + Chef is the best one yet
The latest "Selena + Chef" roster certainly does not disappoint. Throughout the season, the 29-year-old singer will be accompanied by world-famous chefs and food personalities including Aarón Sánchez, Ayesha Curry, Esther Choi, Fabio Viviani, Gabe Kennedy, Jamie Oliver, Kwame Onwuachi, Padma Lakshmi, Richard Blais, and Sophia Roe. Itching with excitement? We know we are!
Season 3 of "Selena + Chef" premieres October 28 on HBO Max. "I have learned so much about cooking these last few seasons, but I'm realizing I've only scratched the surface," Gomez admits in the trailer. "So I am continuing the lessons with the help of my friends." The Instagram video also reveals the ways in which Season 3 will be taking "Selena + Chef" to a whole new level. Not only will Gomez be preparing meals for bigger parties of people, including catering to birthday parties and game night affairs, but she will also be cooking with dangerous ingredients, like liquid nitrogen. It sounds like knives, are the least of Gomez's worries. Is Selena up for the challenge? We certainly hope so!