Amy Schumer Learns To Cook Season 3: Info We Know So Far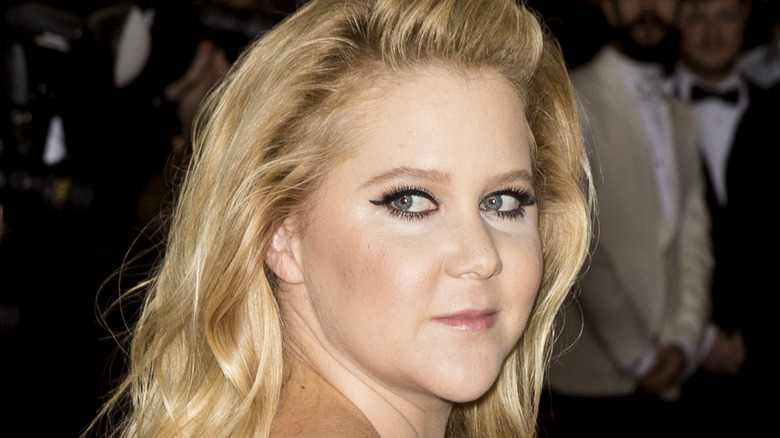 Shutterstock
Amy Schumer is known for her sharp wit and strong moral and political stance. She shot her shot in the world of stand-up for the first time in 2004 at Gotham Comedy Club and graduated to come fourth in "Last Comic Standing" in its fifth season (via Bustle). She later continued along the path of guest TV and film appearances. The laughs kept coming as she put out a comedy album and scored a Comedy Central special before eventually snagging her own show, "Inside Amy Schumer," which Comedy Central dubs a mix of "sketches, stand-up comedy, and woman-on-the-street interviews."
She is also an advocate for many a cause, including gun control, which she and Senator Schumer teamed up for in 2015 (via New York Magazine). And despite all that time-consuming work and becoming a new mom, the comedian has committed herself to a cooking show. "Amy Schumer Learns to Cook" is a Food Network show in which Schumer and her husband, a chef named Chris Fischer, prepare meals together. Schumer, who is decidedly not a great chef, picks up skills along the way. It's been through two seasons, and while another has not yet been announced, that green light could shine in the future. Here's what we know about what you could be looking forward to!
What will be the release date of Amy Schumer Learns to Cook Season 3?
According to Premiere Date News, the renewal status of the show is pending. Last season it got an audience score of 49% on Rotten Tomatoes, but despite the score, the series seems to remain a favorite among some viewers, with Cheatsheet mentioning that her fans love seeing her make food and behave like a "real" person. A Reddit user started a thread that lauded her, saying they "find Amy and her hubby to be a joy to watch! Their dry humor and interaction cracks me up!" and that they hope for another season. A request that was matched by other Redditers.
The Cinemaholic noted that "Amy Schumer Learns to Cook" Season 2 had a mid-August debut in 2020 and speculated that if the show was quickly renewed after the four-episode season concluded in September, Season 3 would be coming earlier rather than later in 2021. But that timeline has come and gone. However, considering that the second season was announced in June 2020 (via Variety) and aired about a couple of months later, it seems feasible that a third season of "Amy Schumer Learns to Cook" could be greenlit sometime this year and appear on screens within two months of that announcement. 
What guests will appear on Amy Schumer Learns to Cook Season 3?
First off, let's talk stars. The series revolves around Trainwreck" star Amy Schumer. Her hubby, Chris Fischer, would surely reprise his role as the master of the kitchen. Parade describes Fischer as a 40-year-old Massachusetts native who grew up around fresh food and even wrote a cookbook that won a James Beard Award, so suffice it to say he knows what he is doing in the kitchen. 
As for guests, past seasons have not really had many appearances by other people, as the couple filmed while quarantining at their home with basically no one but their child, nanny, and dog to pop on camera with them. SBS calls the combination of Schumer and her husband alone "refreshing." Although who knows? If the couple is no longer restricted by quarantine, maybe after two seasons of learning new skill sets, Schumer will finally be ready to show off what she learned to some celebs friends. Time will tell!