These Chocolate Crepes At Costco Have Reddit Divided
When it comes to Costco, we can usually count on them to have tasty products for a low price, like mini snickerdoodle cakes or any of their food items that have cult followings. However, sometimes even the most reliable stores have some products that don't meet expectations, and based on a post in the Costco subreddit, customers aren't enjoying some packaged crepes filled with chocolate and hazelnut, as pictured above.
Nutella crepes might be a classic, but the caption of the Reddit post reads, "Disappointed with the chocolate crepes – they taste very artificial." Many Reddit users and Costco fans agreed, with one writing, "Can't get rid of them. Thought my kids would like'em. Alas, I'm stuck trying to at least eat a few. Almost tastes like paper." Someone else said, "Yup, like construction paper with a hint of hazelnut spread." But a few people pointed out that they weren't expecting the quality of a fresh crepe from one that was already packaged, saying, "And it's not like they are expensive. I kinda like them, but I wasn't expecting something homemade so..." Others suggested popping them in the microwave for 10 seconds.
Despite the common opinion that shoppers should pass on these crepes, some commenters did mention their kids enjoying the crepes and that these chocolate crepes are "one of their favorite snacks to grab for school." Based on the comments, not all children are willing to snack on these, but the pre-packaging is part of the convenience.
How to make your own crepes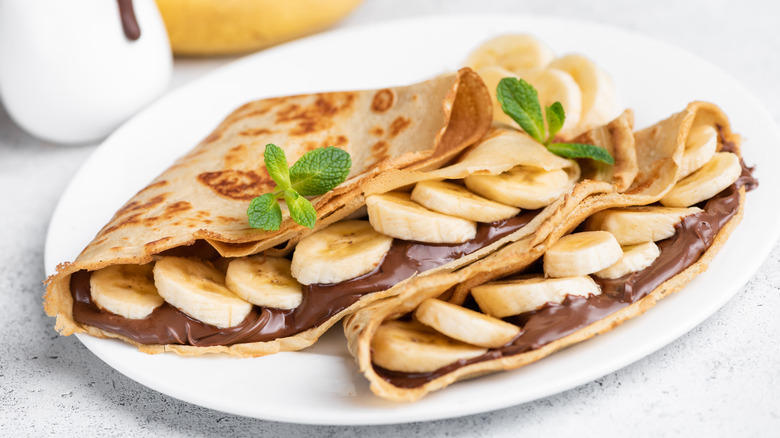 Vladislav Noseek/Shutterstock
While some customers enjoy the chocolate crepes at Costco, if you have the time to make breakfast for yourself, why not try out homemade crepes? We have a quick crepe recipe for you that's simple and straightforward, so you can customize this crepe to your own liking. Top it off with some fresh fruit, whipped cream, a chocolate drizzle, or just add some powdered sugar.
Make sure that you avoid the mistakes everyone makes when cooking crepes, like cooking them at a high temperature. Medium heat works well. Joanna Gaines has a secret to making crepes: using a blender to make the batter and letting the batter sit for at least 20 minutes. If you want more guidance, The Kitchn has a few tips for making crepes as well, but the key is still getting plenty of practice. And the perk is more crepes!
Even if you're not a fan of starting off your morning with a sweet breakfast, crepes can still be part of your routine. Check out this savory crepe recipe or a savory eggless crepe recipe.